PATHS began their annual trash bag sale this week and will run the sale for three weeks. This is their main fundraiser, funds for which go to a variety of endeavors at USD 322 to help students and teachers get what they need to succeed in the classroom. Please see the details for the sale in the image below!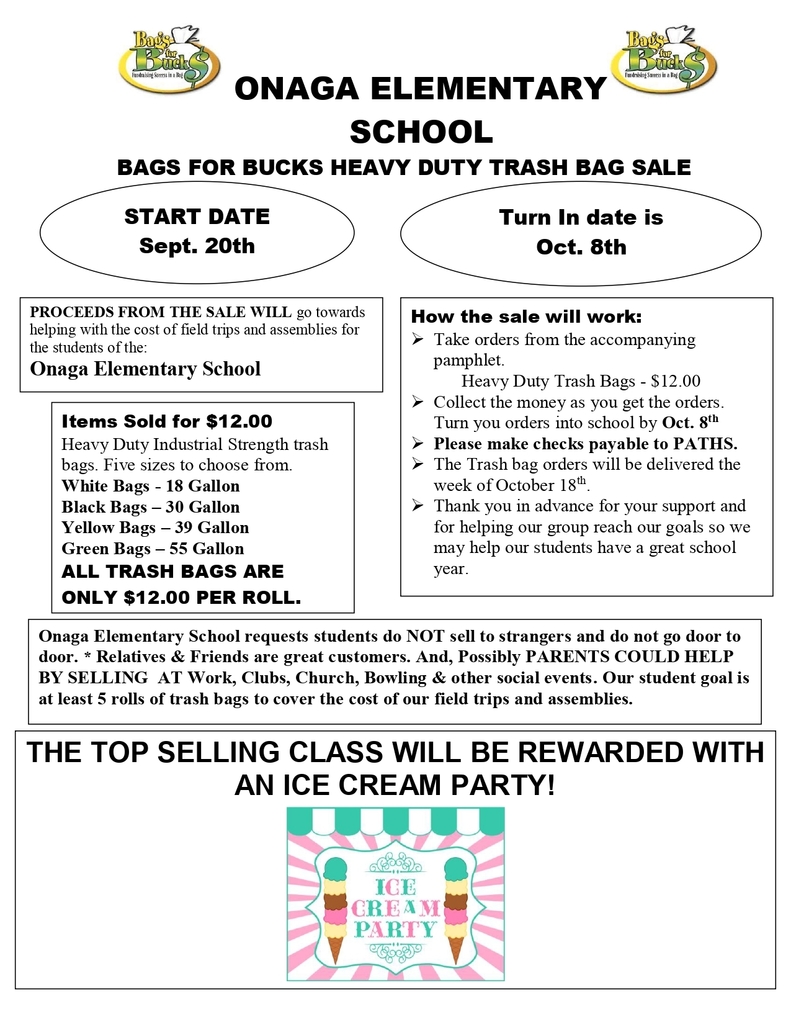 Living History Day was held in Havensville on Sept. 10, 2021 this year and one of the things that took place was an Art Show. There were multiple High Schools with art submissions in the contest, and one Onaga High Schooler did very well. Sophomore Atalie Conger enter a watercolor painting into the contest and took home 3rd place among the contestants. Nice job Atalie, keep up the good work!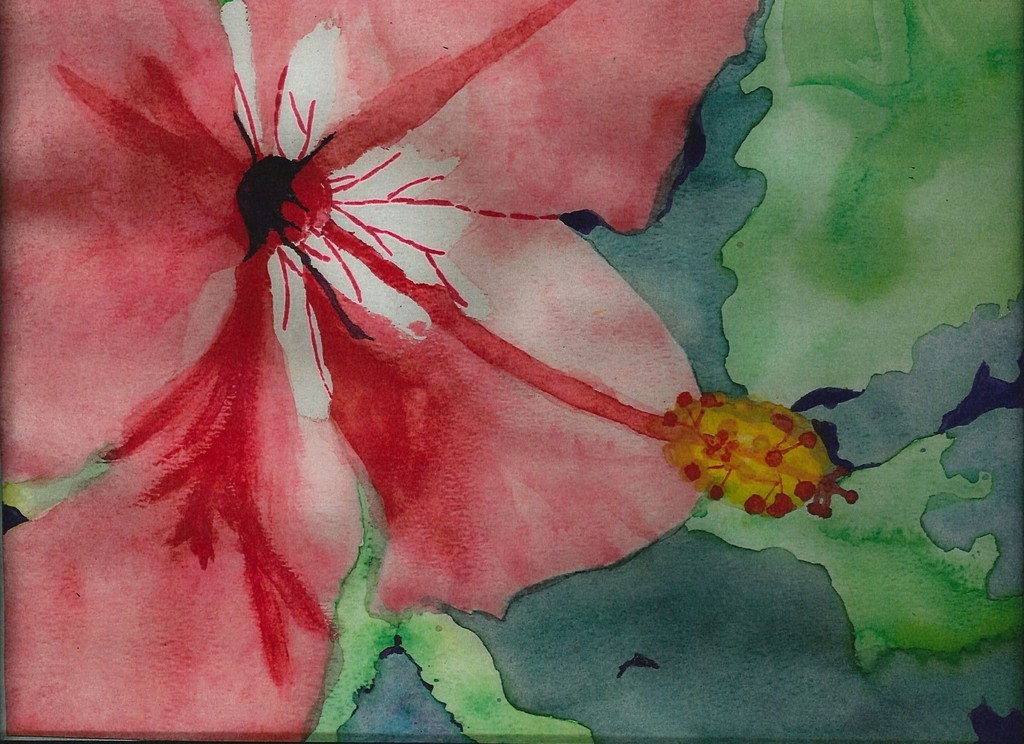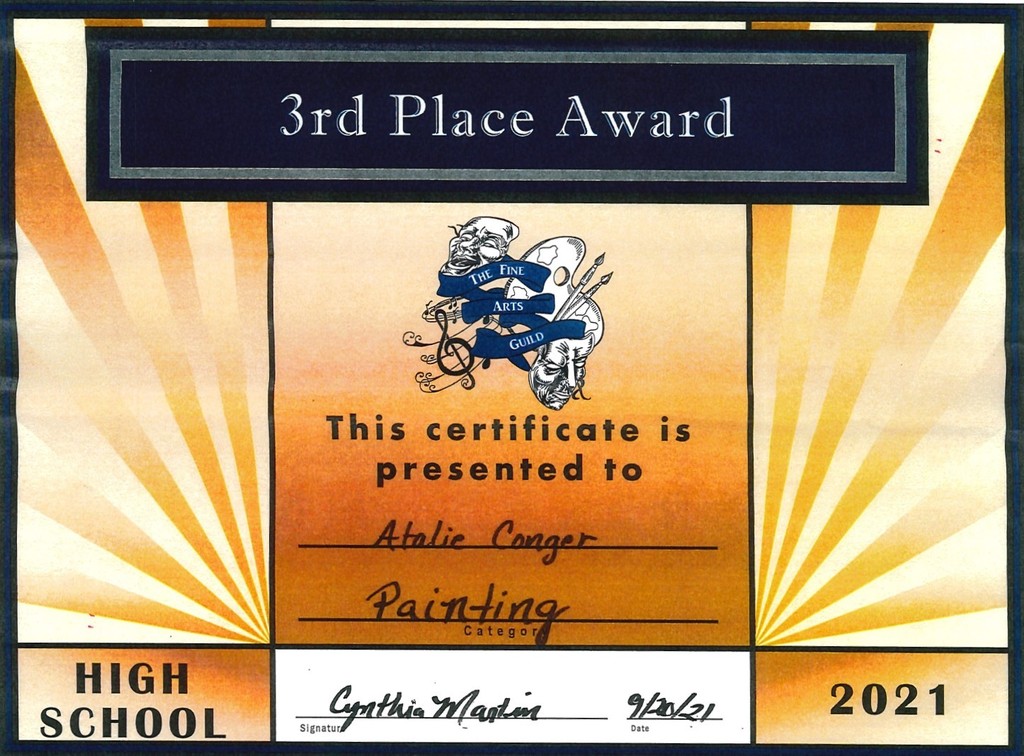 Allergies are still a nuisance, strep throat has reared its ugly head a bit early this year, and cases of a stomach bug have been common as well at USD 322. Follow the link below to check out our school nurse's September newsletter for warning signs, helpful tips, and more.
https://5il.co/zf3d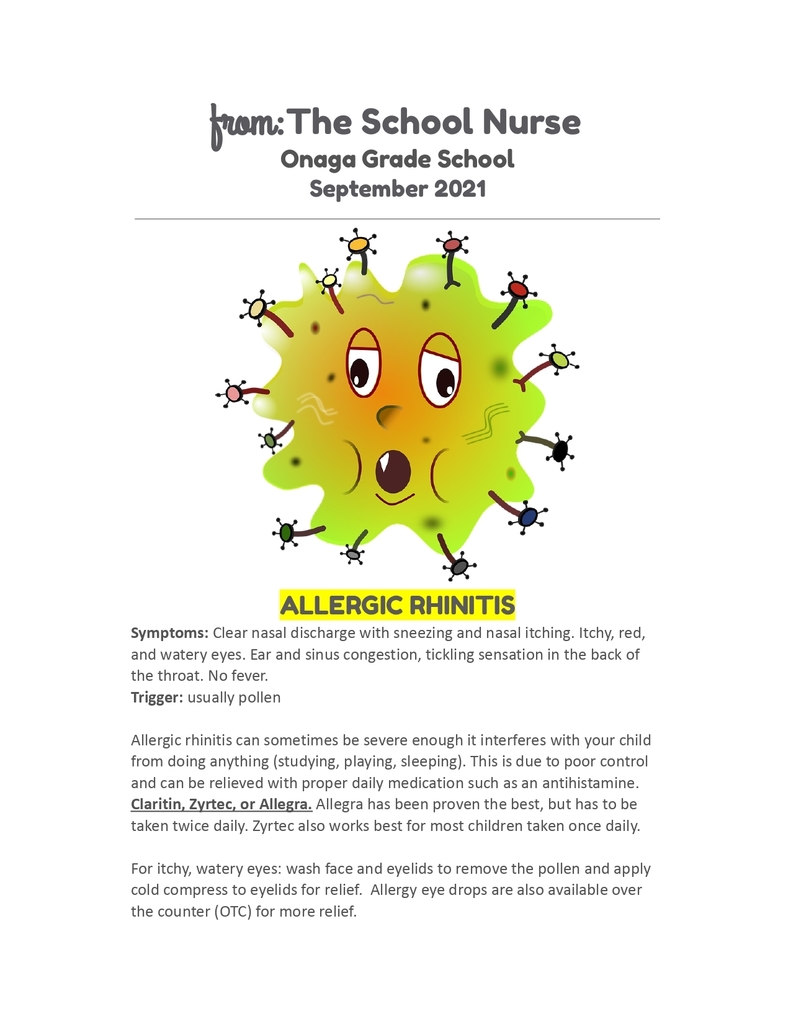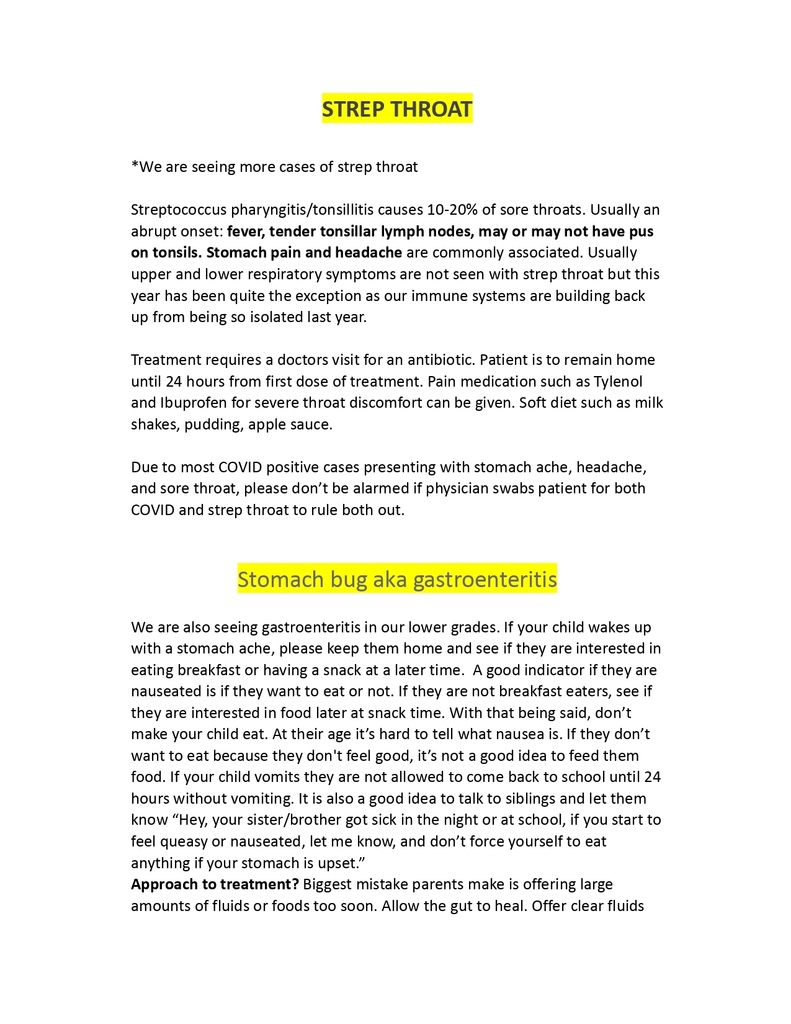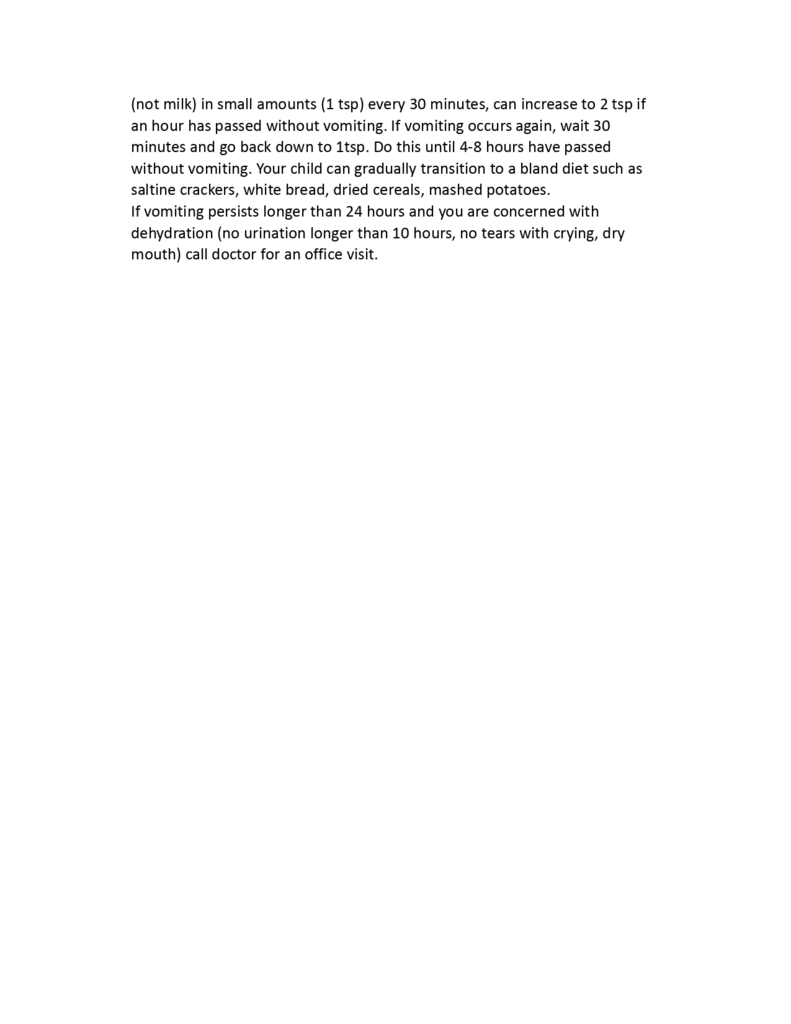 The junior high and high school JV volleyball teams are in action tonight in Onaga for an unorthodox schedule of games. The junior high girls will begin the night at 5:00pm with a varsity game against St. Xavier, while the B-team junior high girls take on Flint Hills Christian. Following that, in a newly scheduled game, the Flint Hill Christian High School team is sending their JV up for a matchup against Onaga High School's JV team around 6:00pm. During that time, Flint Hills and St. Xavier's junior high teams will be playing as well as part of the previously-scheduled junior high tri. Then, wrapping up the night will be the junior high girls taking on Flint Hills around 7:00pm. As always, if you can't make it out this evening you don't have to miss out on the action. Just head over to the district's website, usd322.org, and click on the orange button on the homepage to get to the NFHS Network where you can see all of the games tonight. Good luck tonight ladies, GO BUFFALOES!!!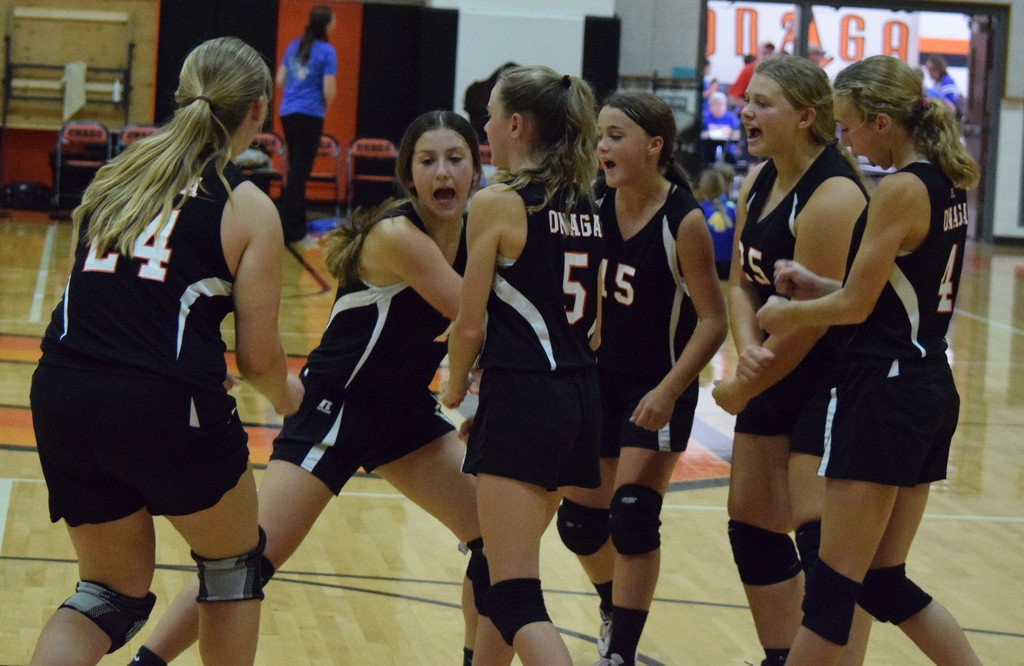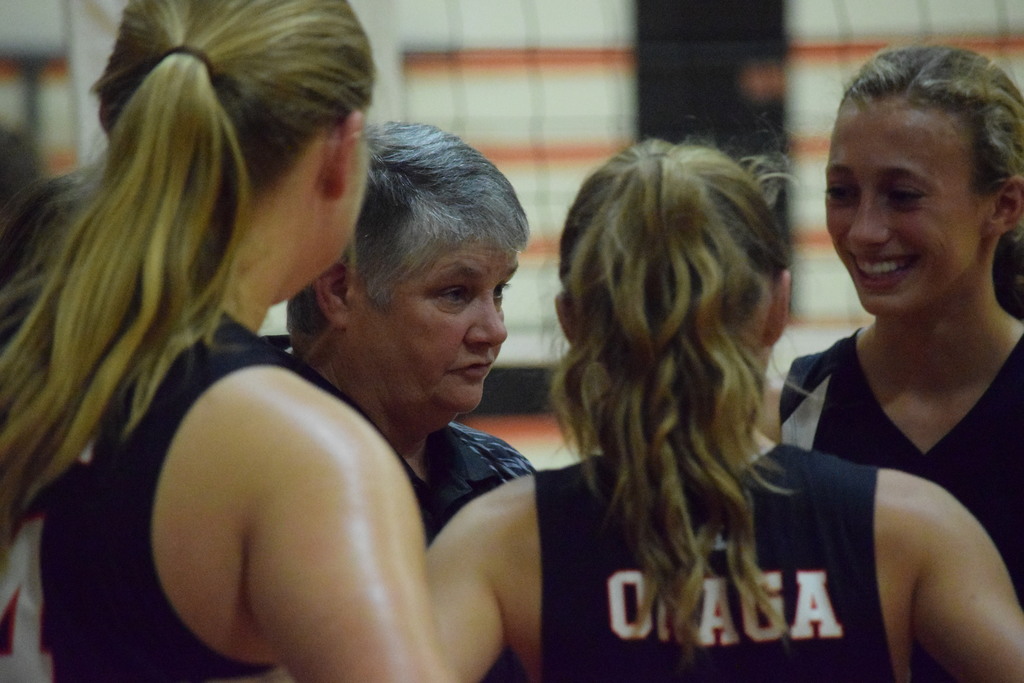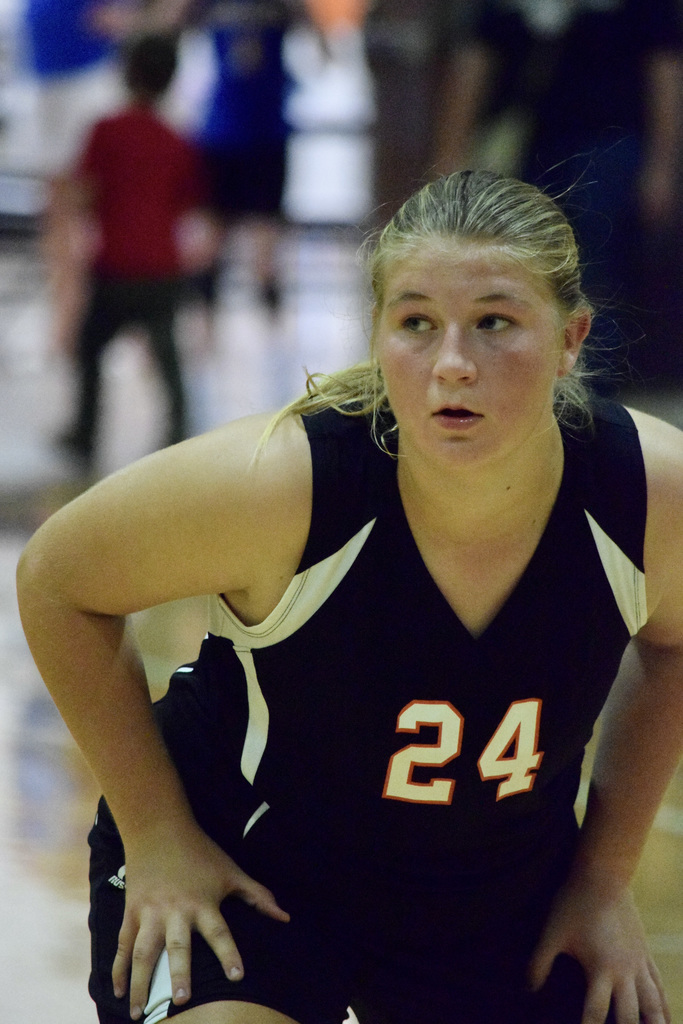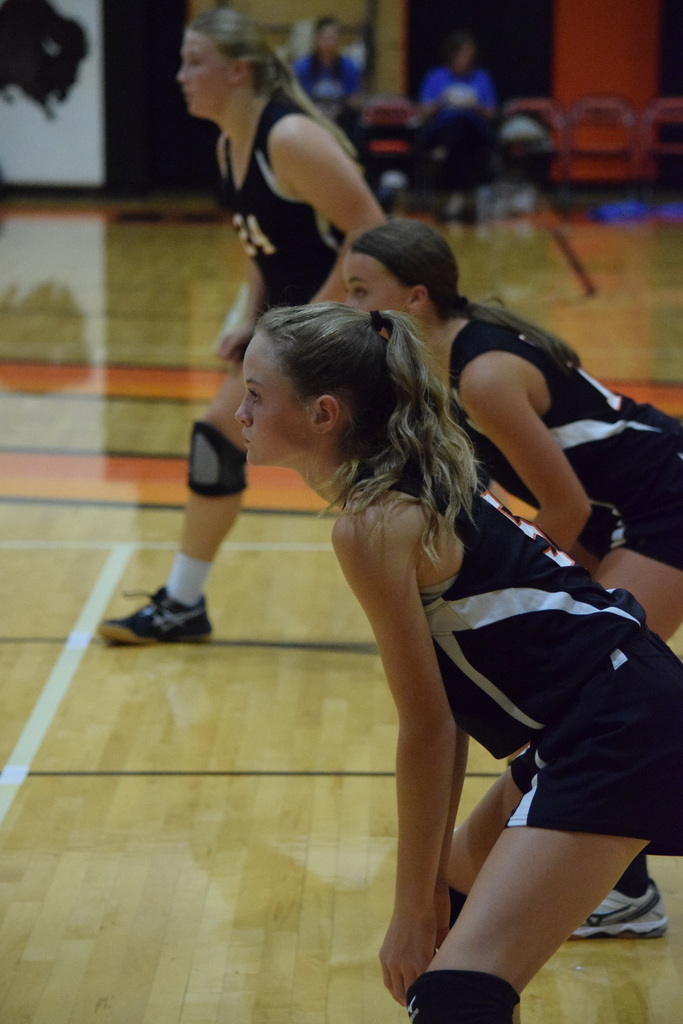 The junior high volleyball and football teams are back home tonight as Axtell heads to Onaga for the third week of their seasons. The volleyball games are underway already with Wetmore and Sts. Peter & Paul joining the Eagles for a quad with the Buffaloes, while the football teams are set to square off at 6:30pm at the Rosenfield Sports Complex. As always, if you aren't able to make the games you can catch all the action for both teams on the NFHS Network, a link for which can be found on the usd322.org website. Good luck tonight to both teams, GO BUFFALOES!!!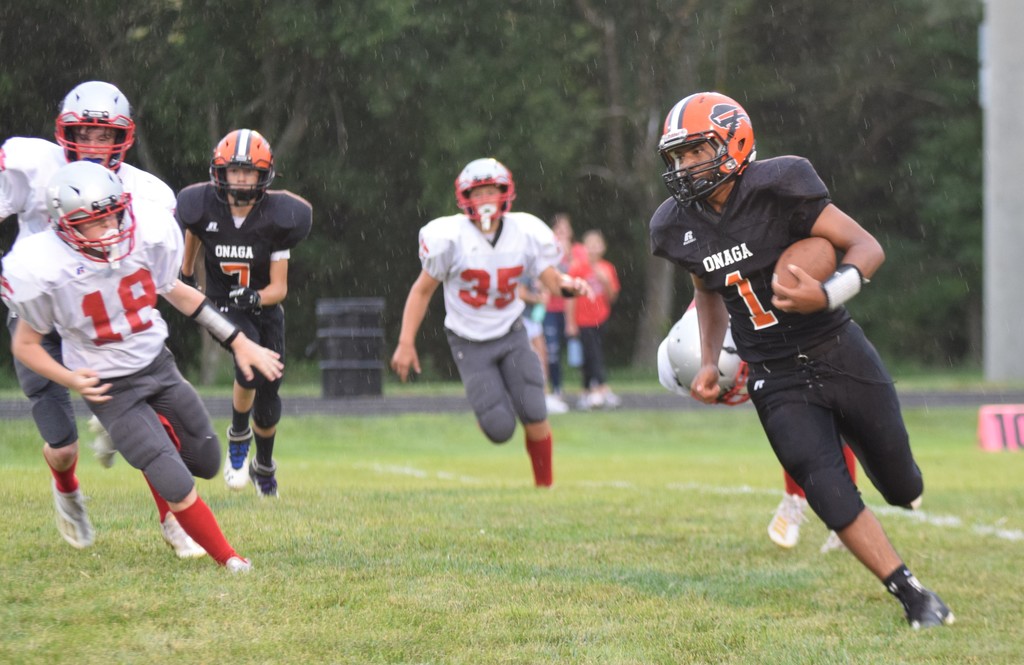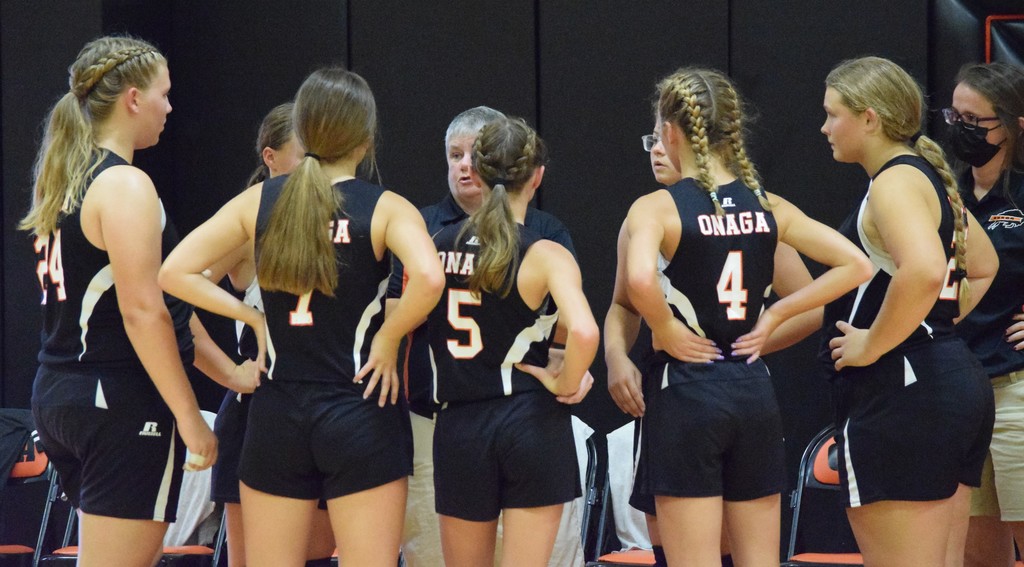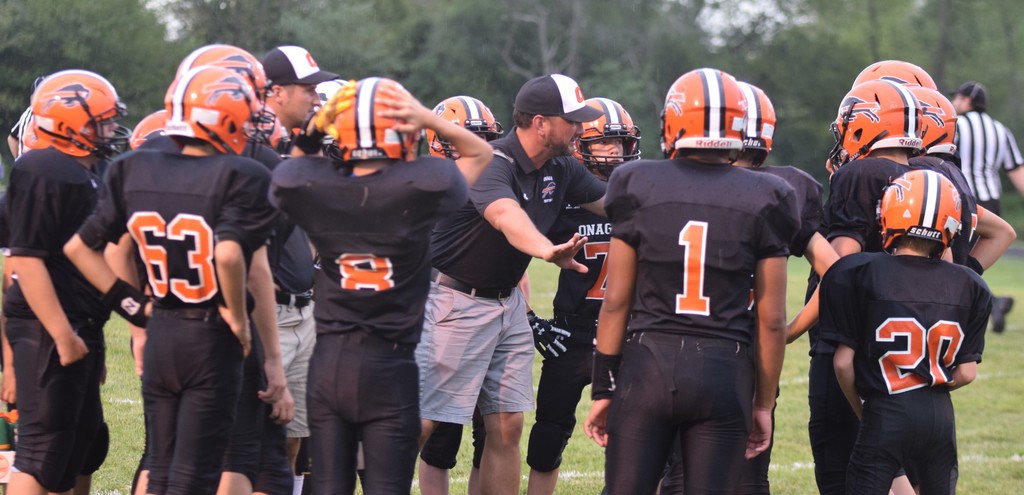 The high school softball team is getting a facelift for its field this weekend and it's one that will benefit the community as well. With serious upgrades needed to their field, plans are in place at this time to replace the fencing from dugout to dugout, and in the process get new dugouts as well. This is a joint effort between the high school, city, and fair board and has already seen extensive planning to get the job done. Part of that job includes tearing down the existing fence in that area of the field. In getting this project complete, using volunteer work to take down the old fence was vital to the plan. Mayor Rod Tucker has been generous in lending his truck to load and haul off materials, and Joe Hochstedler has been benevolent in lending his lift to work on the taller poles. Now, the three entities involved are in need of volunteers to help get the job done. At 9:00am on Saturday morning the team will be at the north baseball/softball field to begin tearing down the old fence. Anyone who is willing and able to lend a hand would be greatly appreciated. Again, this is a volunteer job that will benefit the high school softball team, the city's rec teams, and the Pottawatomie County Fair all at once. If you are available and willing to bring yourself, a pair of gloves, and any tools that might be helpful in the are of destruction, come lend a helping hand on Saturday morning! Thanks in advance for considering helping USD 322, the City of Onaga, and the Pottawatomie County Fair Board in getting this project done!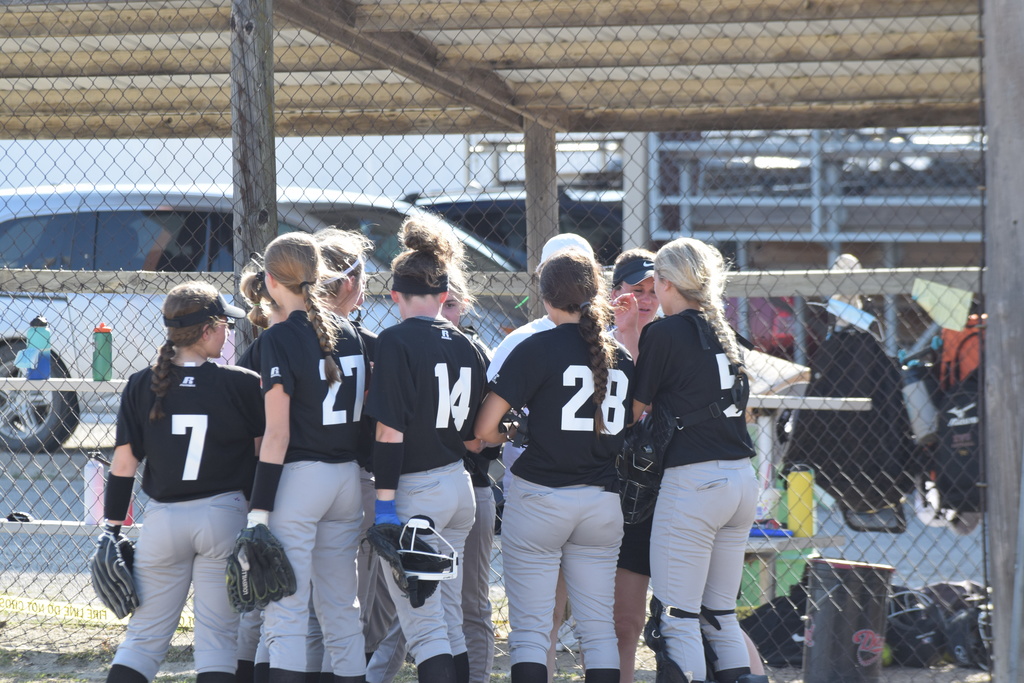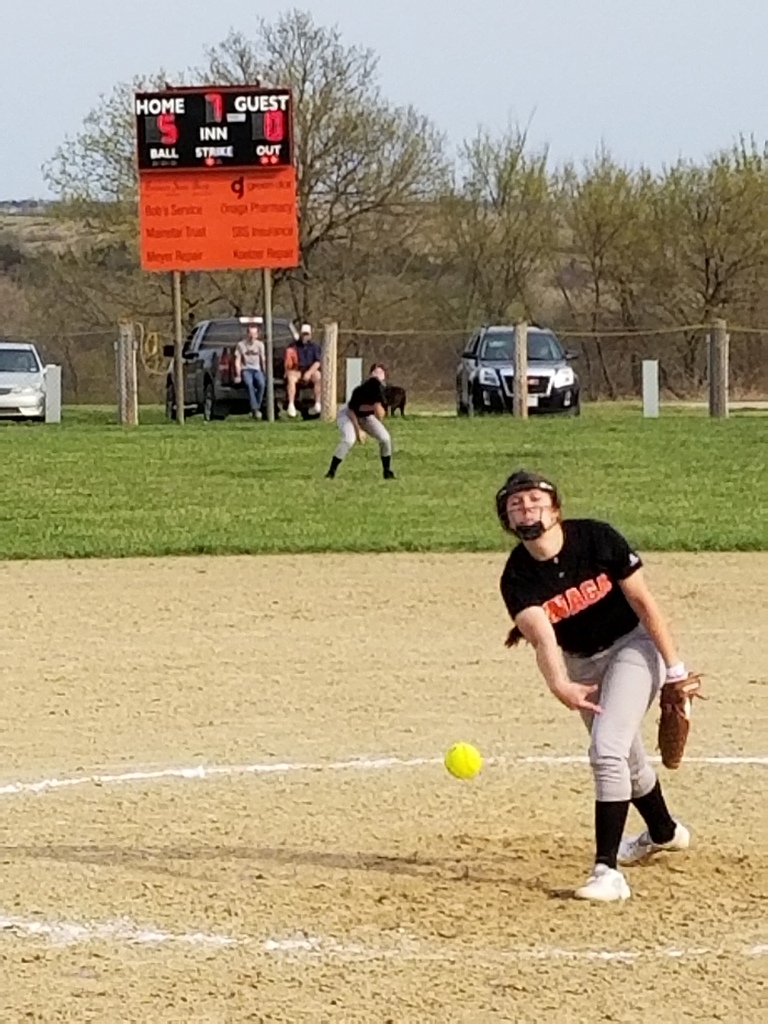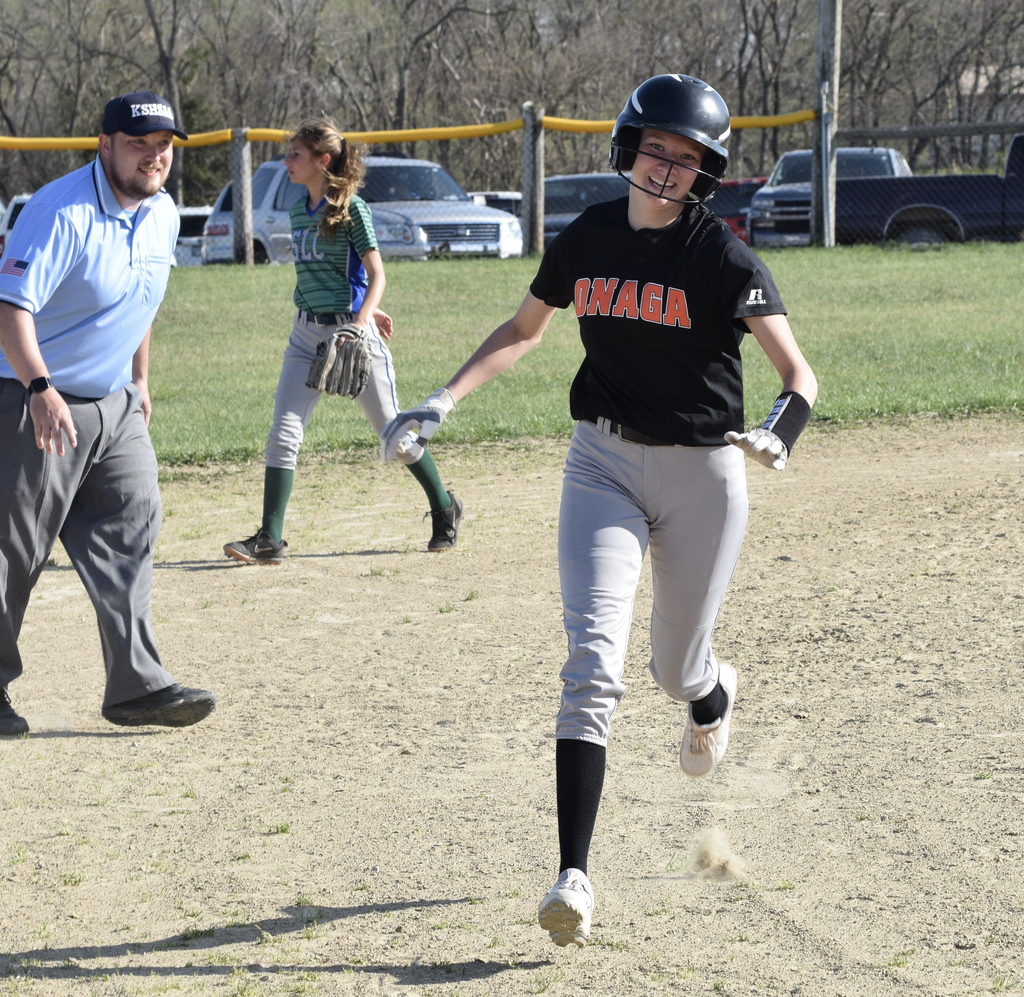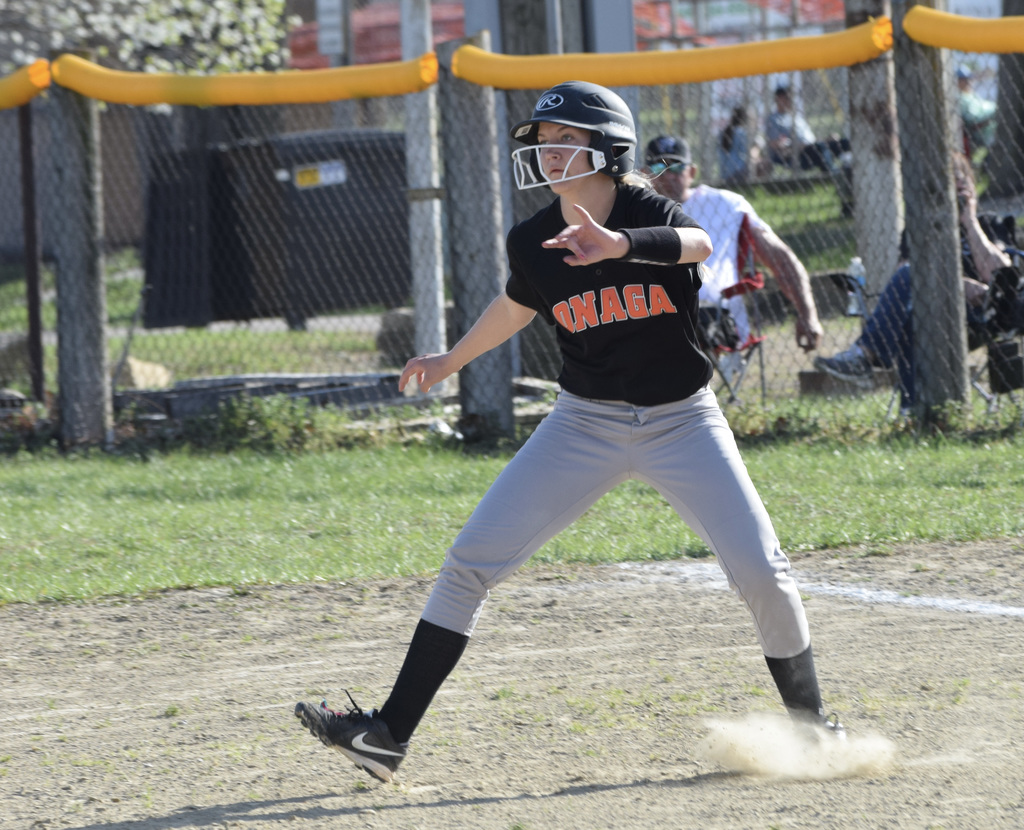 For the first time in over a decade, the O-Club is back at Onaga, resurrecting a school club that started under Coach Rosenfield well over a half-century ago and continued to thrive under Coach Lee for several more decades. Tonight the organization appeared for the first time in 15 years as they held their first fundraiser at the high school volleyball team's quad. It was a HUGE success and it wouldn't have been possible without several parents donating food and time, as well as the 37 lettermen athletes at OHS who make up the reformed O-Club that put in the work to make the night a success. Thank you to the parents that helped out tonight, and to the athletes who have made the commitment to bring this club back to Onaga!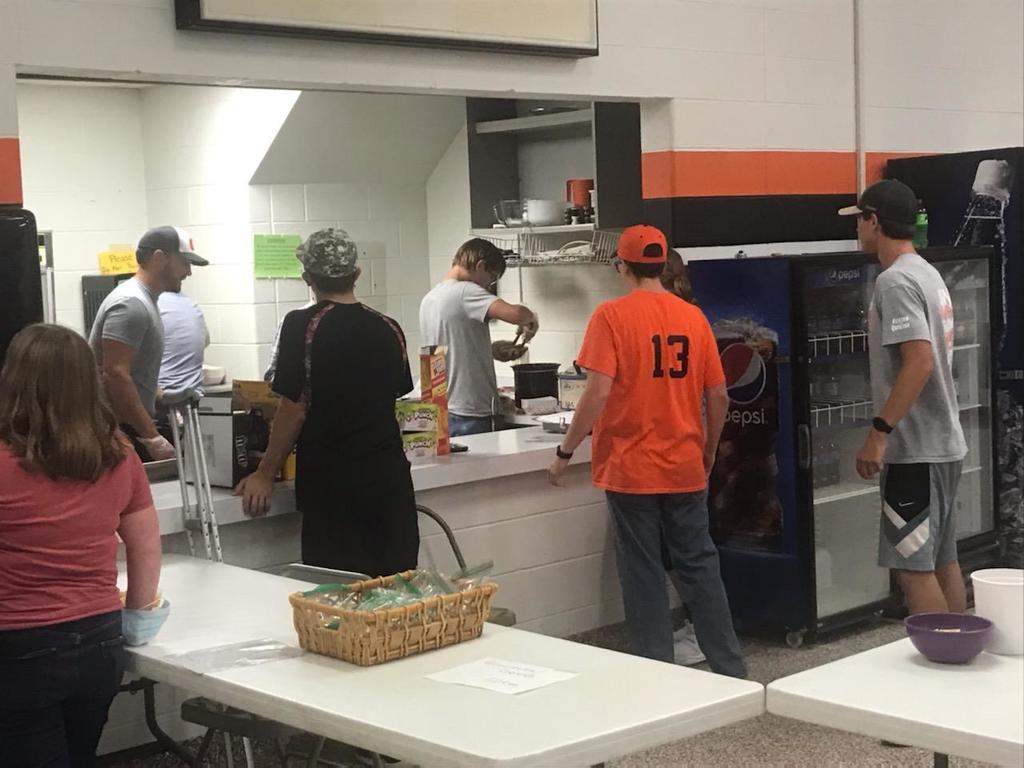 The high school volleyball team is back in action tonight as it hosts its second quad of the season. The girls welcome Centralia, Frankfort, and Washington County to town tonight for a 5:00pm start. The varsity girls will kick things off against Centralia at 5:00pm, then will play at 6:00pm and 8:00pm, all of which will be played in the north gym. The JV girls will also be playing as games get underway in the south gym at 3:45pm. As always, if you aren't able to make it out tonight you can catch all of the varsity action on the NFHS Network, a link for which can be found on the school website (usd322.org). Good luck tonight ladies, GO BUFFALOES!!!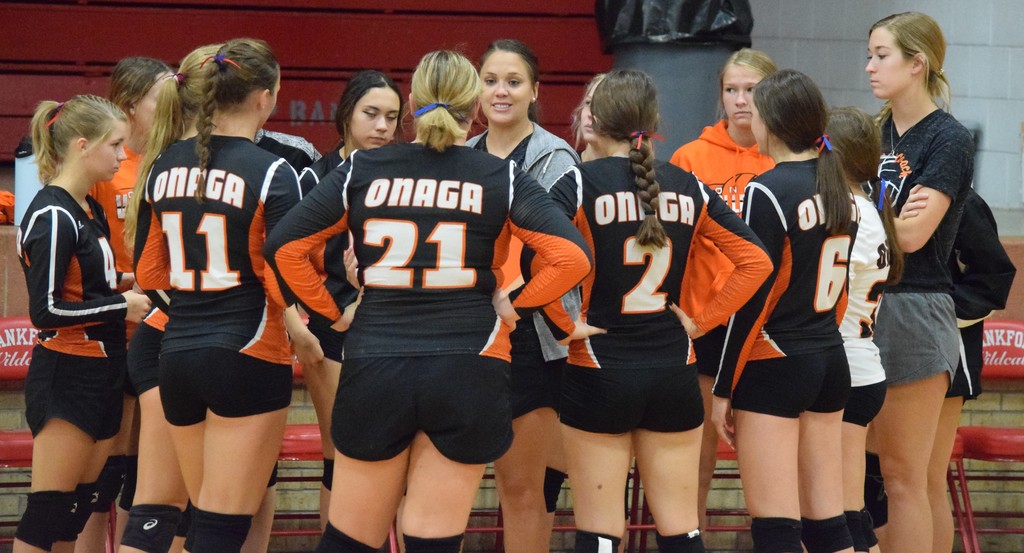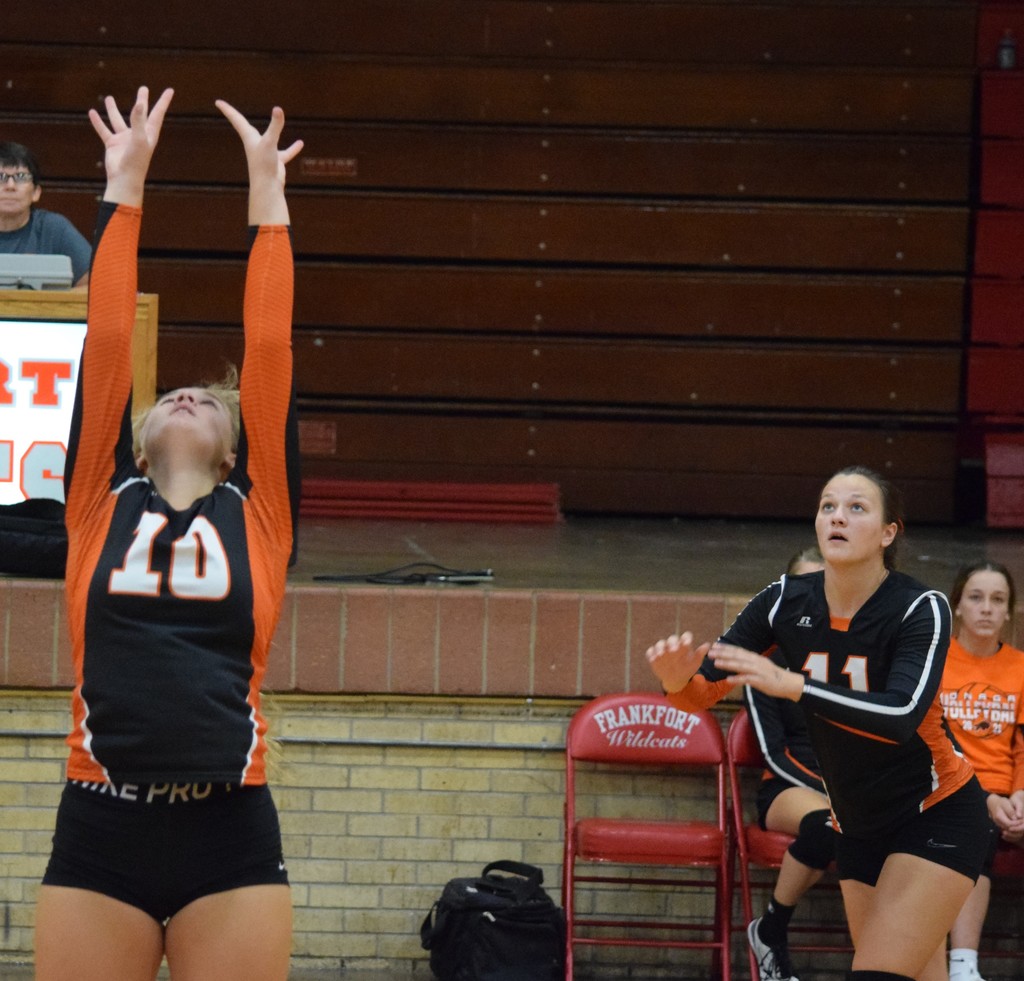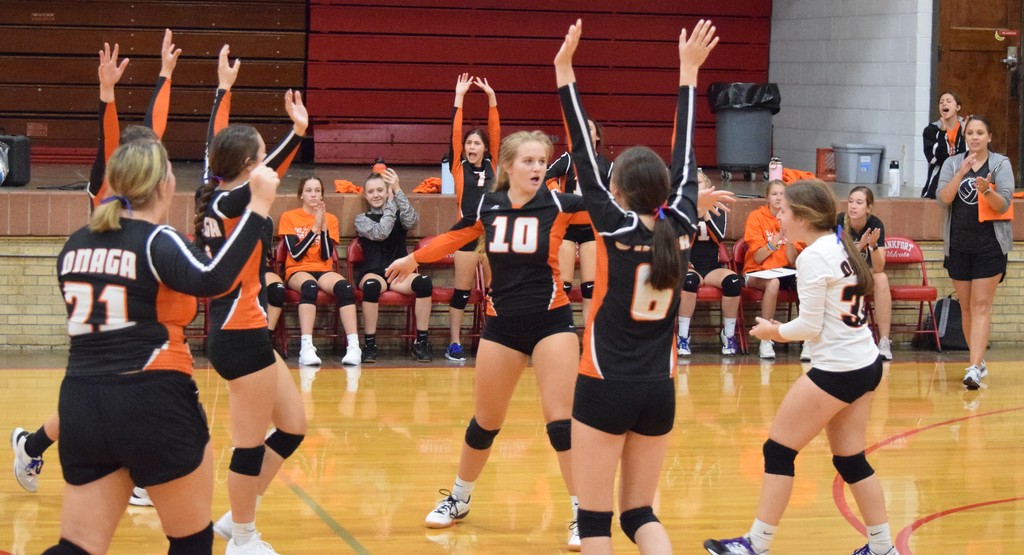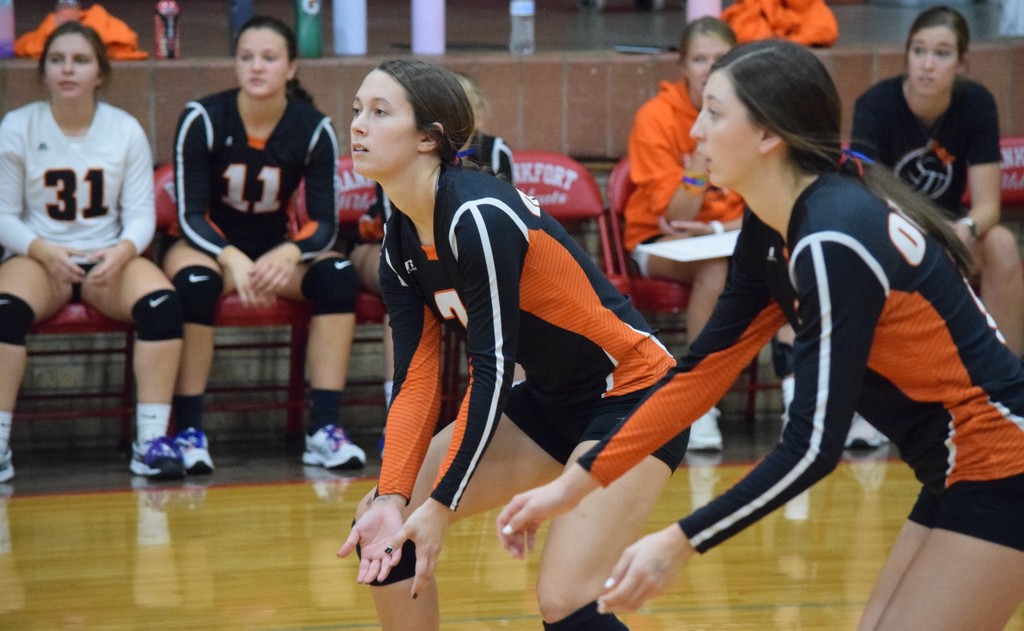 Just a reminder for all junior high and high school students/parents, the morning weights session this week for those that don't have a P.E. class during the day will be Tuesday, Wednesday, and Friday. As always, the sessions are from 6:30am to 7:10am.

The high school football team has a JV game tonight as it heads to Doniphan West. As several people have asked, here is the address for tonight's game: Doniphan West Elementary School 642 KS-20 Denton, KS 66017 Good luck tonight boys, GO BUFFALOES!!!

The Onaga High School Spirit Squad would like to invite anyone from PreK through 8th grade to participate in their Cheer Clinic. The kids will learn a halftime routine and a couple of cheers on September 18th and perform it at halftime of the varsity football game on September 24th. For more details on the event, check out the attached image. To sign up, download the form by clicking the link below.
https://5il.co/ysc3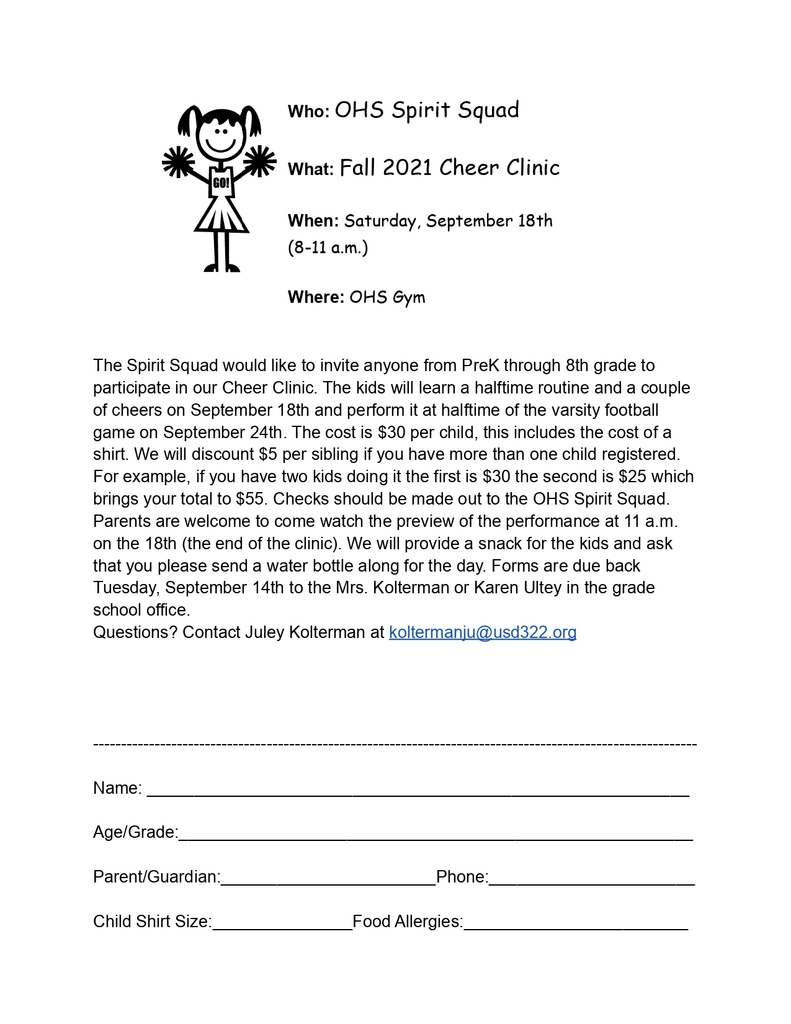 The high school girls locker room was in need of a paint job and with the impending home volleyball games just days away, a couple of Onaga community members stepped up and got it done, adding a little Buffalo orange and black flare to the room. Most of the time a paint job isn't something we would feel needed to be pointed out, but with the effort that wrestling coach Brett LaMar and teacher/coach Kaitlin LaMar put in we felt it deserved recognition. They spent 32 (!!!) combined hours over the first weekend of September with paint brushes in their hands to get the job done. Thank you Brett and Kaitlin. It's people like you and the efforts you put in behind the scenes that make our community and school such a great place to be a part of!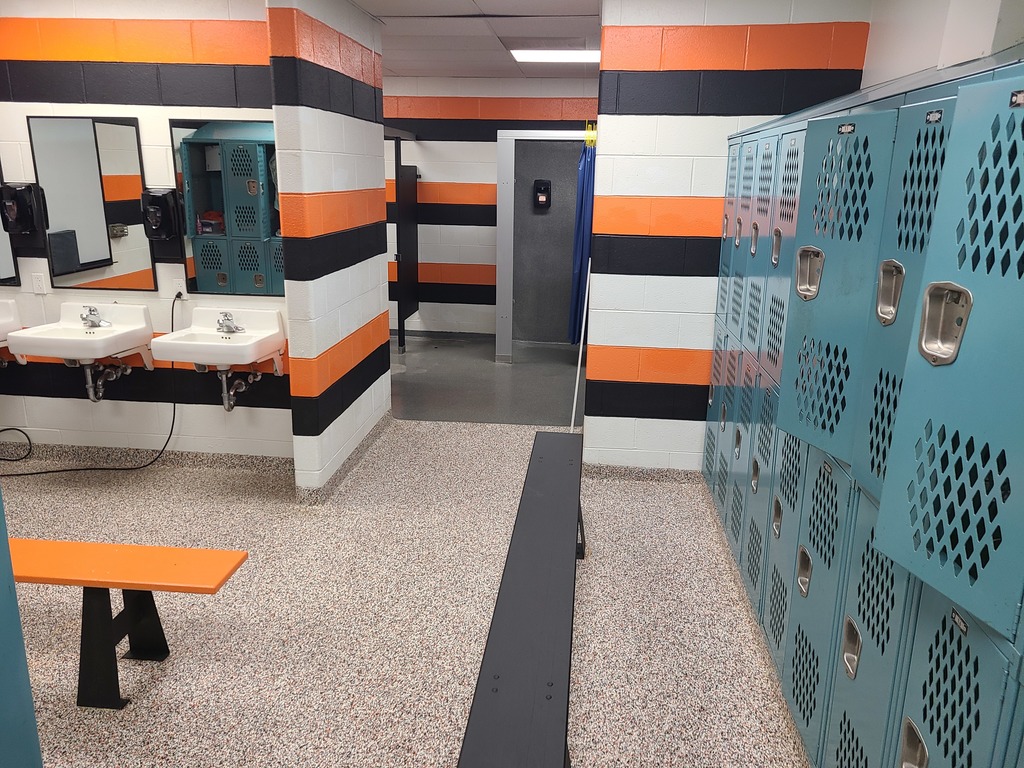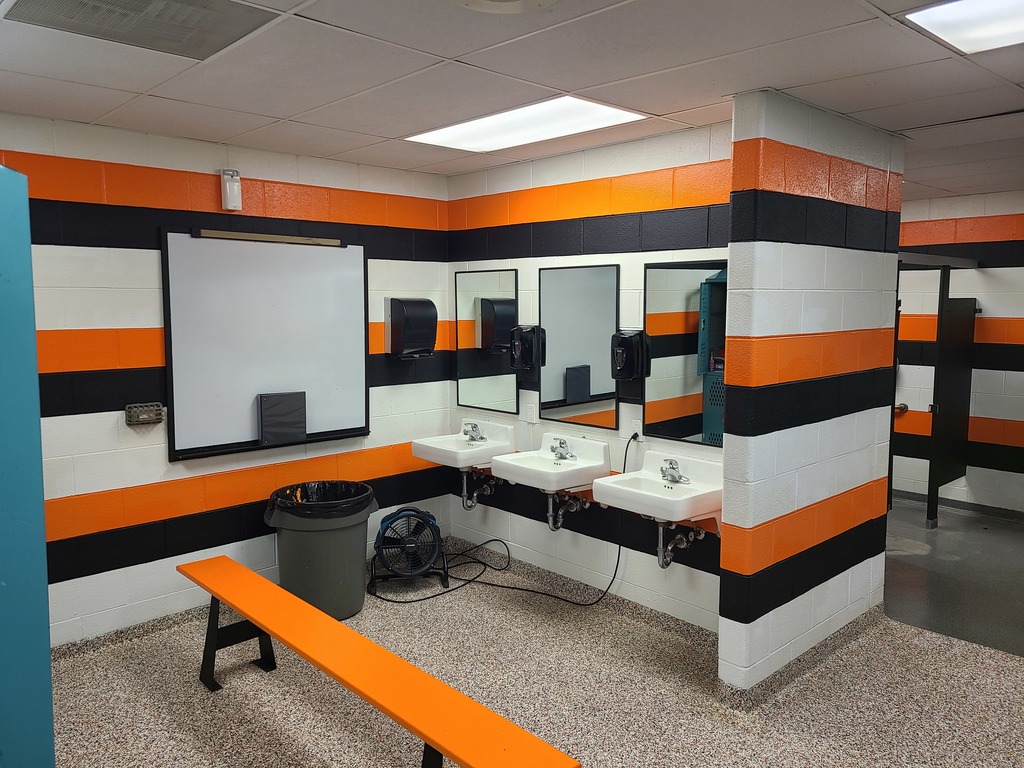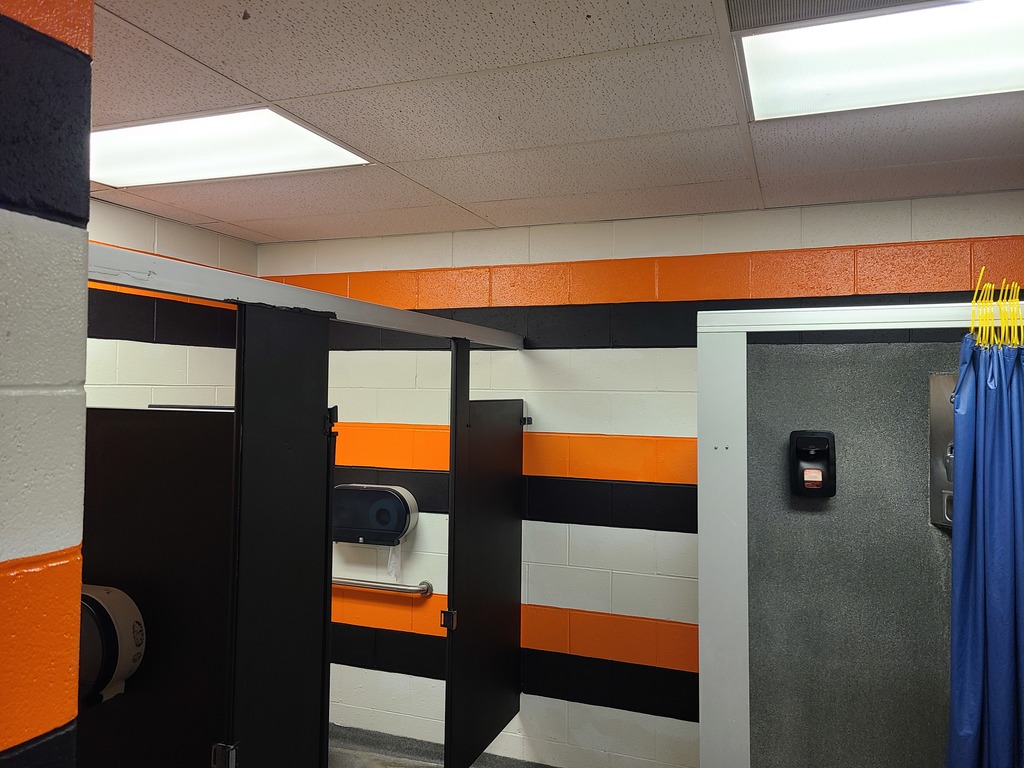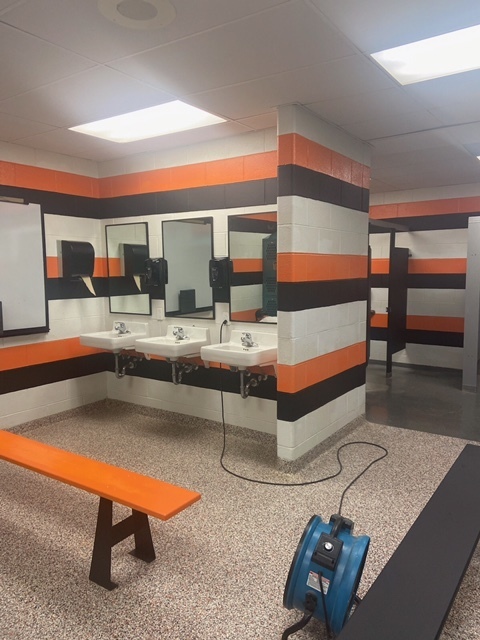 Good luck to the high school volleyball team today as they head to Frankfort for five games as part of the Wildcats' invitational tournament. The first games of the day begin at 9:00am and the Buffaloes will start things off in the second round games of the round robin tournament when they take on Cair Paravel. Good luck today ladies, GO BUFFALOES!!!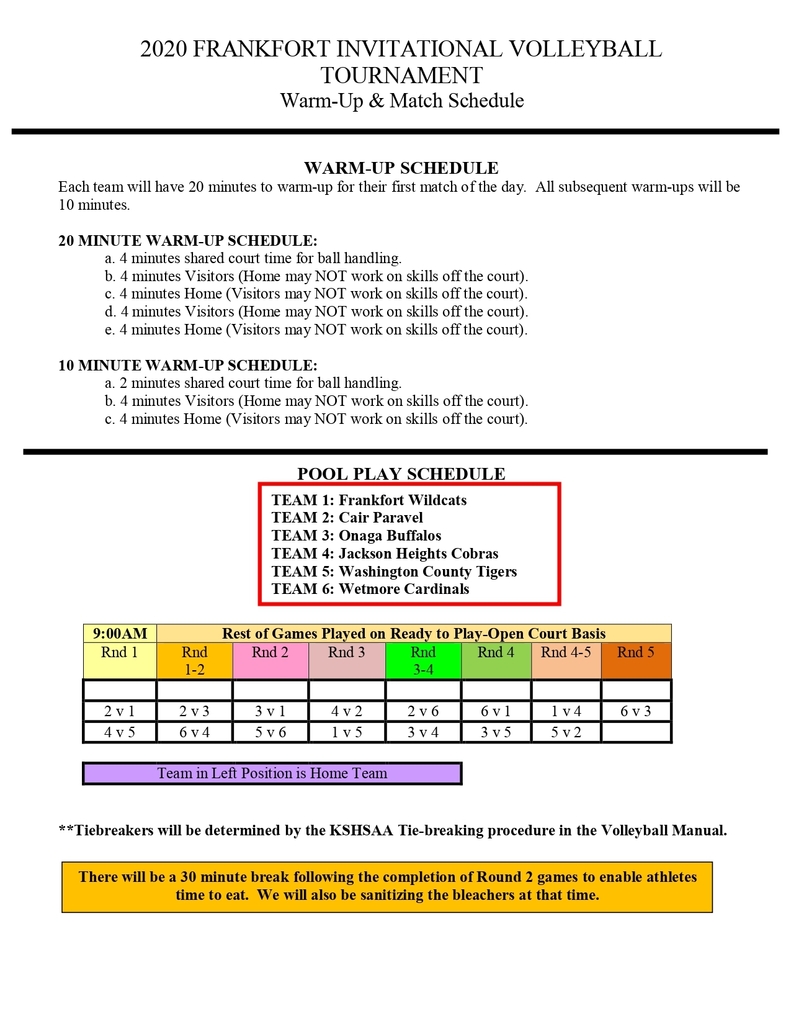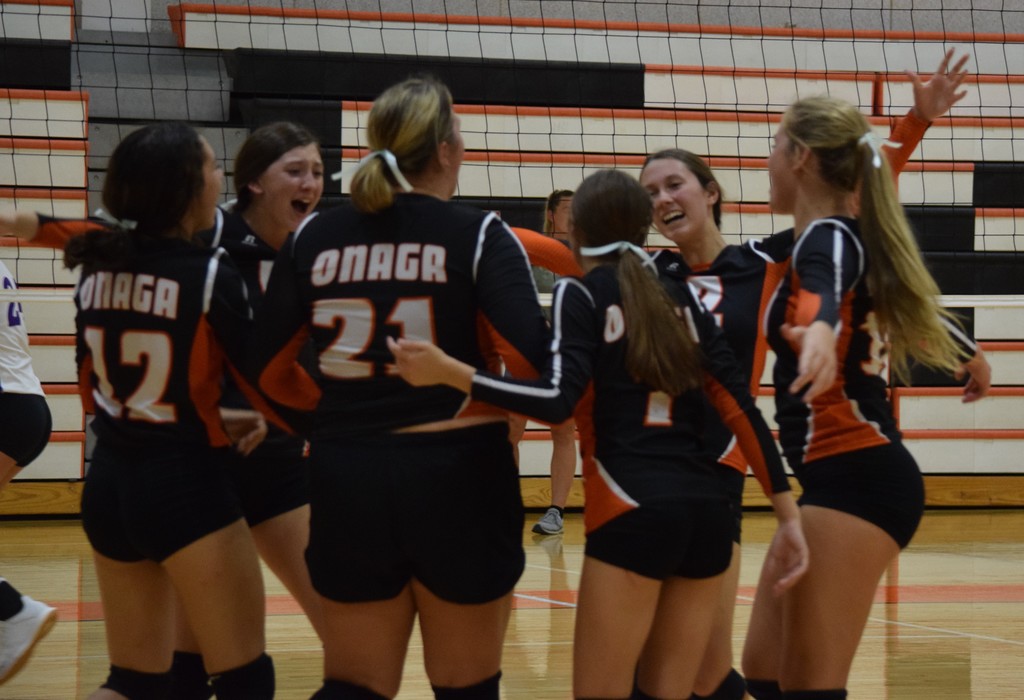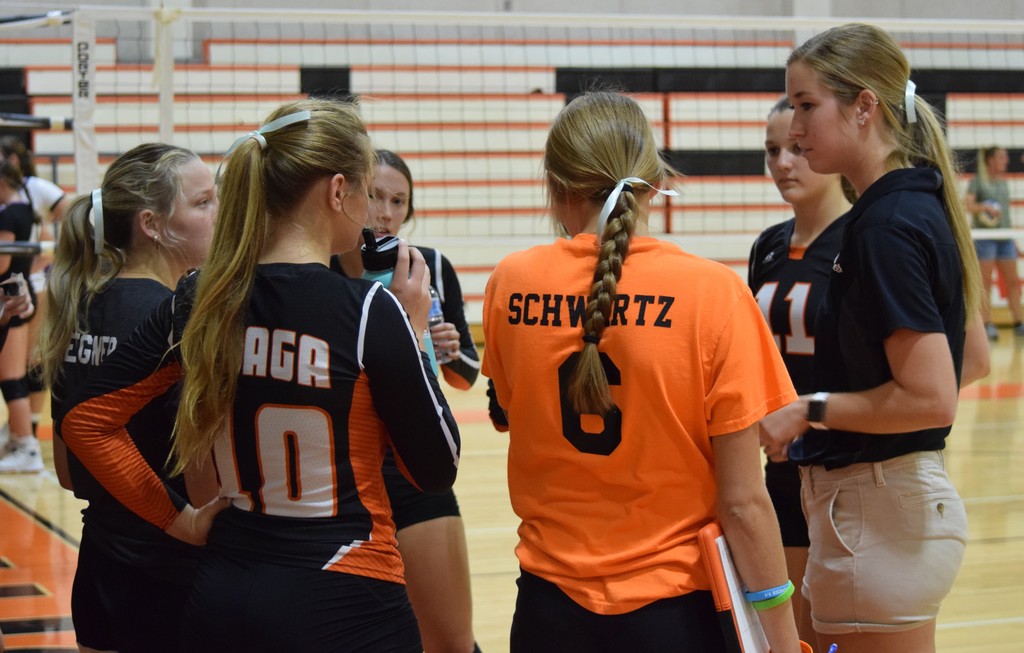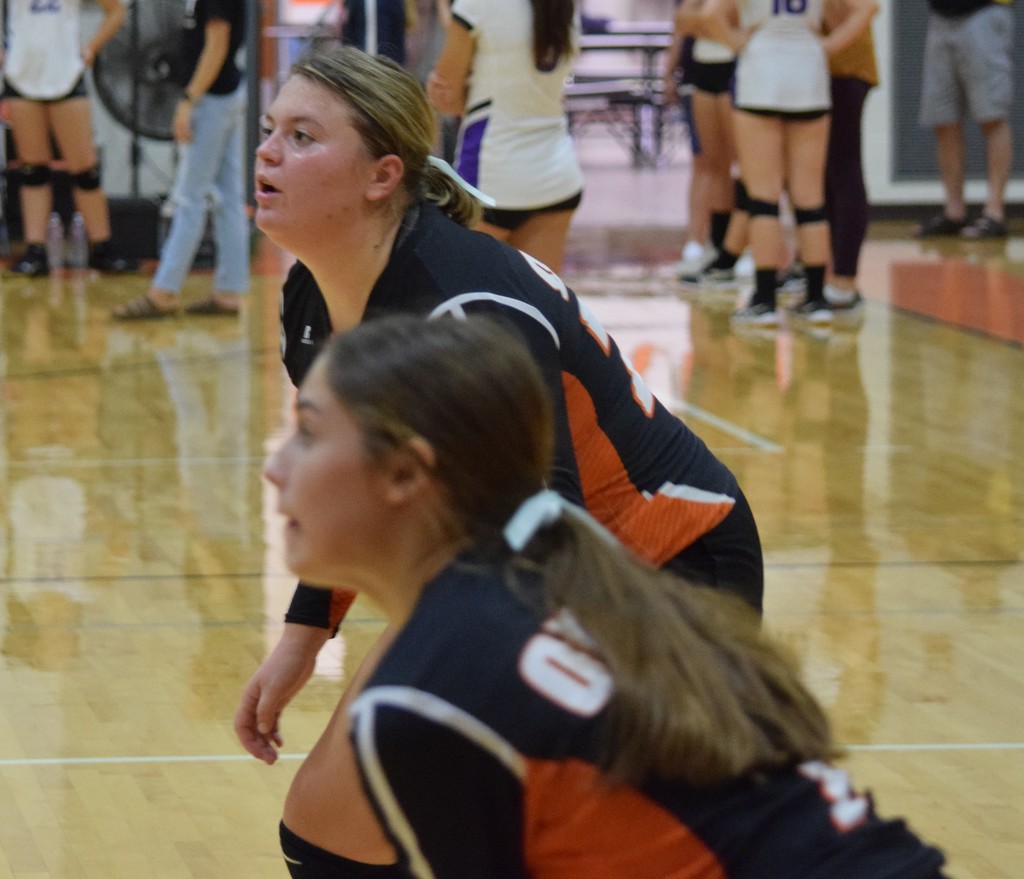 The junior high volleyball team is in action this weekend as it heads to Axtell for the Eagles' invitational tournament on Saturday. The Buffaloes kick things off with pool play beginning at 9:00am against Sts. Peter & Paul. Onaga will then take on Valley Heights and Doniphan West to round out pool play before heading to the bracket portion of the tournament. The schedule for the day can be found on the images attached. Good luck today girls, GO BUFFALOES!!!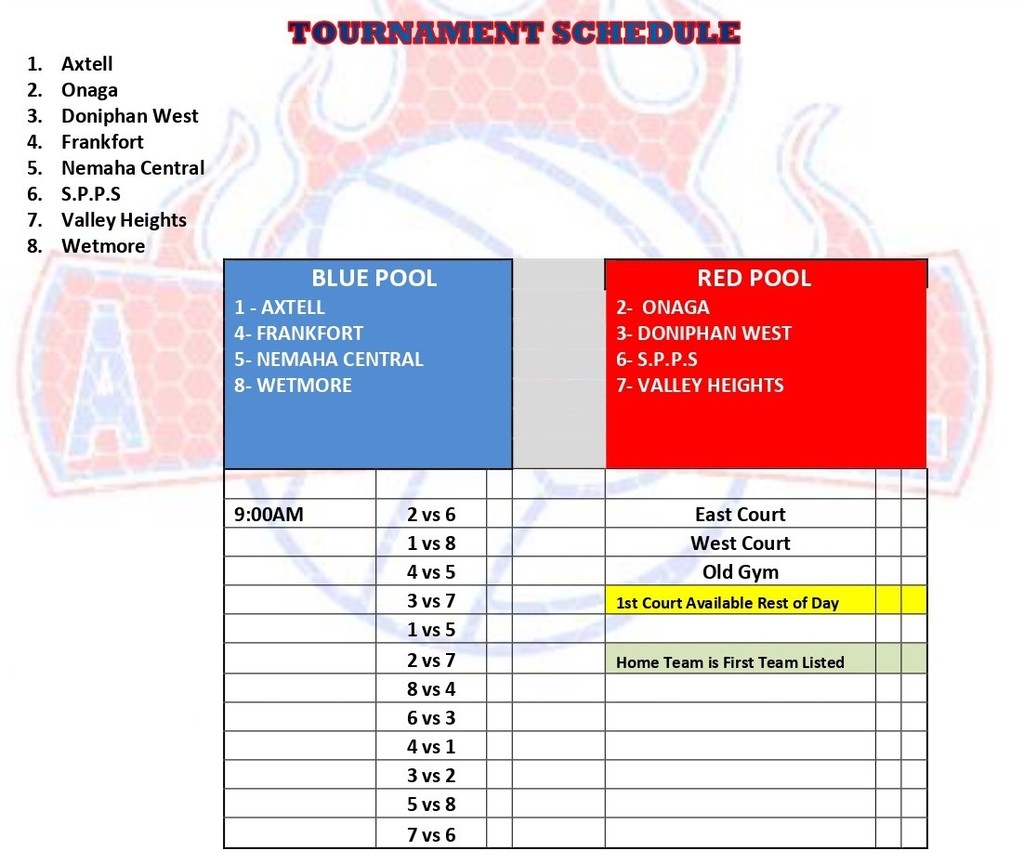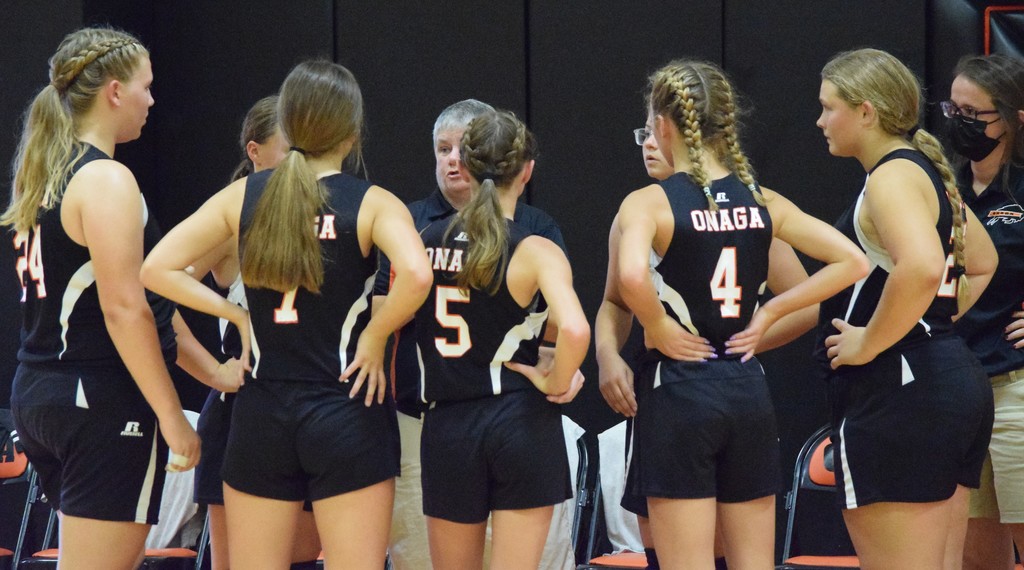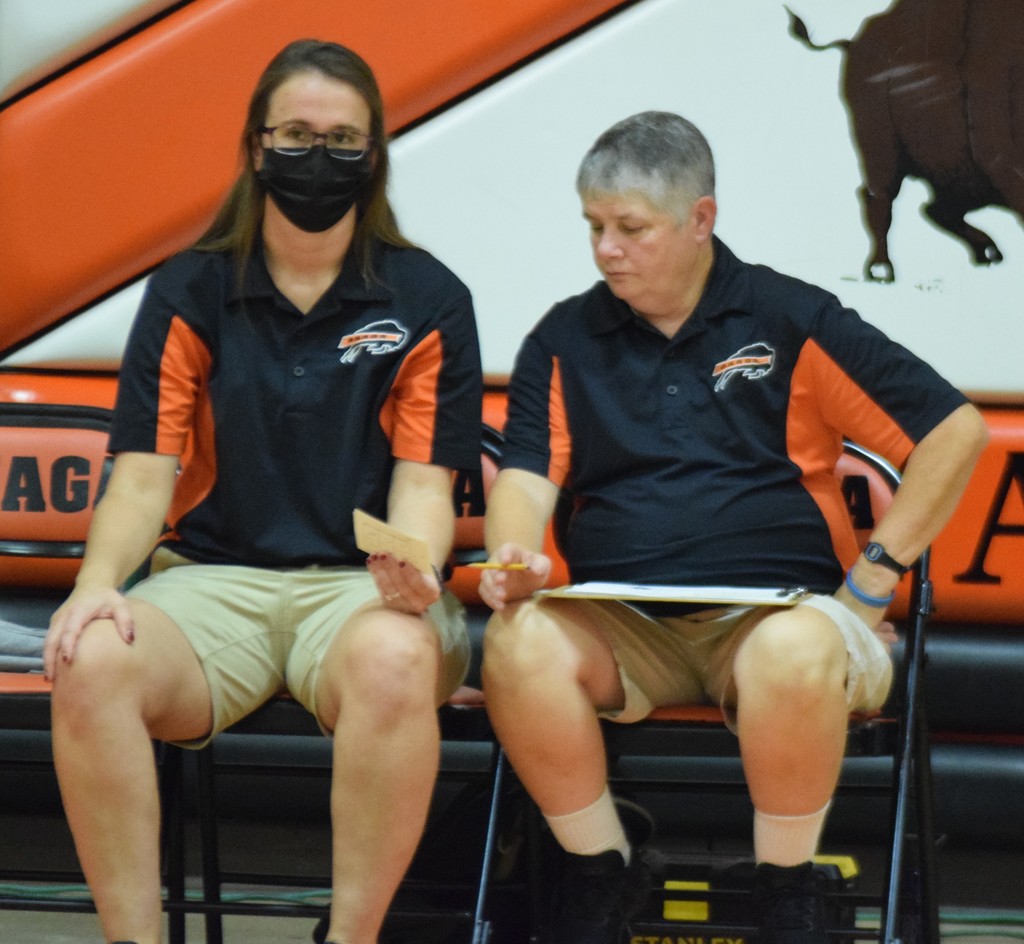 Fellow Buffaloes, 2020-2021 yearbooks are still available for purchase. They will have to remain being priced at $40. To do so, please contact Mr. Kite at the high school. On that same note, 2021-2022 yearbooks can now be ordered. Anyone who wants to place an order for a 2021-2022 yearbook can do so either by going to yearbookordercenter.com or by seeing Gayla in the High School office. The good news is that the 2021-2022 yearbook can be much less expensive. Order before Christmas vacation begins and your yearbook will only cost you $30. From January 4 through May 13, your yearbook will cost $35. After May 13 (2022), your yearbook will cost $40. Also, family discounts will apply so that family members can more easily afford for each person to have his or her own book. Buy in the early period, and the first yearbook costs you $30, a second book for the same family will cost $20, and all other books for the same family (up to five yearbooks total) will be $15. A family that wants three yearbooks can get all three of them for $65! That's only $21.66 per book! OHS yearbooks haven't been that cheap since the '80's! Family will be defined as "Mom, Dad, and the kids" (no aunts, uncles, or cousins). Get your 2021-2022 OHS Buffalo ordered today!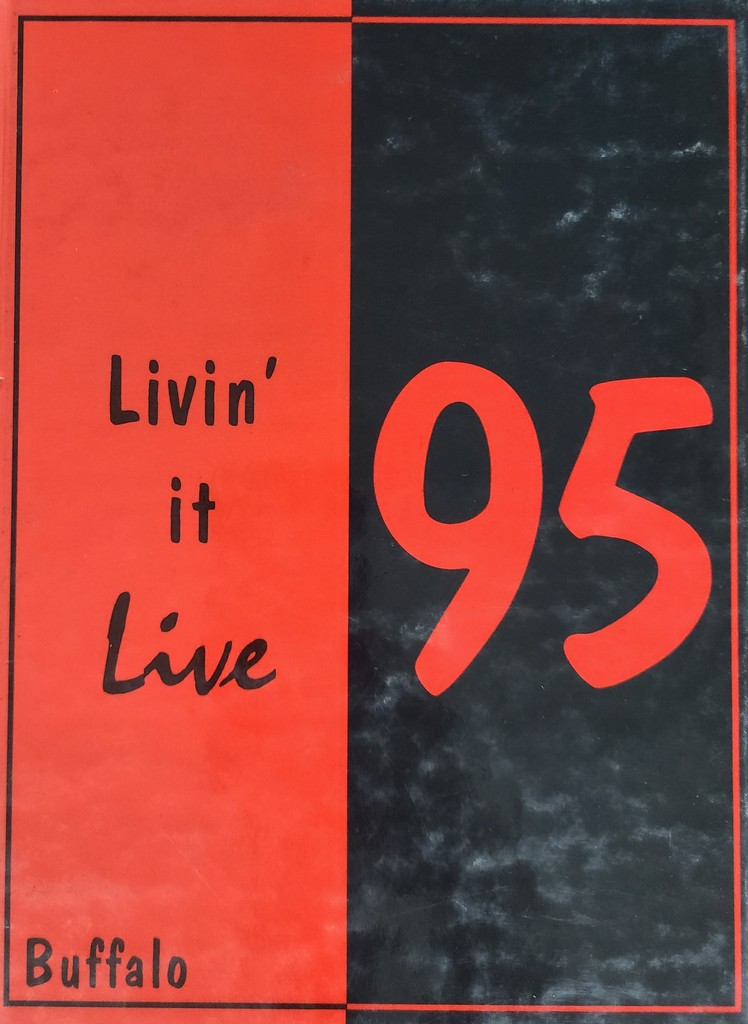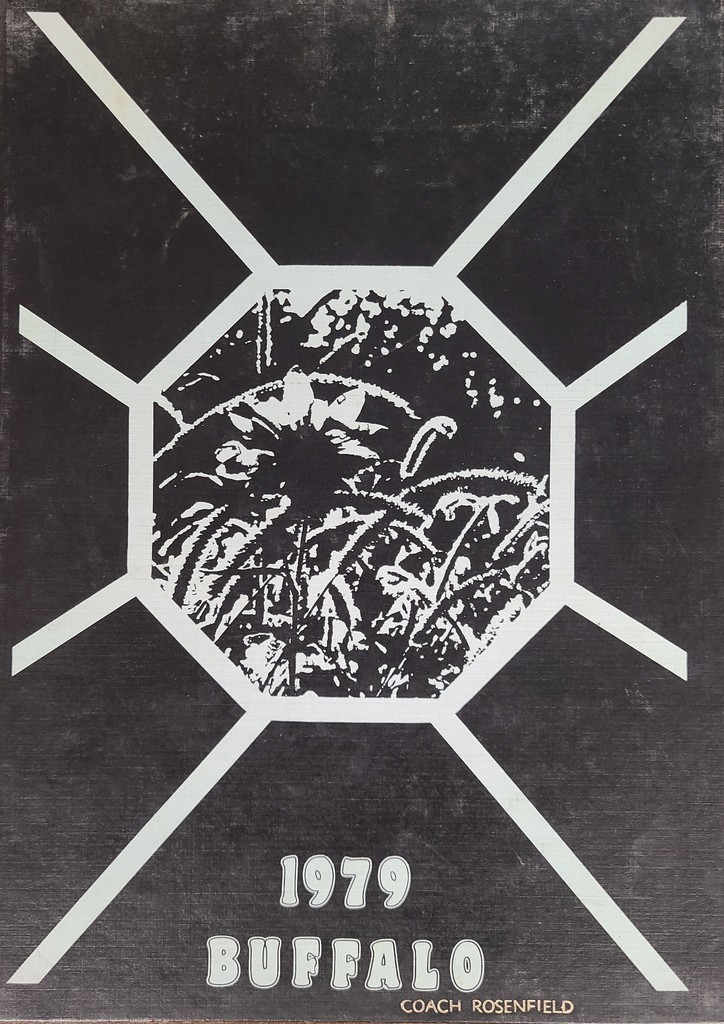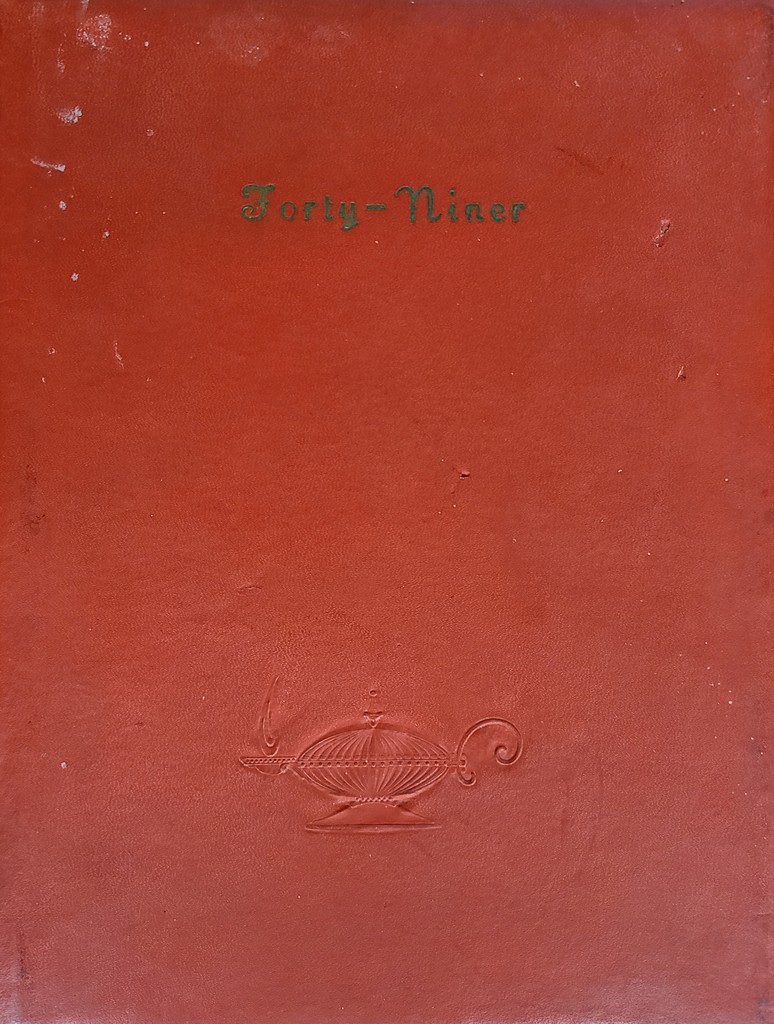 The high school football team hits the road for the first time this season as it heads to Hanover for another league tilt. The game will also be the first District game of the season for both teams as postseason implications are already on the line in just week #2. Kickoff is set for 7:00pm. Good luck tonight boys, GO BUFFALOES!!!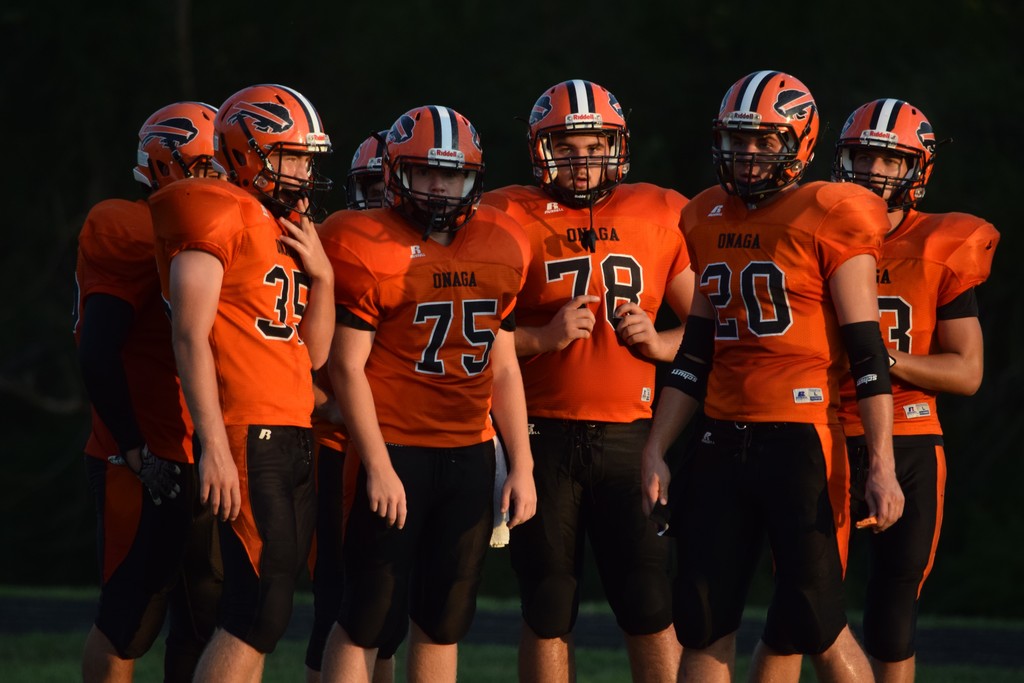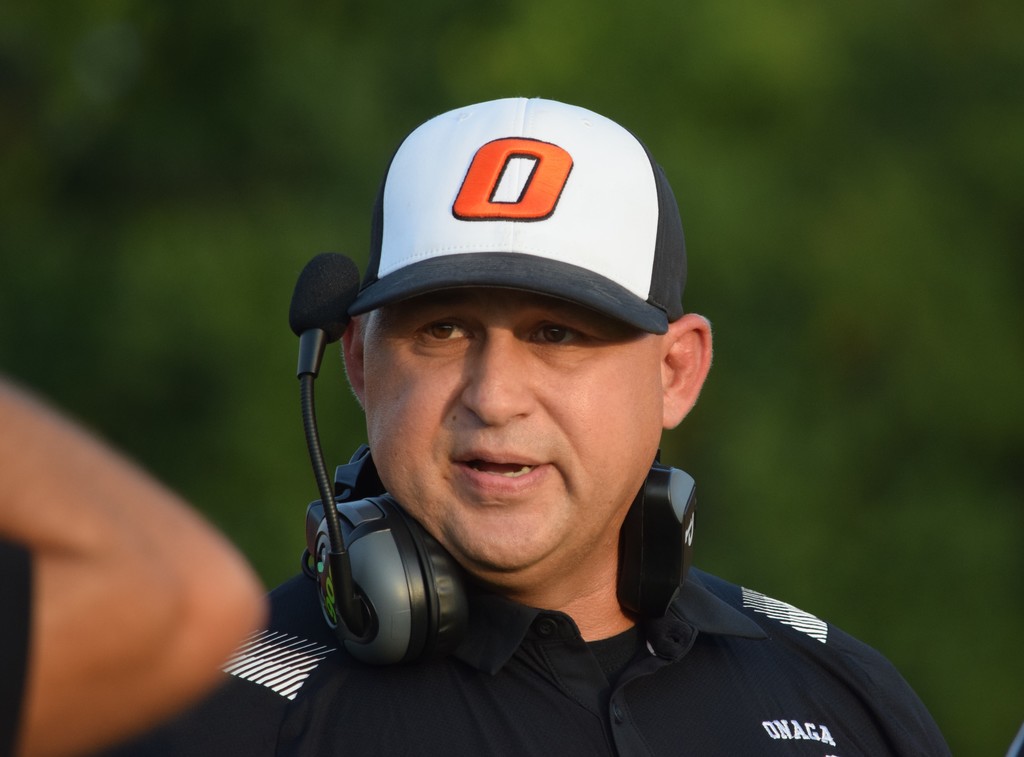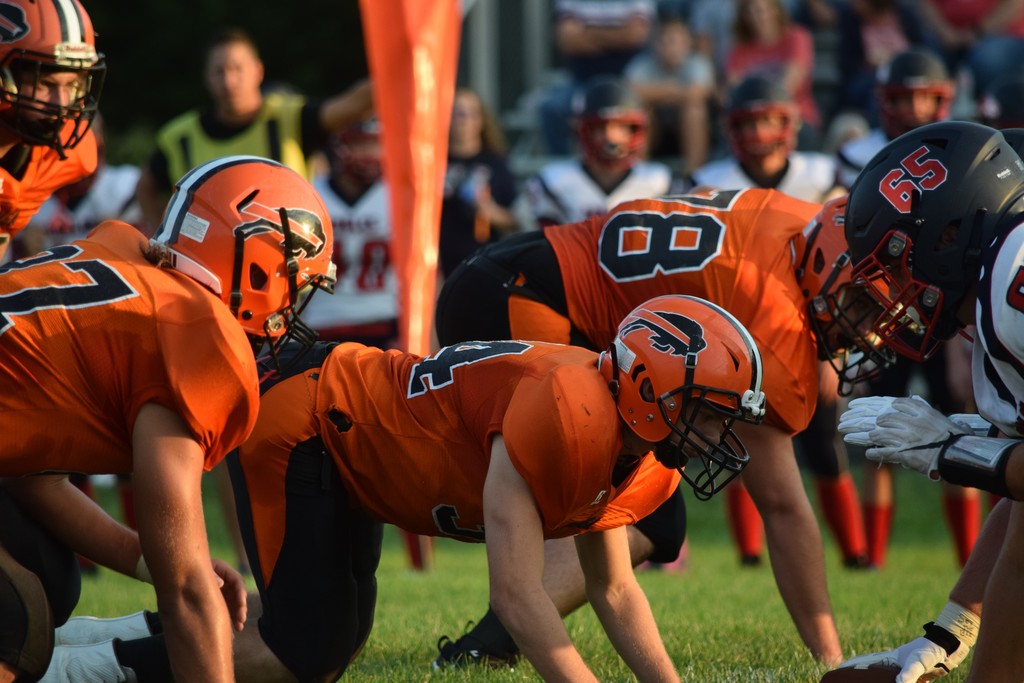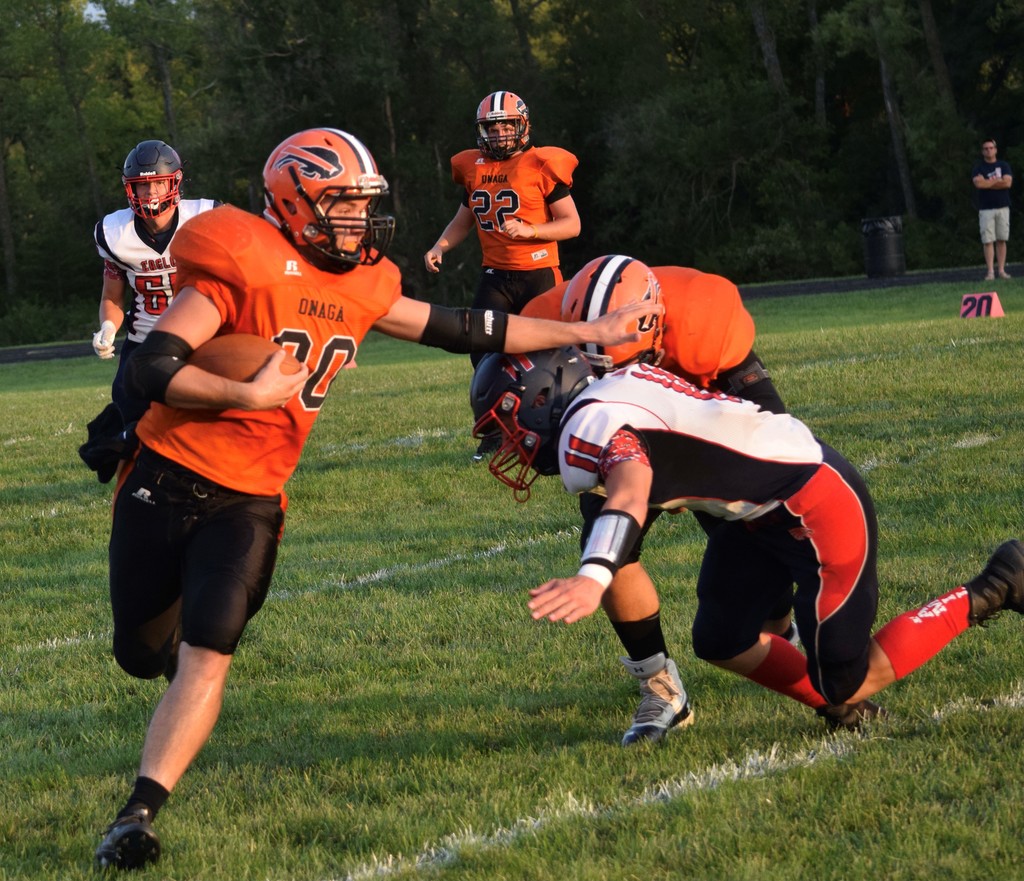 Congratulations to Mrs. Sperber's 4th grade "Reader Leaders of the Week!" Here are the top readers in her class from the last two weeks. Keep up the good work!!! Week 1 1st - Wyatt Rager 2nd - Jovin Matson 3rd - Jaelyn VanDonge 4th - Allie Perry 5th - Ellie Starns 6th - Tatum Utley Week 2 1st - Wyatt Rager 2nd - Jaelyn VanDonge 3rd - Jovin Matson (Not Pictured) 4th - Allie Perry 5th - Hudson Baxter 6th - Sally Miller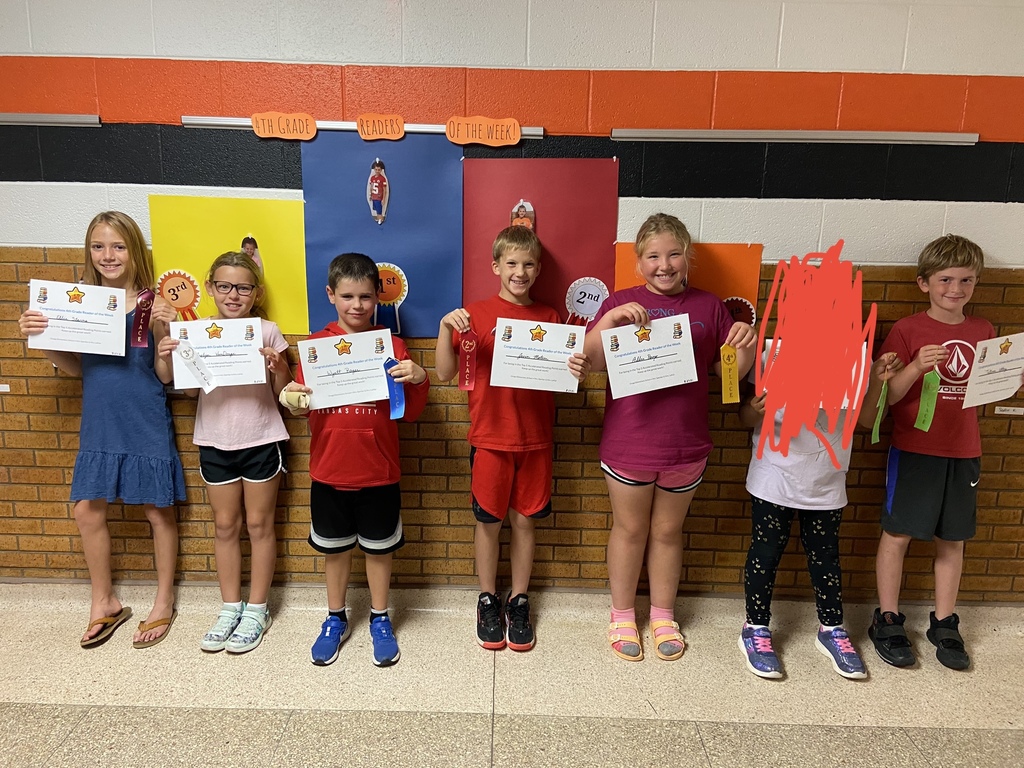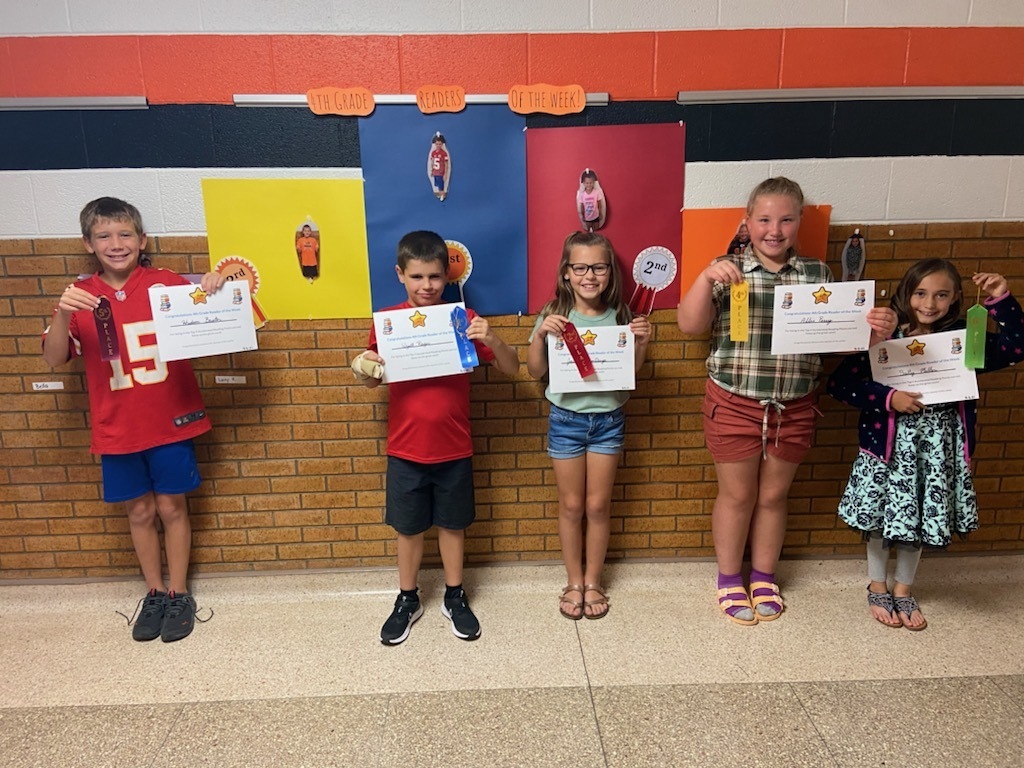 Update: For anyone under quarantine due to a household positive case it is recommended that the student quarantine for 10-14 days after the positive case has been released from home isolation. (This is because exposure is considered ongoing within the house) For the safety of our students, and with the hope to stop the spread of COVID-19, USD 322 has decided, regardless of household separation, if you are in quarantine due to a household positive, your child should remain home 10 days from the END of the positive case in the home. For example: Dad is positive on 9/1/21 and quarantine ends on 9/11/21. Childs day 1 starts 9/12/21 and child will test with daily antigen x10 days if wanting to attend school. Daily antigen testing is good for 24 hours. Child must also wear a mask during this time. Due to low supplies Day 7 PCR's are no longer available until further notice. Antigen testing is all that is currently being offered. Please continue to follow the process through the hospital by calling the day before to schedule antigen testing. Also a reminder that the school receives doctors notes stating the child was seen and/or negative/positive and when the return date will be. Thank you and we appreciate your understanding. Ty Poell, Principal Sierra Valburg, School Nurse

Please check out the following information from 7-12 Counselor Mr. Polk on applying for FAFSA, and on the checklist for any students who plan to attend college after high school graduation. There are two documents, please follow the links below to read a message from Mr. Polk and to see the checklist that will help make sure students are staying on track for post-secondary education. From the Desk of the Counselor:
https://5il.co/yl7a
College Preparation Timeline:
https://5il.co/yl7b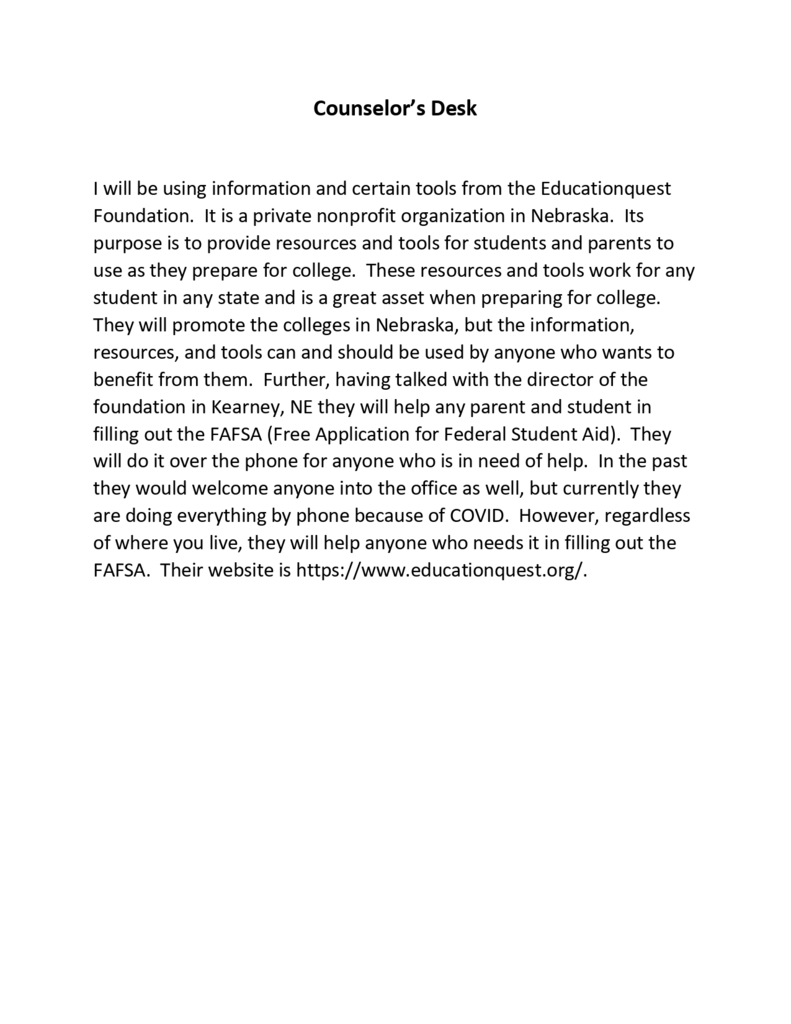 The high school volleyball team is back in action today in the team's home opener. The girls will be hosting a quad tonight when Clifton-Clyde, Valley Heights and Linn come to town. Action begins in the south gym at 3:45pm and games in the north gym will start at 5:00pm. If you are unable to make it to the games, all of the action in the north gym can be viewed on the NFHS Network. A link to watch the game can be found at the district website (usd322.org). Good luck tonight ladies, GO BUFFALOES!!!