The Booster Club is getting back to its roots and offering the opportunity to become an Onaga Booster! Check out the message from the Booster Club attached, and if you'd like to become a booster, follow the link below to download and fill out the form. Thank you to all who consider helping the student-athletes at USD 322! GO BUFFALOES!!!

Attention parents of junior high students - we are having technical difficulties inputting junior high classes into PowerSchool. Your student's schedule will be posted on the auditorium doors by the office. Please have them check there. If they have class schedule questions, please have them stop by the office. We apologize for the inconvenience caused. Thank you.

The staff at USD 322 has been preparing for the upcoming school year which begins tomorrow. They met Friday and Monday for Professional Development at the school. Superintendent Trevor Ashcraft and principal Ben O'Dell led the meetings as staff discussed goals and visions for the upcoming school year and the future as a whole, new staff members were introduced to the team, and many other topics were covered regarding the mission of the district. In the process, the staff even got to have a little fun playing dodgeball golf. Today the staff is making final preparations for student arrival on Wednesday. Students and parents are also welcome to join us this evening for the annual Back to School Night from 5:30pm to 6:30pm. Students will have the opportunity to meet their teachers, drop off supplies, and find their lockers. Senior class parents will also be sponsoring a spaghetti supper in the multipurpose room from 5:30pm to 7:00pm. Spaghetti, breadsticks, salad, a drink and dessert will be on the menu. We hope to see you all tonight and we are anxious to see you in class tomorrow! GO BUFFALOES!!!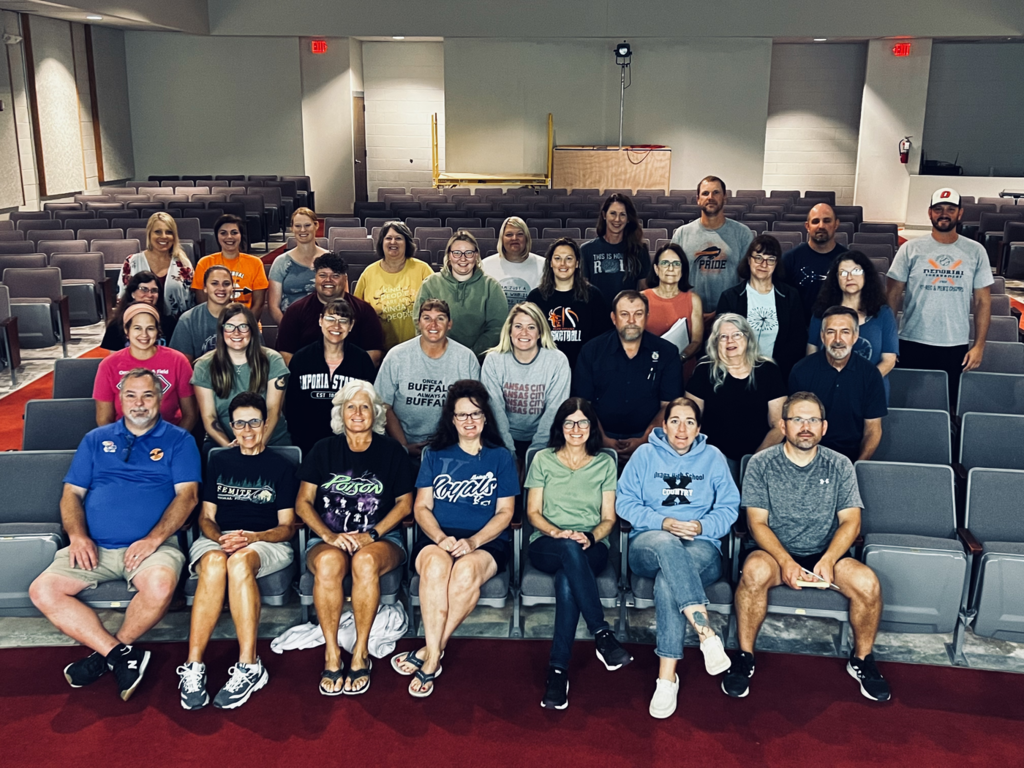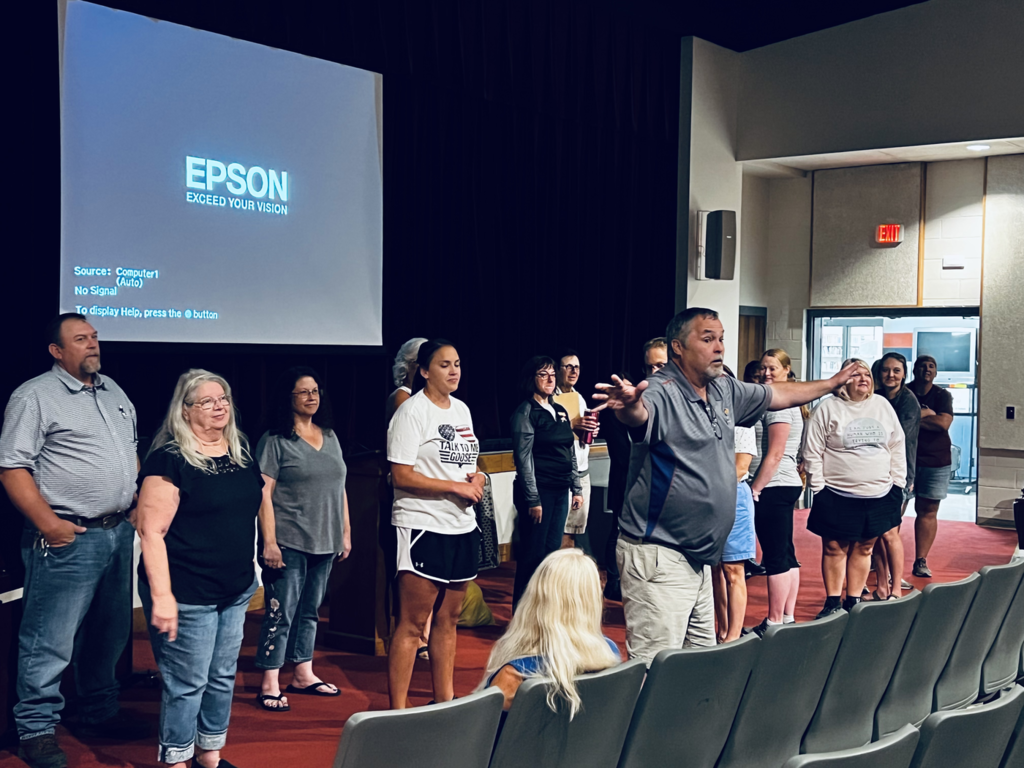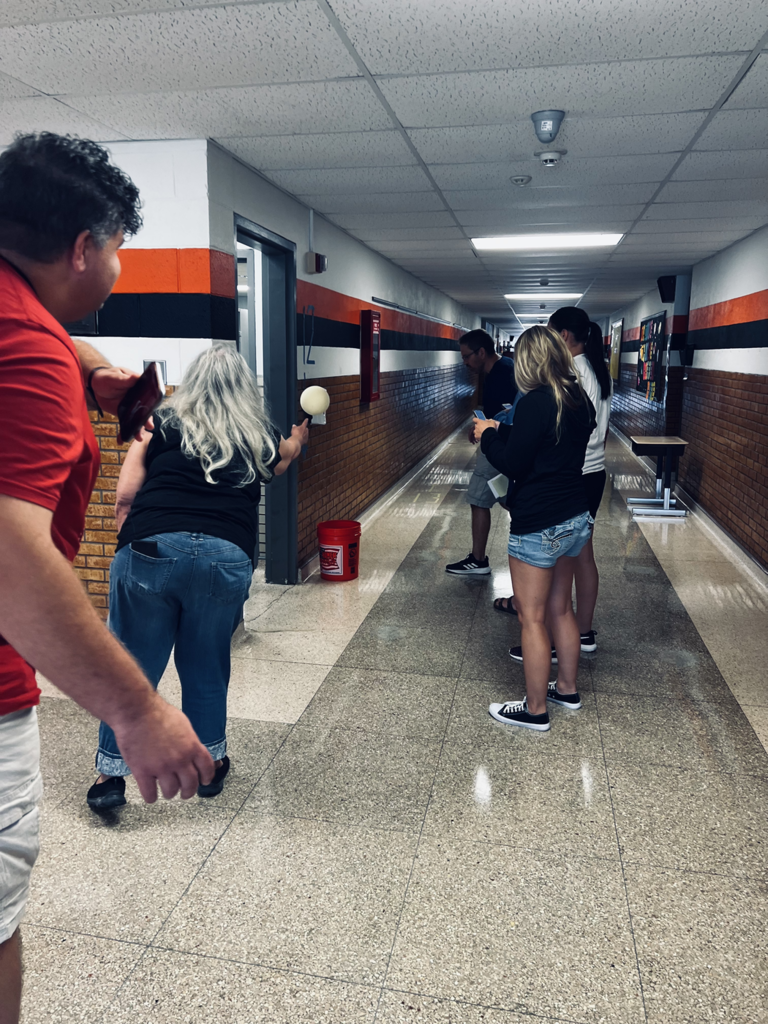 Just a reminder, applications for free and reduced lunches must be submitted today in order to receive the benefit. To submit your application, complete the form at the link below. The link is also available on the district website, usd322.org.
https://schoolmealsapp.ksde.org/Home/welcome/D0322

Just a reminder to all 7-12 athletes and parents of athletes, fall sports practices begin today! Below is a rundown of times and locations of those practices this afternoon: JH Volleyball - 1pm in the south gym JH Football - 4pm in the multipurpose room HS Cross Country - 4pm in Coach Greenlee's room HS Volleyball - 3:30pm in the north gym HS Football - 4pm at the practice field Good luck to all of our teams as they begin their seasons today! GO BUFFALOES!!!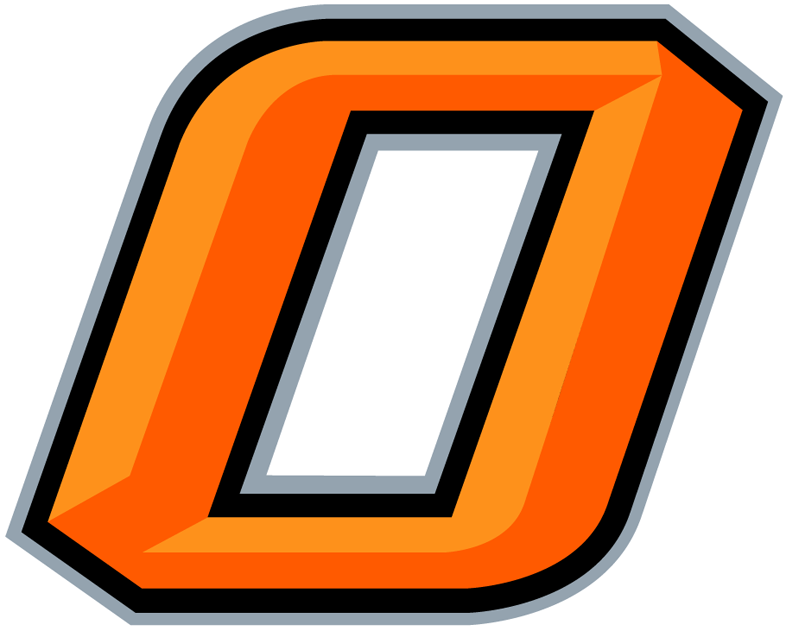 Attention JH Volleyball players: The first practice will be on Monday, August 15th from 1pm-3pm in the south gym. Practice pads will be available, but please bring your own water bottle. Players must have a sports physical on file in order to participate. Tuesday, August 16th practice will be held at the same time and location. Wednesday-Friday practices will be during school time. Saturday, August 20th practice will be from 7:30am-9:00am. Please email any questions to
valburgs@usd322.org
. Thank you! - Coach Valburg

High school football parents and players, football practice will start Monday August 15th at the practice field at 4:00 pm. Both Monday and Tuesday will be helmets only. Anyone who was undecided or unable to attend summer workouts or camp but is still interested in participating this season as either a player or manager, please contact Coach Kolterman at 785-844-2312 or just show up Monday! Thanks!

USD 322 holds the safety of our students and staff as a top priority. Through collaboration with the County Health Department, the following guidelines have been created to provide healthy learning environments in the school. Note that these are very similar to the conclusion of last year. The Guidance Document - athletics are included in this document - can be found on the website under Student/Parent Resources:
https://5il.co/1ftzi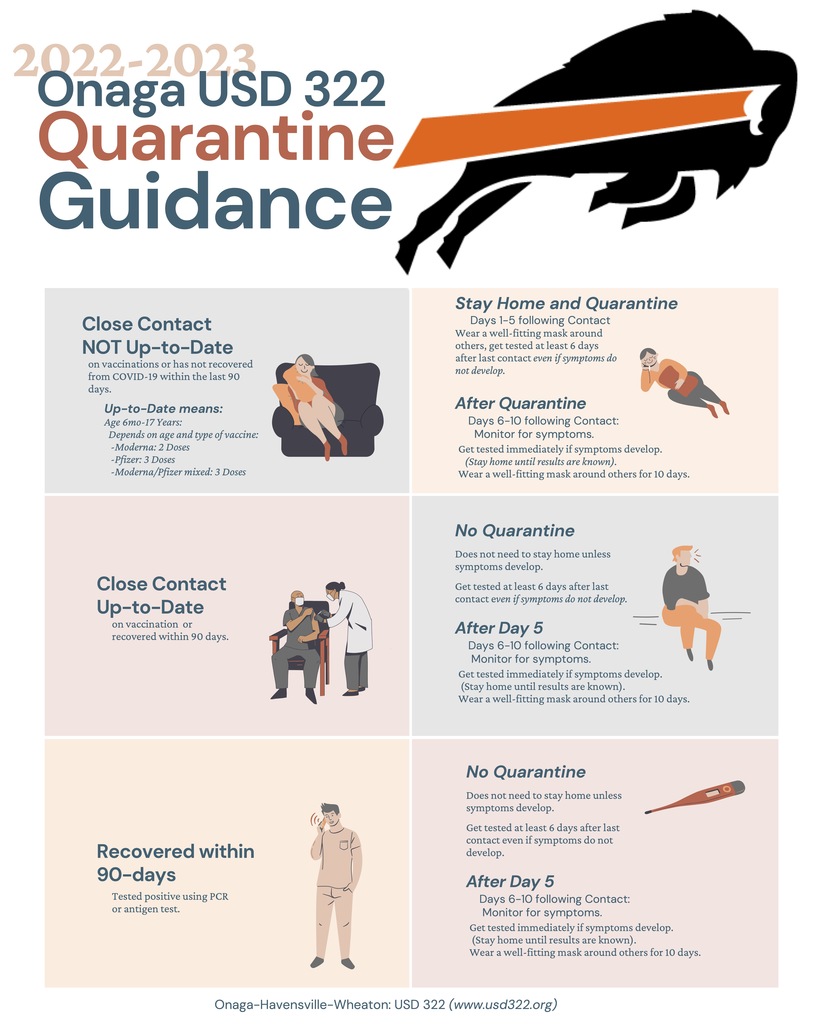 Attention JH Football Players and Parents: We are excited to begin our football season soon. Please note the following schedule of equipment checkout and practice for our first week, starting on Monday, August 15. Please also note a change to the equipment time checkout. Our first game is September 1, which is not far away. Please also keep in mind the following items of note: 1. Players must have a physical on file at the school before they can begin practice. 2. Players must have cleats and a mouth guard (this is provided) for practice. 3. Players are encouraged to bring their own water bottles/water jug to practice daily. We will also provide a big jug of water at practice as well as school water bottles that are available for use. Schedule: MONDAY (August 15) - Equipment checkout is from 4:00pm-4:30pm in the cafeteria. - Practice (helmets and shorts) will be held from 4:30pm-5:30pm. We will practice on the field behind the elementary playground. TUESDAY (August 16) - Practice (helmets and shorts) will be from 4:00pm-5:30pm. Players need to be on the field ready to begin at 4:00pm. WEDNESDAY (August 17) - School is out at 12:30pm. We will have a 12:30pm-1:30pm practice (helmets, shoulder pads, practice pants) following school. THURSDAY (August 18) - Practice (helmets, shoulder pads, practice pants) will be held during normal time (Last 2 periods of the day. Practice ends before 3:30pm so players can leave at the 3:30pm dismissal bell) FRIDAY (August 19) -Regular practice time during the school day. SATURDAY (August 20) -Encouraged but voluntary football practice from 7:30am-9:00am. (This will be our only Saturday practice of the season) SPECIAL NOTE: KSHSAA mandates that players must have 12 practices under their belt in order to play in a game. Also, JH Football program expectations/goals/policies/procedures will be shared with players and they are to share with their parents on Monday, August 15.

The school year is a week away and fall sports practices begin on Monday. With that in mind, here is a snap shot of every sporting event currently scheduled for the 2022-2023 school year. Feel free to save the picture for later reference, or download the PDF version of it by following the link below.
https://5il.co/1fte1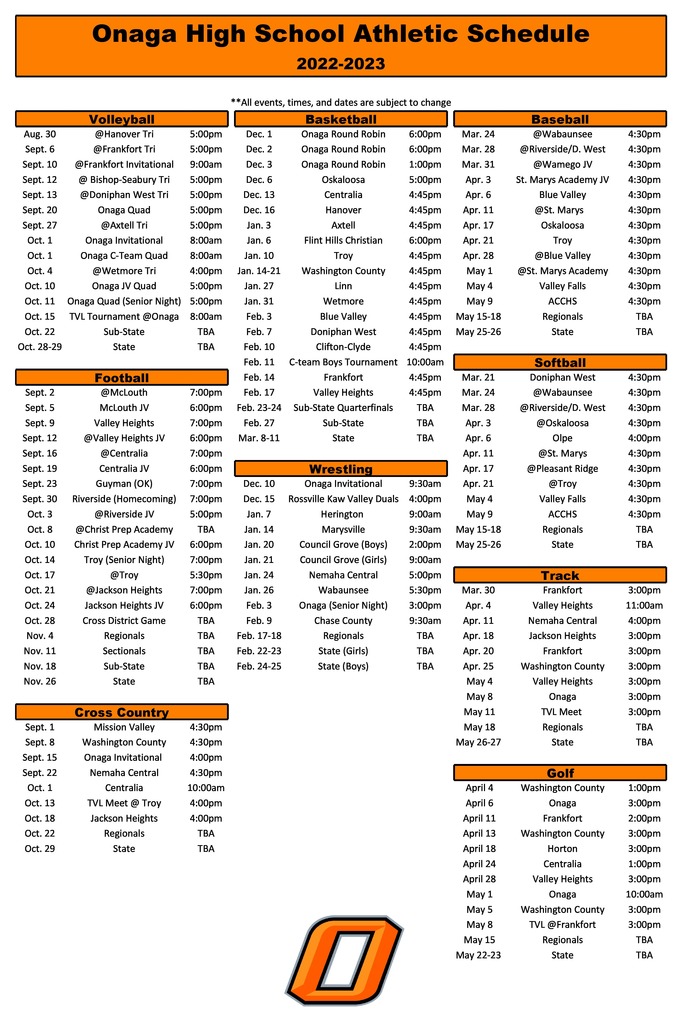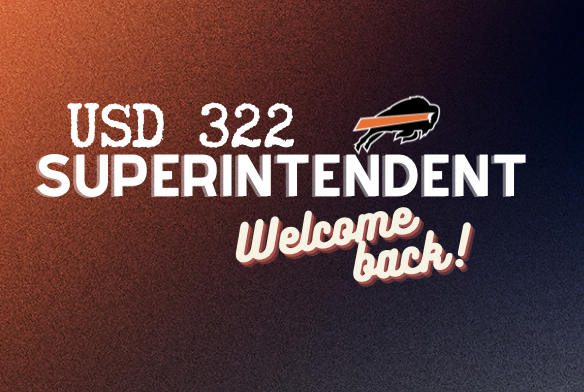 It's time to enroll in free and reduced lunches if you qualify for the upcoming school year. As in the past, paperwork was included in your enrollment packages for this that can be filled out and returned to the school. But this year you can actually fill out the form online if you prefer, a link for which can be found below. Don't forget, the deadline to fill this out is August 16th which is the day before the first day of school, otherwise lunches will be full price.
https://schoolmealsapp.ksde.org/Home/welcome/D0322

The 2022-2023 school calendar is complete! Completing the calendar is a daunting task, so many thanks is due to those who helped complete it. It can now be viewed digitally on the school website (
www.usd322.org
) by clicking on the orange button titled "School Calendar" on the website's home page. Printed versions of the calendar will be available soon!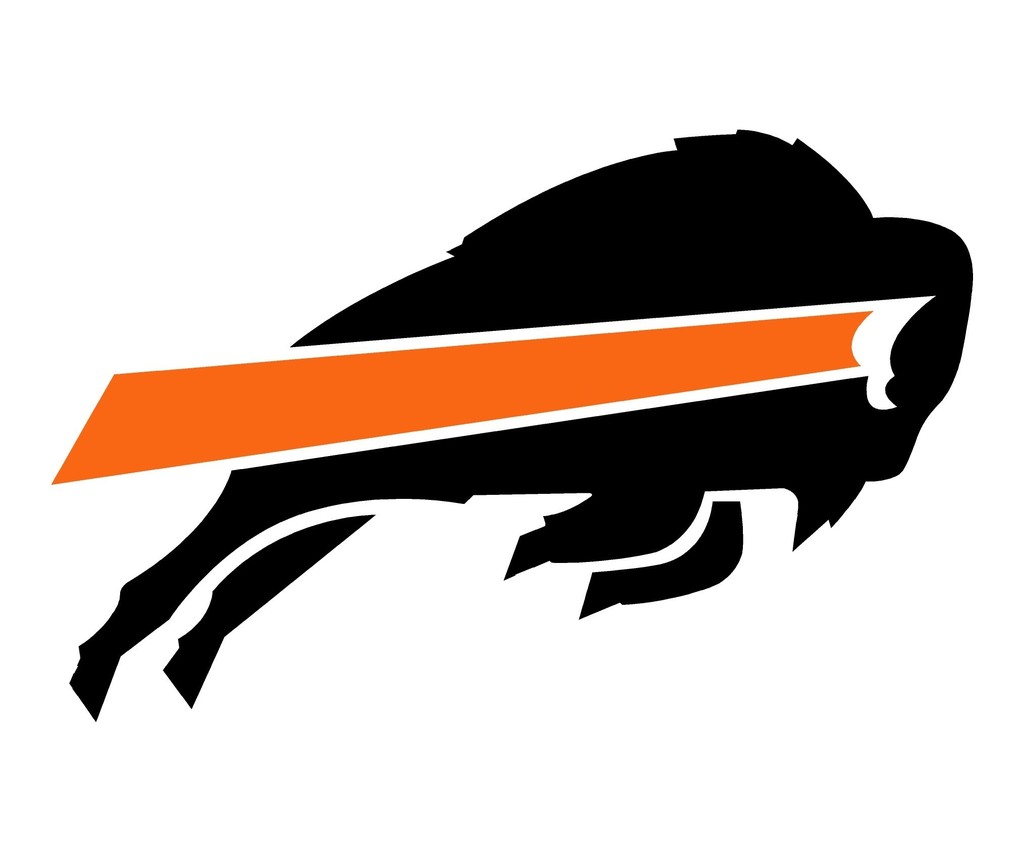 The Affordable Connectivity Program allows qualifying families to take advantage of discounts on internet service costs and a one-time discount on a device purchase through a participating provider. Got to
www.affordableconnectivity.gov
for more information!

Back-to-School Night! August 16: 5:30-6:30p Meet your teachers, drop off supplies, and find your locker. Enjoy Spaghetti afterwards in the Cafeteria. Sponsored by Senior Parents to benefit After Prom 5:30-7p

Don't forget that today is enrollment day at USD 322! You can come by any time today until 7:00pm to get your kids signed up for the 2022-2023 school year. Please enroll online and return all enrollment papers to the offices today before 7:00. If you need to use a computer to complete the online portion of the enrollment, there will be computers set up at both the grade school and high school offices.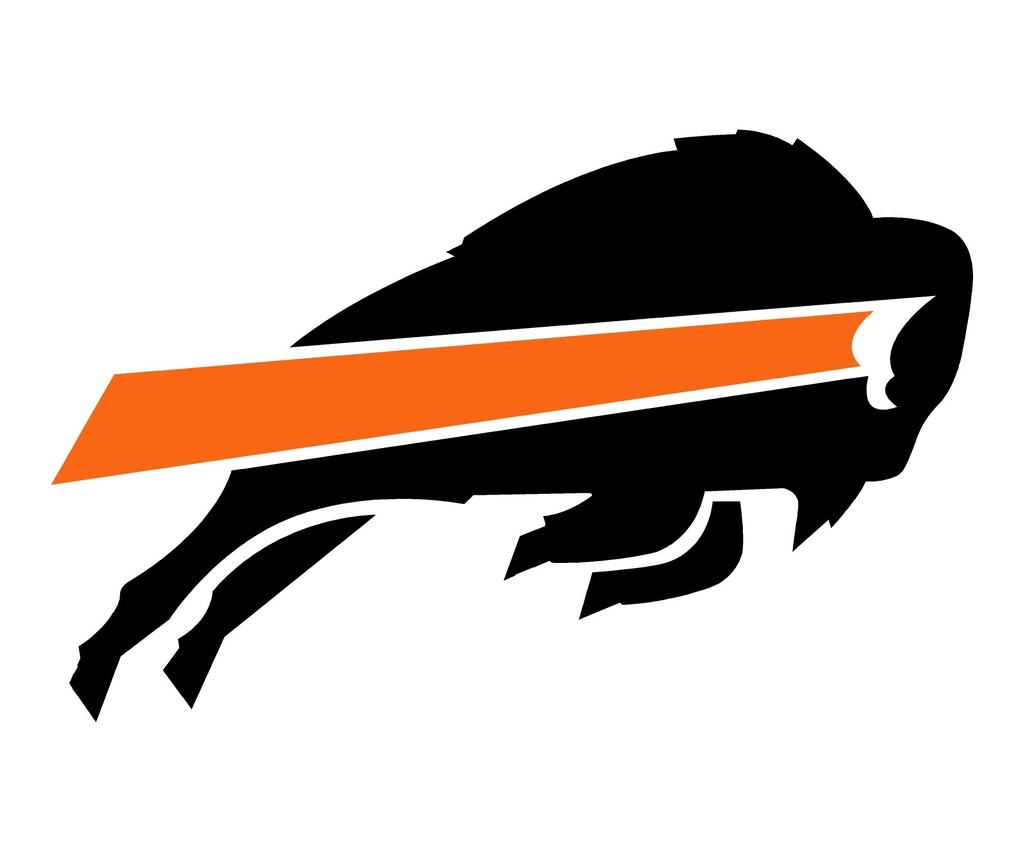 COVID Notes for Students Enrolled in Summer School/Weights and BFC: If there is a positive COVID case within the household (not the student).... Student stays home until the infected person is out of quarantine. Once family member is out of quarantine, students day 1 begins and it is recommended they stay home an additional 10 days. The student CAN test on their day 6 of quarantine and return back to school but must wear a mask for an additional 5 days. If student has any symptoms at all, or is unable to wear a mask properly, they will need to stay home for the full 10 days. If a student tests positive for COVID during Summer School, Weights, or BFC…. The positive student can come back on day 6 but must wear a mask for an additional 5 days. A doctors note is needed in order to return to school. At home tests will not be accepted. The student must have a signed document from a nurse or physician of a negative test before returning back to school. If you have questions, please email our school nurse, Sierra Valburg (
nurse@usd322.org
.)

For Parents of 7/8th Graders: in regards to prior message regarding notifying Gayla of students' top 2 elective choices, please email her at
figgeg@usd322.org-
please do not call or text her what your child has selected. Thank you!

To Parents of incoming 7th and 8th grade students:students and parents: Because of changes to the schedule, you need to re-select an elective option. Class size limits require you to rank your first 2 choices, marking your most favored choice 1, and your next choice 2. Gayla needs this information ASAP. Please either email her your choice, or call/text the information. _____ Art _____ Band/Choir _____ OREO (Outdoor Recreation Exploration Opportunity) Thank you.

School meals for the upcoming school year will no longer be free for all students. The school meal waiver passed by Congress that provided free meals to all students expired on June 30, 2022. The "What You Need to Know" graphic provides information about school meals for the 2022–2023 school year, including information about the Free/Reduced Lunch application. The Free/Reduced Application form can be accessed here:
https://www.usd322.org/documents/school-forms/enrollment-forms/347831