ONAGA HIGH SCHOOL
ATHLETICS HALL OF FAME
Idea
The idea for an Onaga High School Athletic Hall of Fame arose to honor student athletes, individual teams, and outstanding coaches throughout the history of Onaga High School.
Purpose
The purpose of Onaga High School Athletic Hall of Fame is to honor and perpetuate the memory of those individuals and teams who have made outstanding contributions to Onaga athletics and have helped bring recognition, honors and excellence to the school and its athletic programs throughout its history. Also to be considered are contributions to athletics following attendance at Onaga High School.
An Athletic Hall of Fame also gives us an opportunity to show how proud we are of our student-athletes and the contributions they have made to our high school.
Members of the Athletic Hall of Fame serve as a standard of excellence and inspire current students and teams to achieve their own level of excellence.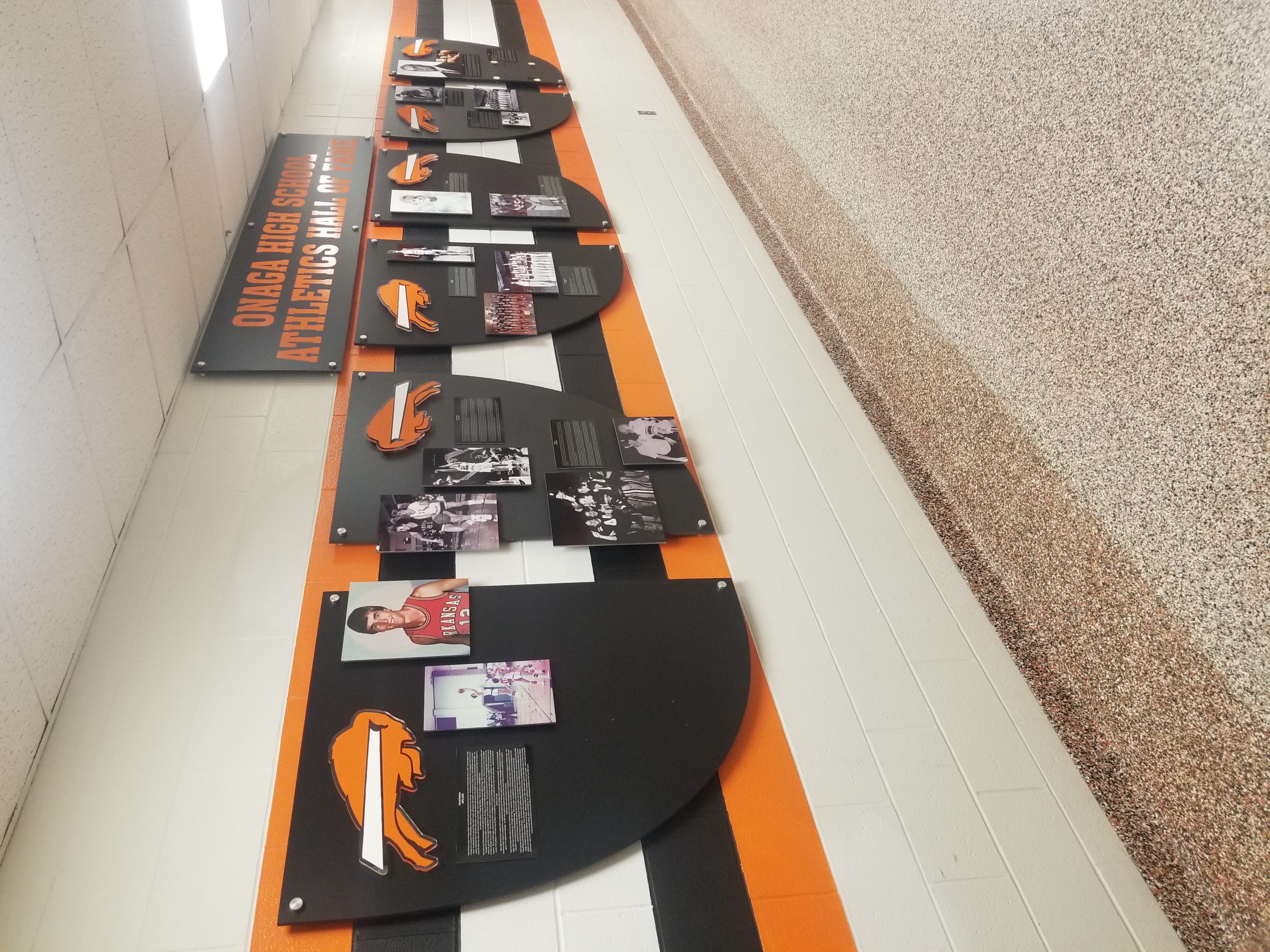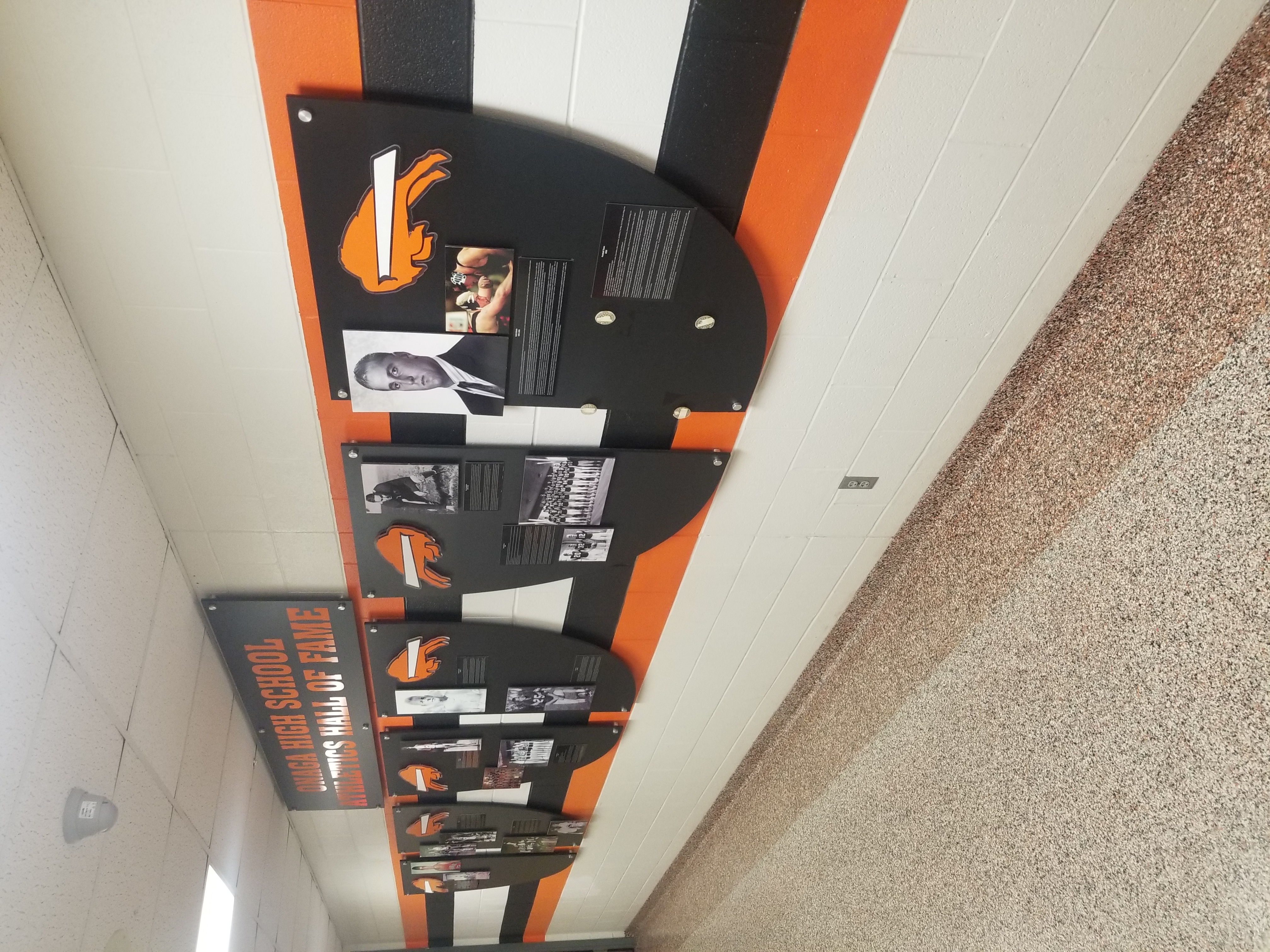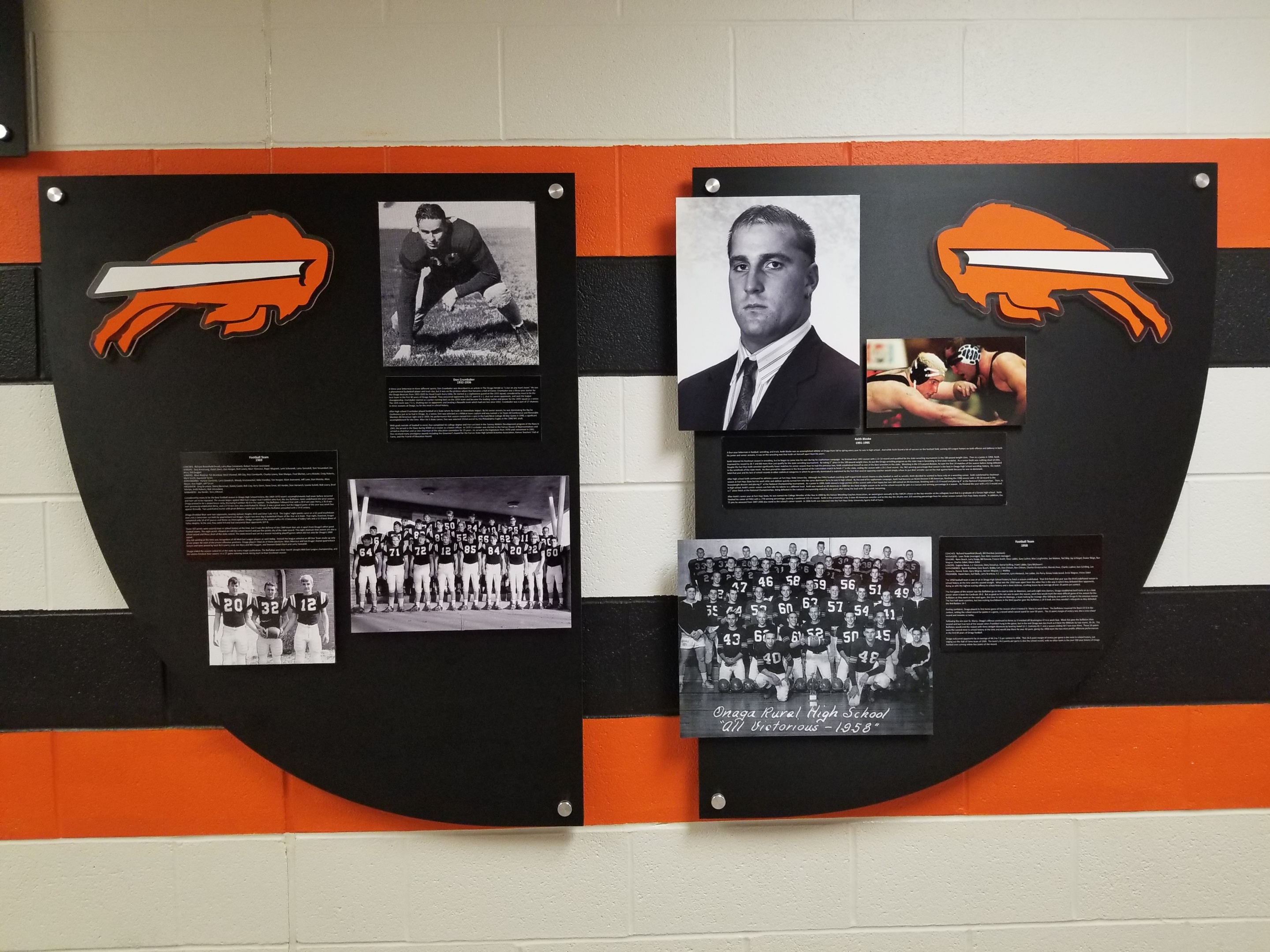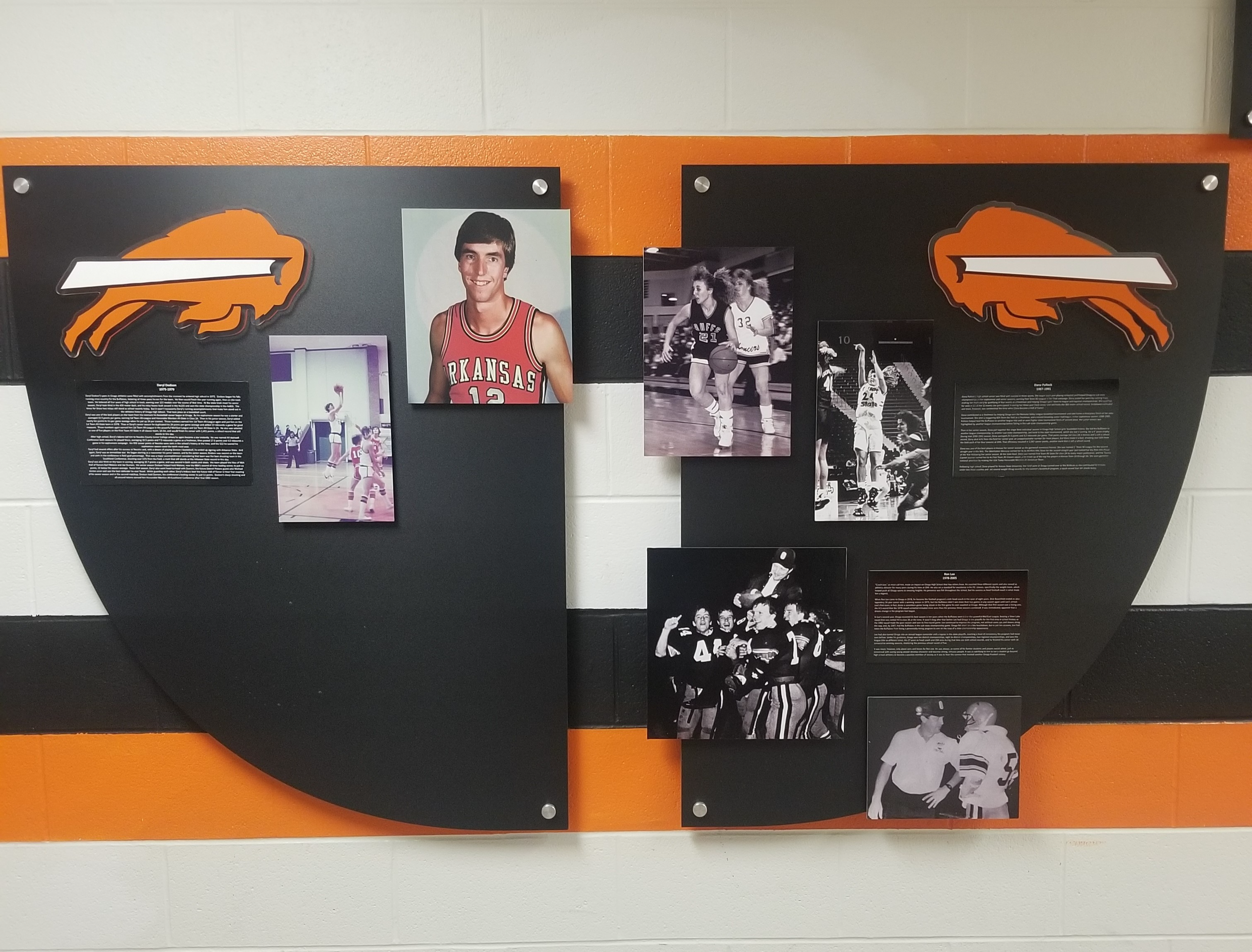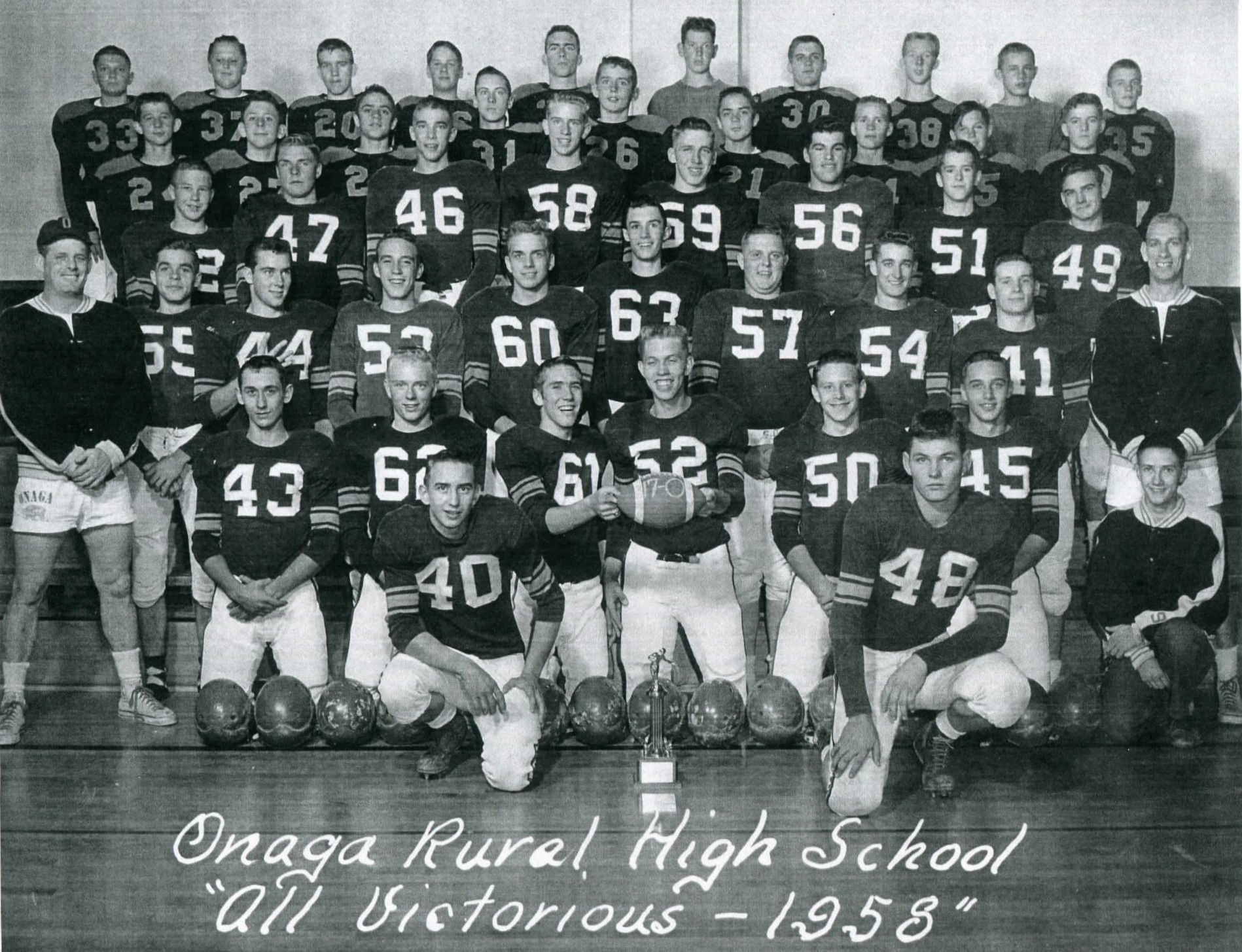 COACHES: Richard Rosenfield (head), Bill Overbey (assistant)
MANAGERS: Leon Teske (manager), Don Abitz (assistant manager)
SENIORS: Ronn Busch, Larry Knipp, Bill Kossow, Francis Kuehl, Dave Labbe, Gary Ladner, Max Loughmiller, Joe Malone, Ted May, Jay Schlegel, Duane Wege, Ron Wegner, Charles Zabel, Glenn Zeller
JUNIORS: Eugene Bosse, L.J. Corcoran, Deny Donahue, Darryl Griffing, Frank Labbe, Gary McDowell
SOPHOMORES: Byron Brunkow, Gary Busch, Bobby Carl, Don Chilson, Ron Chilson, Charles Grutzmacher, Marvin Huss, Charles Ladner, Don Schilling, Lee Schwartz, Dennis Teske, Gary Wegner, Vernon Wegner, J.J. Wolfley
FRESHMEN: David Ayers, Earl Bolls, Larry Brunkow, K.C. Corcoran, Lynn Hartwich, Jim Labbe, Jim Perry, Kenny Underwood, Ernie Wegner, Victor Zabel
The 1958 football team is one of six in Onaga High School history to finish a season undefeated. Their 8-0 finish that year was the third undefeated season in school history at the time and the second straight. What makes the 1958 squad a Hall of Fame team was the record-setting way in which they went undefeated, doing so with the highest scoring offense in school history and a stout defense, crushing teams by an average of over 36 points per contest.
The first game of the season saw the Buffaloes go on the road to take on Wetmore, and with eight new starters Onaga beat the Cardinals 39-0, totaling over 300 yards of offense while holding Wetmore to just four. But as good as the win was to open the season, week two would mark the most difficult game of the season for the Buffaloes as they went on the road again, this time to take on Wamego, a team looking for revenge after falling by one point to Onaga in the previous season. The first half went scoreless, but two rushing touchdowns in the third quarter gave the Buffaloes a 14-0 lead, one they wouldn't relinquish as they defeated the Red Raiders 14-7.
Feeling confident, Onaga played its first home game of the season when it hosted St. Mary's in week three. The Buffaloes trounced the Bears 63-0 in the contest, setting the school record for points in a game, a record which would stand for over 50 years. The 63 point margin of victory was also a new school record and remains so today.
Following the win over St. Marys, Onaga's offense continued to thrive as it knocked off Washington 47-6 in week four. Week five gave the Buffaloes their second and last true test of the season when Frankfort hung in the game, but in the end Onaga was too much as it beat the Wildcats by two scores, 35-26. The Buffaloes would end the season with three straight blowouts by beating Axtell 52-7, Centralia 45-7, and a season-ending 59-7 win over Alma. Those 59 points were the second most in school history at the time and would stay there for over 40 years, giving the 1958 team the two most prolific offensive performances in the first 84 years of Onaga football.
Onaga outscored opponents by an average of 44.3 to 7.5 per contest in 1958. That 36.8 point margin of victory per game is the most in school history, just edging out the Hall of Fame team of 1969. The team's 44.3 points per game is also the school record, with no other team in the over 100 year history of Onaga football ever coming within five points of the record.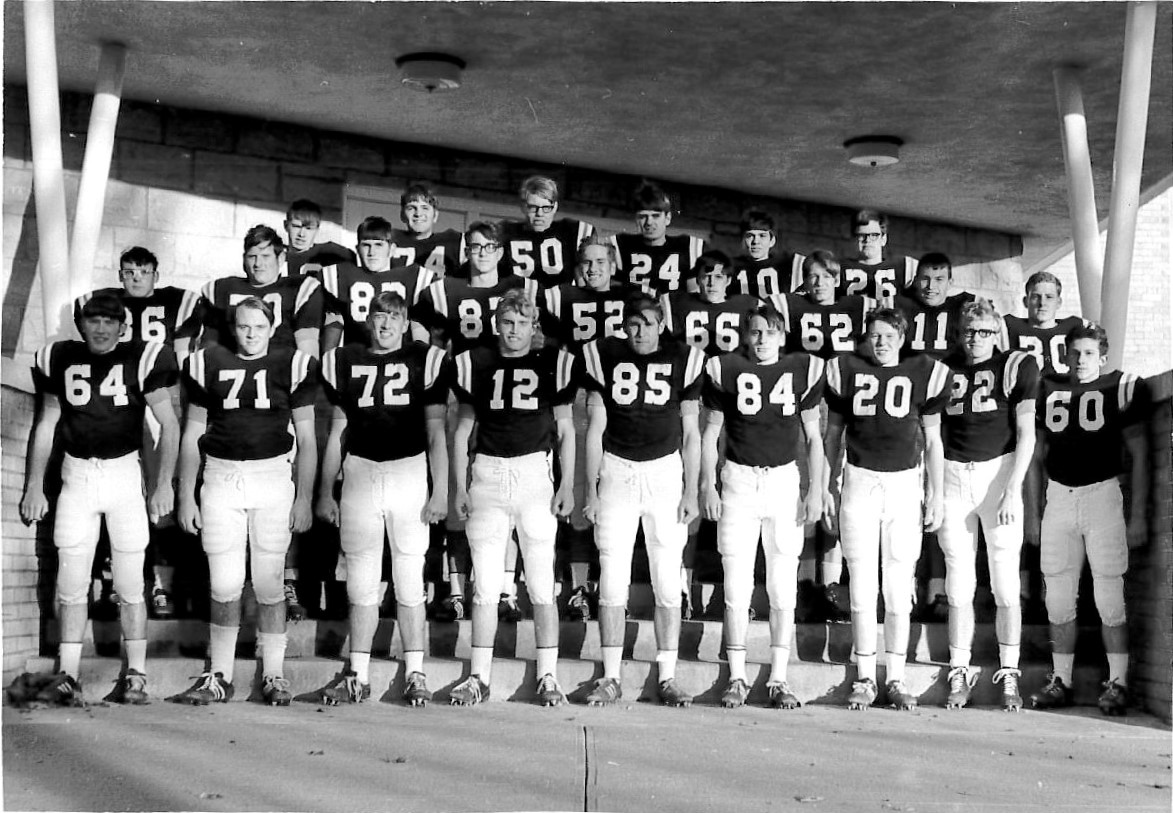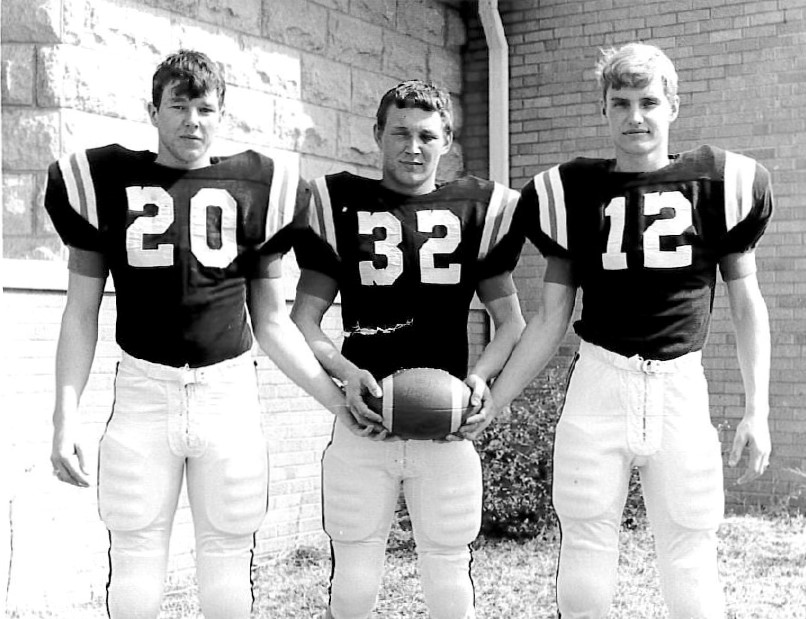 COACHES: Richard Rosenfield (head), Larry Bays (assistant), Robert Duncan (assistant)
SENIORS: Dick Armstrong, Ralph Ebert, Dan Horgan, Rich Lowry, Marc Marcoux, Roger Magnett, Lynn Schwandt, Larry Tannahill, Tom Tessendorf, Jim Wyss, Bill Zwygart
JUNIORS: Mark Bonjour, Tim Brunkow, Veryl Channel, Bill Clay, Rick Eisenbarth, Charles Lowry, Stan Mangas, Fred Marten, Larry Matzke, Craig Roberts, Mark Smith, Raymond Tarvin
SOPHOMORES: Harlow Clements, Larry Goodrich, Woody Grutzmacher, Mike Handley, Tim Horgan, Mark Jeanneret, Jeff Lane, Stan Matzke, Allan Meyer, Stan Ralph, Jeff Tarvin
FRESHMEN: Greg Brunkow, Danny Bureman, Danny Cazier, Bob Clay, Jerry Ebert, Steve Ernst, Bill Harder, Stan Hartwich, Lonnie Kufahl, Bob Lowry, Brad Marten, Keith Roberts, Bob Venneberg
MANAGERS: Joe Harder, Terry Ottman
Considered by many to be the best football season in Onaga High School history, the 1969-1970 team's accomplishments had never before occurred and have yet to be repeated. The season began against Mid-East League rival Frankfort who had, like the Buffaloes, been undefeated the prior season. Onaga proved to be a powerhouse early, thumping Frankfort 40-0 in the opener. The Buffaloes followed that with a 39-0 win over Perry, a 35-0 win over previously-undefeated Alma, and a 27-0 win over also undefeated St. Marys. It was a great start, but the biggest game of the year was week five against Rossville. Two undefeated teams with great defenses went toe-to-toe, and the Buffaloes prevailed with a 14-0 victory.
Onaga throttled their next two opponents, beating Jackson Heights 49-0 and Silver Lake 41-8. The Eagles' eight points came on a 63-yard touchdown pass and a conversion run both by quarterback Lon Kruger, future two-time Big 8 basketball Player of the Year at K-State. That night, however, Kruger completed only 18 of 47 passes and threw six interceptions. Onaga completed the season with a 41-0 trouncing of Valley Falls and a 51-0 beat down of Valley Heights. In the end, they went 9-0 and had outscored their opponents 337-8.
Those 337 points were second most in school history at the time, but it was the defense of the 1969 team that sets it apart from Onaga's other great football teams. The eight points allowed are still the school record and just five points shy of the state record. The eight shutouts that season are also a school record and three short of the state record. The state record was set in a season including playoff games which did not exist for Onaga's 1969 squad.
Also not existing at the time was recognition of All-Mid-East League players as seen today. Instead the league selected an All-Star Team made up only of one player for each of the eleven offensive positions. Onaga players filled six of those positions: Marc Marcoux and Lon Kruger shared quarterback honors and were joined by back Rich Lowry, ends Jim Wyss and Bill Zwygart, and linemen Ralph Ebert and Larry Tannahill.
Onaga ended the season ranked #1 in the state by every major publication. The Buffaloes won their fourth straight Mid-East-League championship, and the seniors finished their careers on a 27-game winning streak dating back to their freshman season.
1986-1987 Girls Basketball Team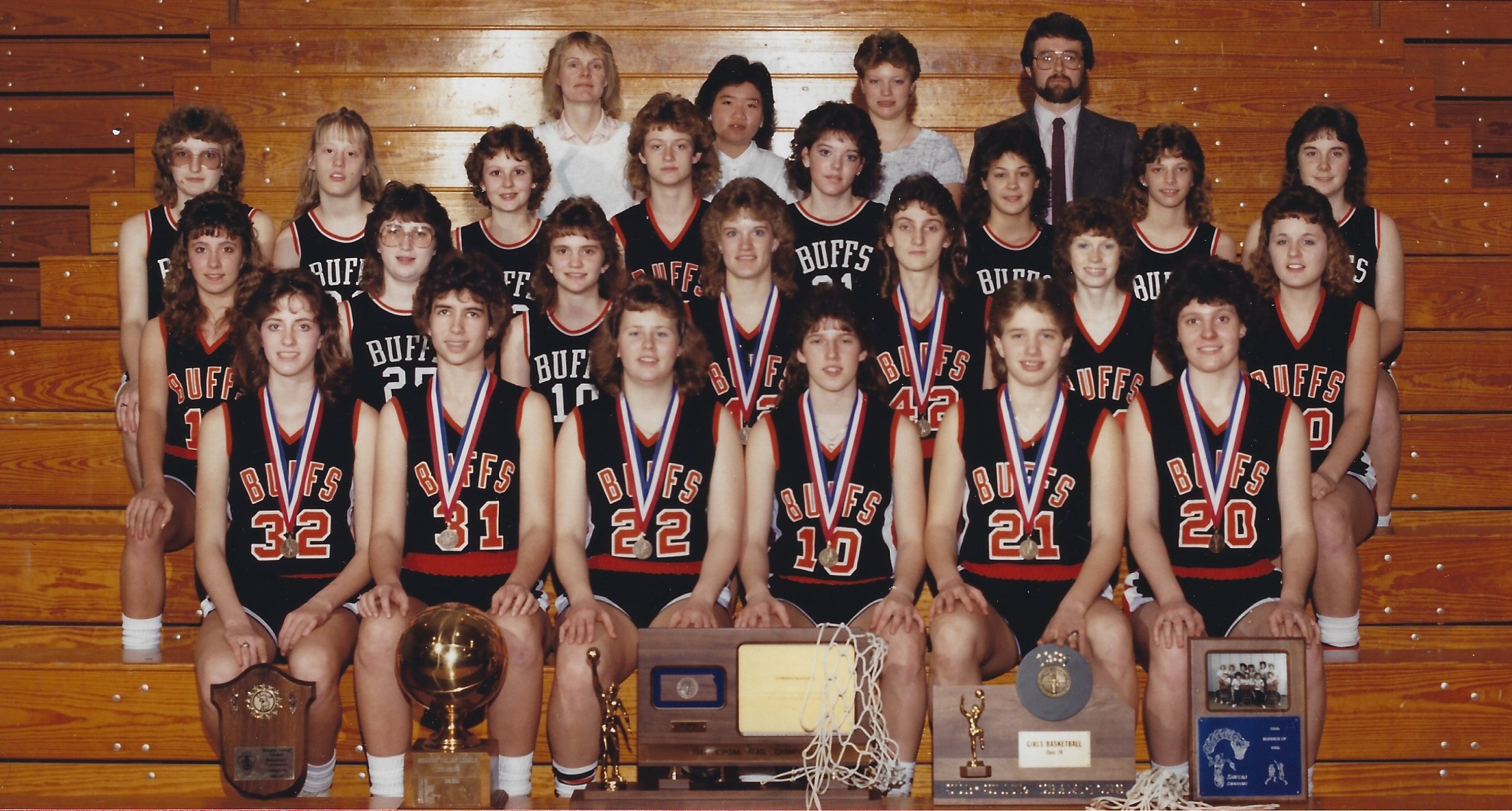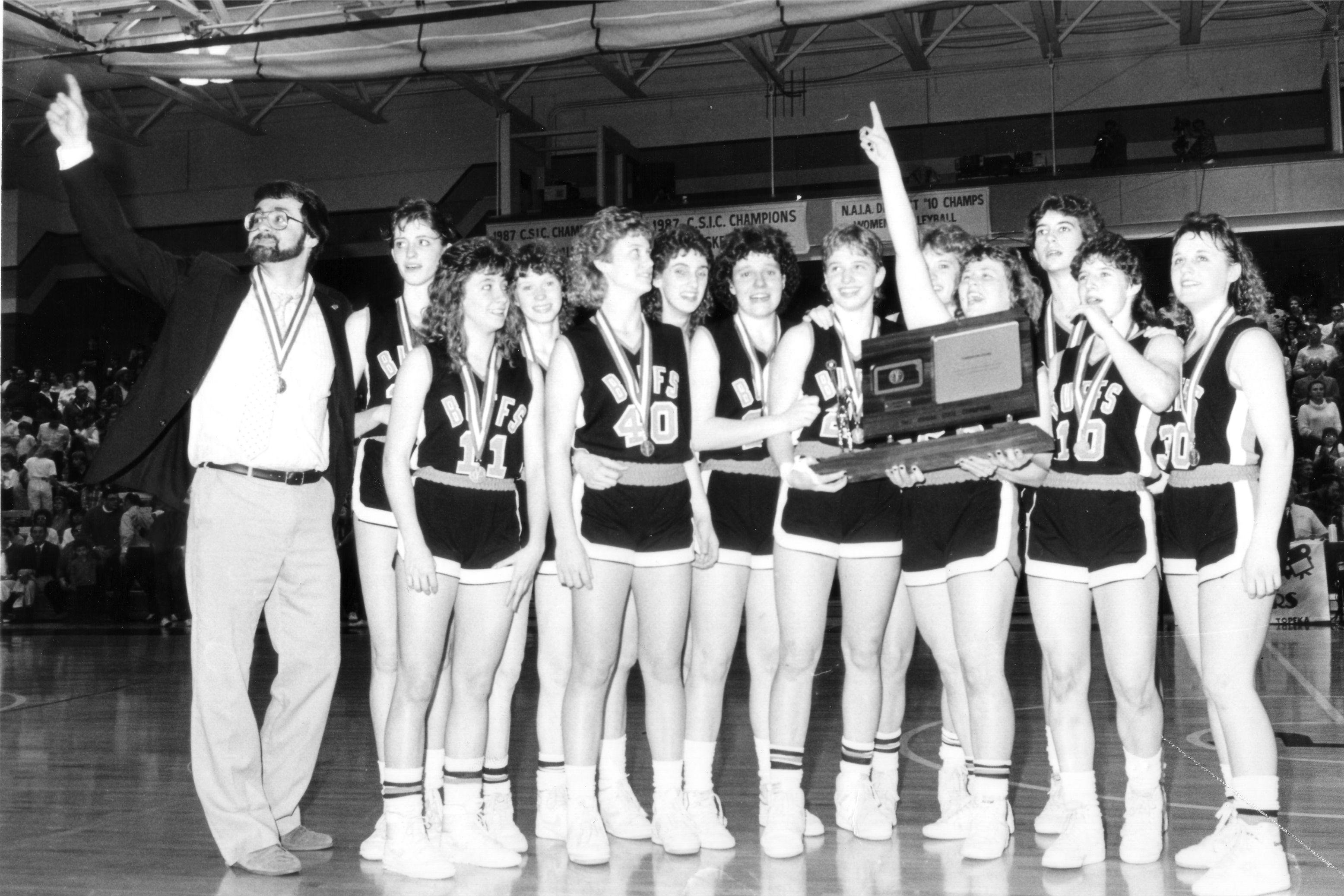 COACHES: Dave Schmidt (head), Linda Steinlage Roggenkamp (assistant)
SENIORS: Michele Kopp Reisinger, Lori Kufahl Broadie, Rhonda Lee Trimble, Mitzi Loughmiller, Erin McNally Henry, Mary Nolte
JUNIORS: Michelle Berges, Karen Blaske White, Andrea Blow Jackson, Amy Crumbaker Hefty, Janet Haskin Zarndt
SOPHOMORES: Linda Bettencourt McDiffet, Kathy Blaske Michaelis, Kim Hefty Gudenkauf
FRESHMEN: Nikki Brunkow Marten, Christa Cornelius, Mary Elder, Lori Falk Fortin, Kennetta Howard, Jennifer Koelzer, Tina Kufahl
MANAGERS: Shelia Baxter, Isabella Chan
The 1986-1987 girls' basketball team started the season with two wins in the "Sabetha Shootout" over Atchison and Effingham before falling to the host school in the tournament championship. From that point on, Onaga never lost again. The team beat St. Marys, Valley Heights, Axtell twice, Bern twice, Centralia twice, Wetmore twice, B&B three times and Frankfort three times on their way to the Nemaha Valley League title and the league tournament championship. The '86-'87 squad outscored opponents 67.8 to 42.4 during that stretch, scoring over 90 points twice, 80 points another time, and 70 points three more times.
This sent the girls into post-season play where they throttled Linn 80-33 in the first round of the Sub-State tournament. Next up was Centralia, who Onaga toppled for the third time that season, 73-41. The Lady Buffaloes then completely dominated Riley County in the Sub-State Championship game, 77-38, punching their ticket to the state tournament. There the girls destroyed Linwood in the first round 80-33, then thumped Lincoln 76-57, setting up a title game with Southwestern Heights. The Lady Buffaloes notched their 22nd win in a row, knocking off the Mustangs 56-47 and capturing the first girls' basketball state title in school history.
After the season, Rhonda Lee was named 1st Team All-League and 1st Team All-State by every major publication in the state. Lori Kufahl, Erin McNally and Mary Nolte all garnered 2nd Team All-League honors, while Nolte also was named Honorable Mention All-State.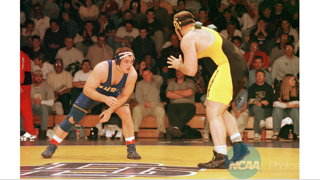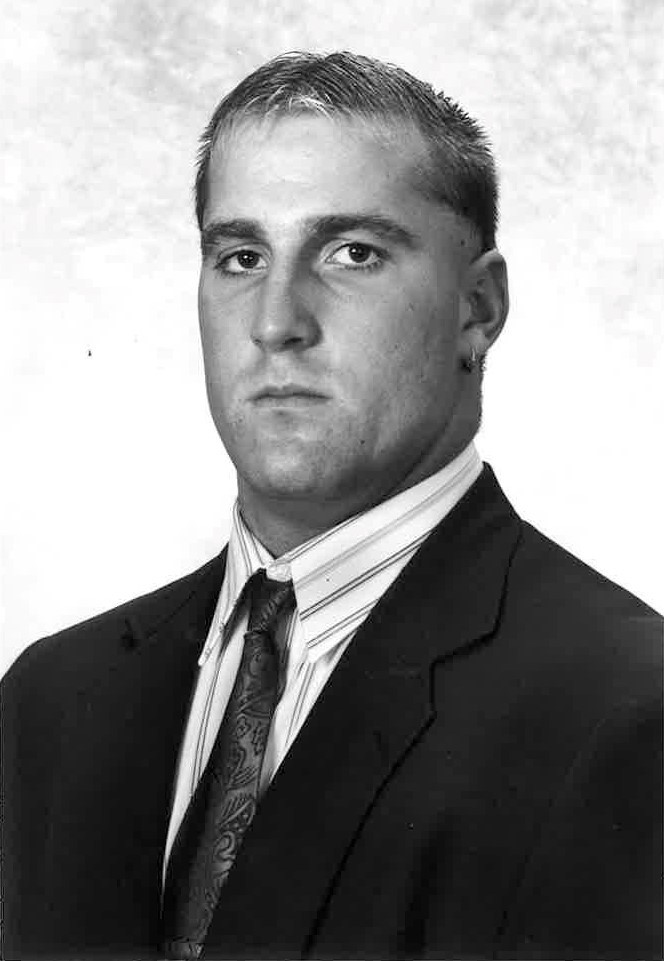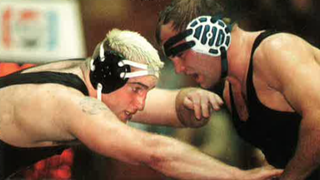 A four-year letterman in football, wrestling, and track, Keith Blaske was an accomplished athlete at Onaga from fall to spring every year he was in high school. And while Keith found a lot of success on the football field, earning All-League honors on both offense and defense in both his junior and senior seasons, it was on the wrestling mat that Keith set himself apart from his peers.
Keith lettered his freshman season in wrestling, but he began to come into his own during his sophomore campaign. He finished that 1993 season with a 22-10 record and qualified for the state wrestling tournament in the 189-pound weight class. Then as a junior in 1994, Keith improved his record to 26-7 and did more than just qualify for the state wrestling tournament. By taking 2nd place in the 189-pound weight class, he put the Onaga wrestling program on the state map in becoming its first state medalist. As a senior Keith was nothing short of elite. Despite the fact that Keith wrestled significantly fewer matches his senior season than he had the previous two, Keith established himself as one of the best wrestlers in the state. Wrestling in the 215-pound division, he won the first 24 matches of the season before being defeated in the semifinals of the state meet. He then pinned his opponent in the first period of the consolation match to finish 3rd in the state, ending the season with a 25-1 final record. His .962 winning percentage that season is the best in Onaga High School wrestling history. His match total that year and his lack of school records in other statistical categories in which he generally dominated is explained by the fact that several opposing coaches would simply refuse to put their wrestler out on the mat against Keith because he was so dominant.
After high school Keith continued his athletics career at Fort Hays State University. Although the FHSU football coaching staff hoped Keith would choose to play football as well as wrestle, Keith decided he wanted to focus only on a wrestling career. Keith redshirted his freshman season at Fort Hays State but his work ethic and abilities quickly turned him into the same dominant force he was in high school. By the end of his sophomore campaign, Keith had become an NCAA Division II All-American, finishing the 1998 season with a 39-10 record in the heavyweight division and placing 5th at the National Championship tournament. As a junior in 1999, Keith missed a large portion of the season with a foot injury but was still named an All-American, finishing with a 21-9 record and placing 4th at the National Championships. Then, as in high school, Keith's senior season saw him take his talents to a different level. Keith was named an All-American in 2000 for the third straight season as he set the school records for pins in a season and winning percentage in a season. He finished the year with a 43-3 record and a 2nd place finish at the National Championships, being defeated in the national championship match by one point after losing the lead with 18 seconds remaining.
After Keith's senior year at Fort Hays State, he was named the College Wrestler of the Year in 2000 by the Kansas Wrestling Coaches Association, an award given annually to the KWCA's choice as the top wrestler at the collegiate level that is a graduate of a Kansas high school. Keith finished his career at FHSU with a .778 winning percentage, posting a combined 115-31 record. Keith is the university's only 3-time All-American wrestler and to this day the 29 pins and .935 winning percentage from his senior season remain Fort Hays State records. In addition, the 73 pins he amassed from 1997-2000 also stand as the school's career record. In 2006 Keith was inducted into the Fort Hays State University Sports Hall of Fame.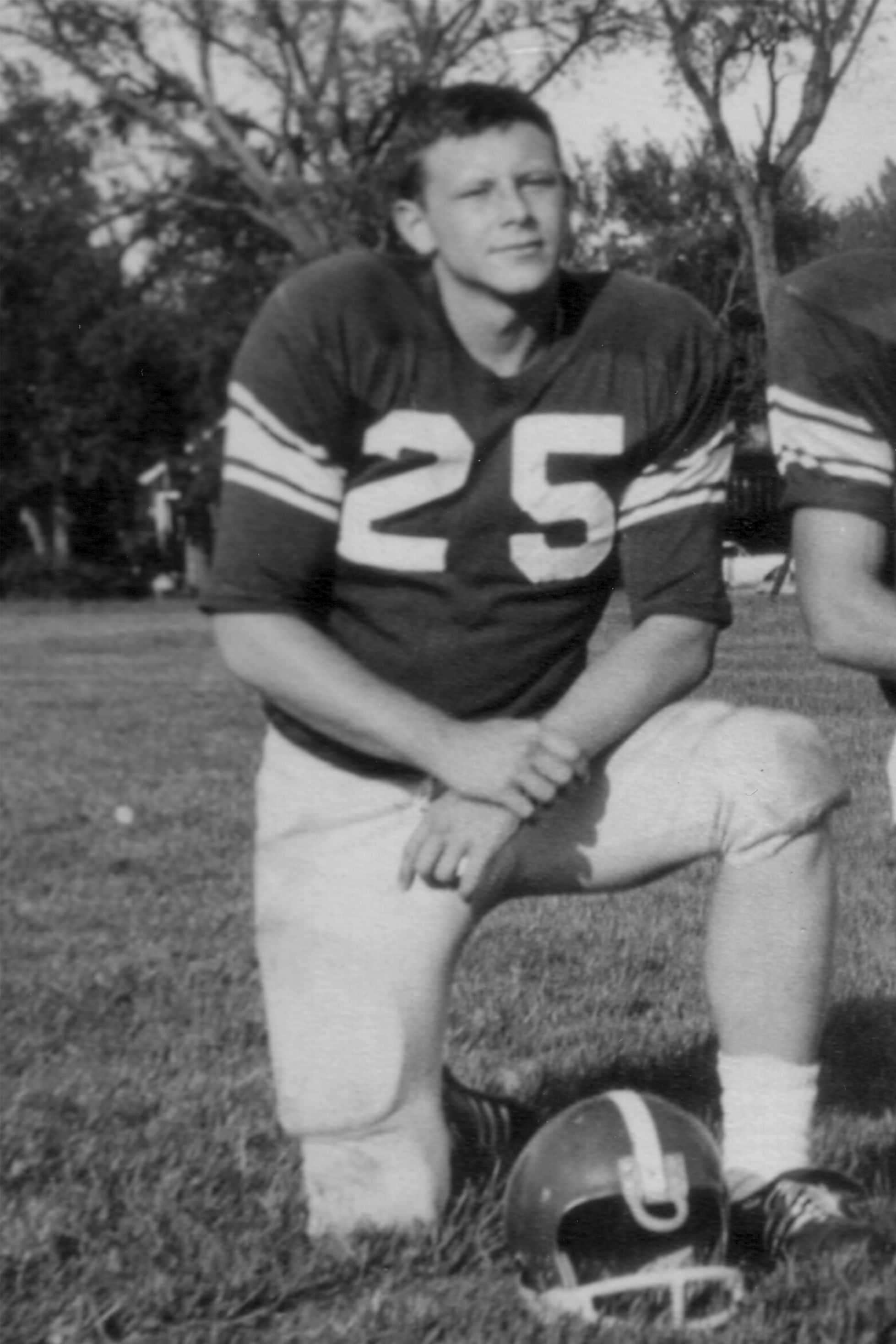 A four year letterman in both basketball and football, L.J. was one of the most successful athletes in Onaga's history. Although he was phenomenal on the basketball court, L.J.'s star shined brightest on a football field. His class's 28-4-1 combined record is one of the most victorious four-year stretches in Onaga football history. As a sophomore in 1957, Corcoran led the team in rushing when Onaga went 8-0, the second undefeated season in school history. In his junior campaign of 1958, L.J. led the team in rushing again as Onaga scored 44.3 points per game, a record that still stands today. The team finished 8-0, the second undefeated season in as many years. His senior year, in 1959, Corcoran led the team in rushing once again as the Buffaloes finished 6-2.
After high school L.J. went to the College of Emporia to play basketball and football. He started on both offense and defense for the Fighting Presbies football team during back-to-back undefeated seasons his junior and senior years, winning the KCAC conference championship both years and serving as a team captain in his final season. He was later inducted into the College of Emporia Hall of Fame. After his C of E graduation, Corcoran played semi-pro football for a brief time in Pasadena, TX.
After his C of E graduation, L.J. earned his Master's Degree in mathematics from Kansas State University. He then went to work at the newly founded NASA in Houston, Texas. There he helped train Apollo astronauts and worked on Skylab, America's first space station. Later he became manager of the orbiter project controls office. There he and his 25 employees were responsible for the management of the space shuttle's $8 billion orbiter plane and the budget for the $600 million per year effort.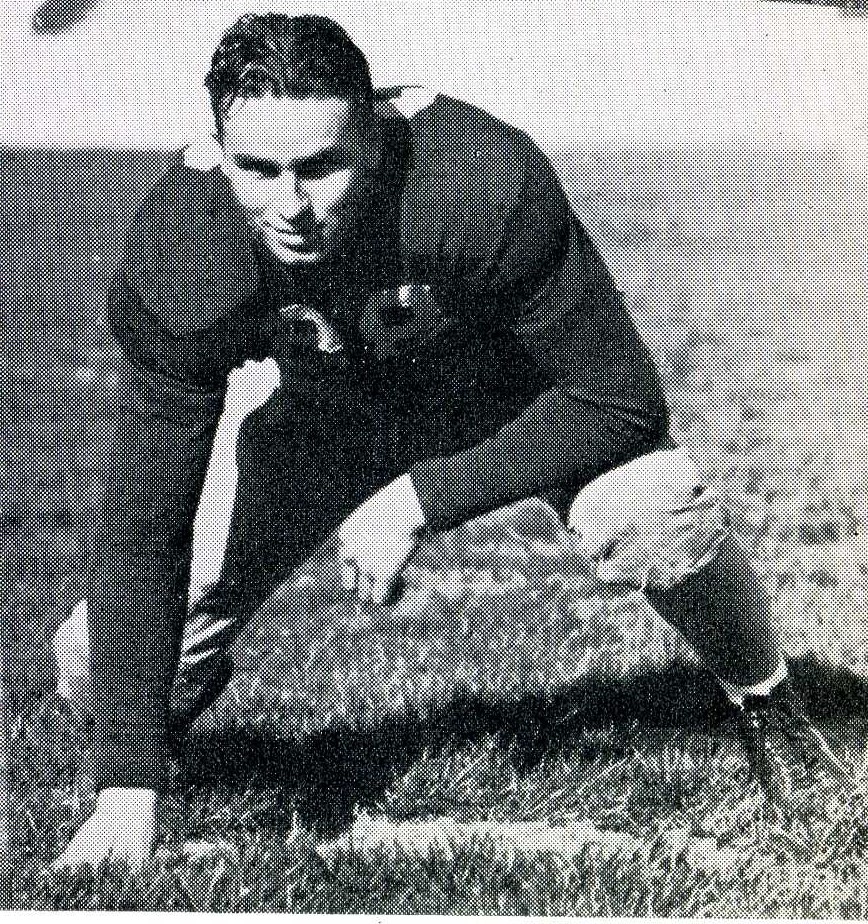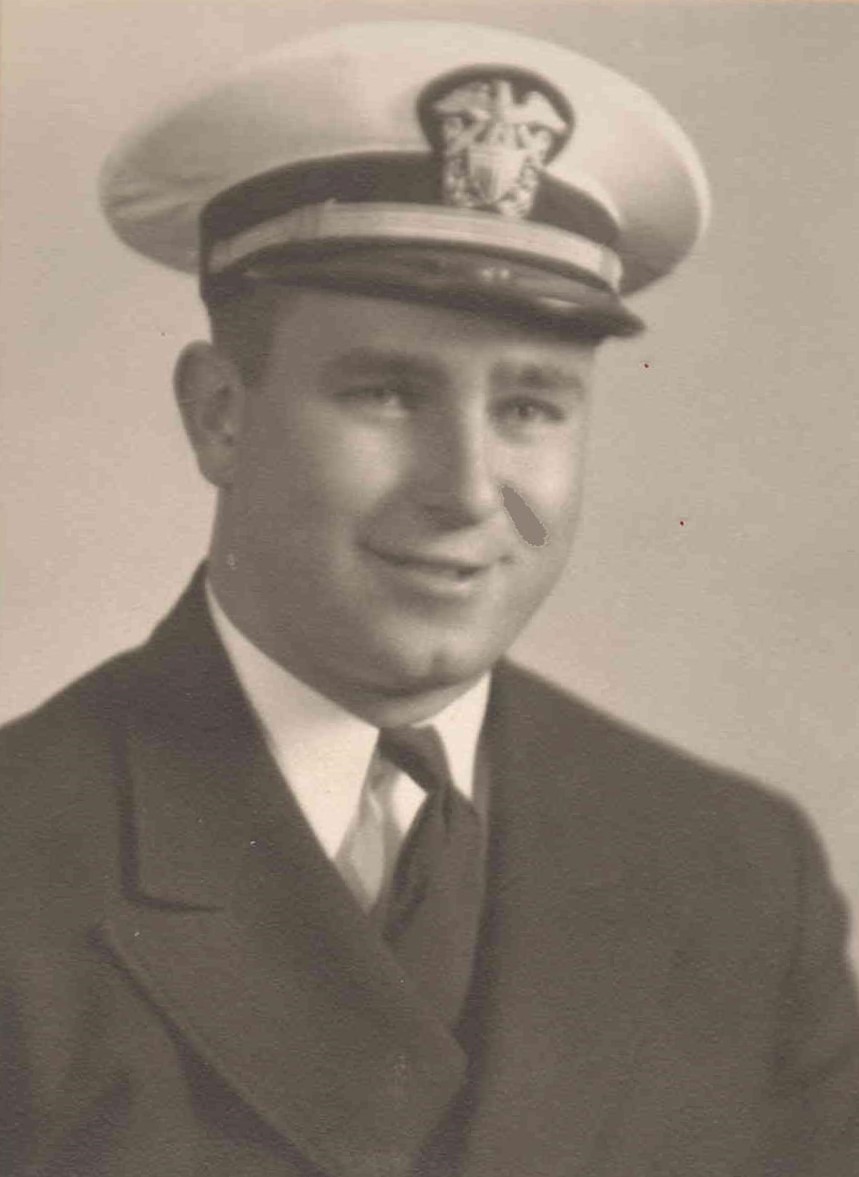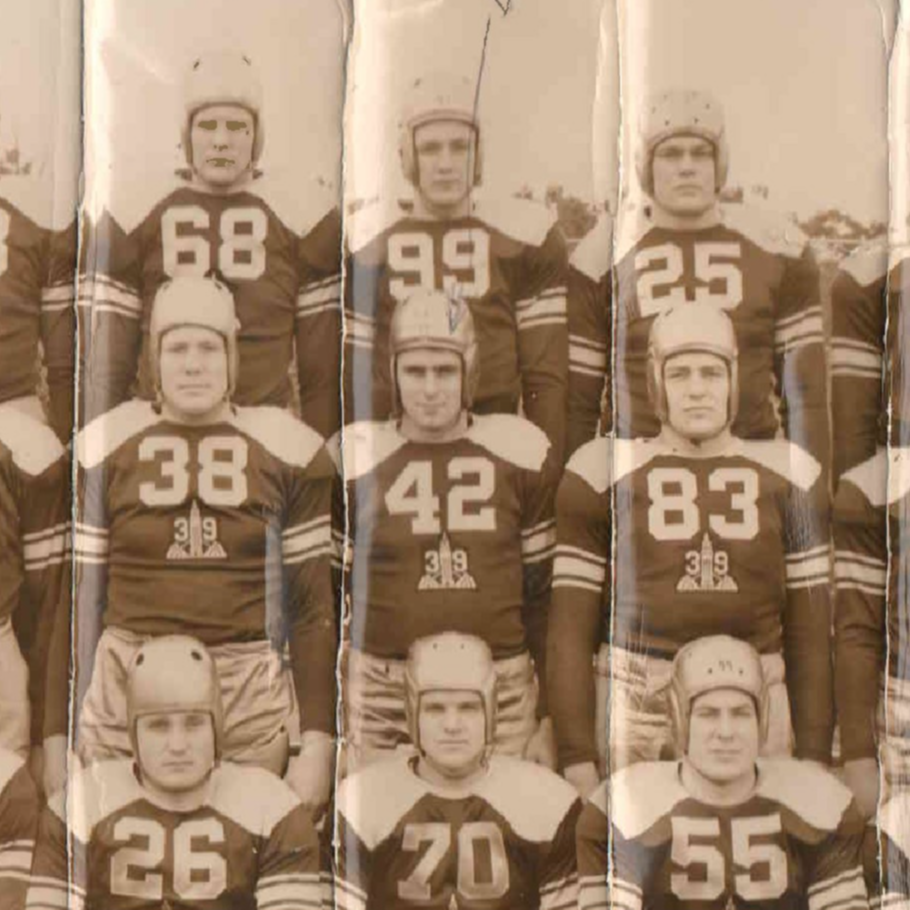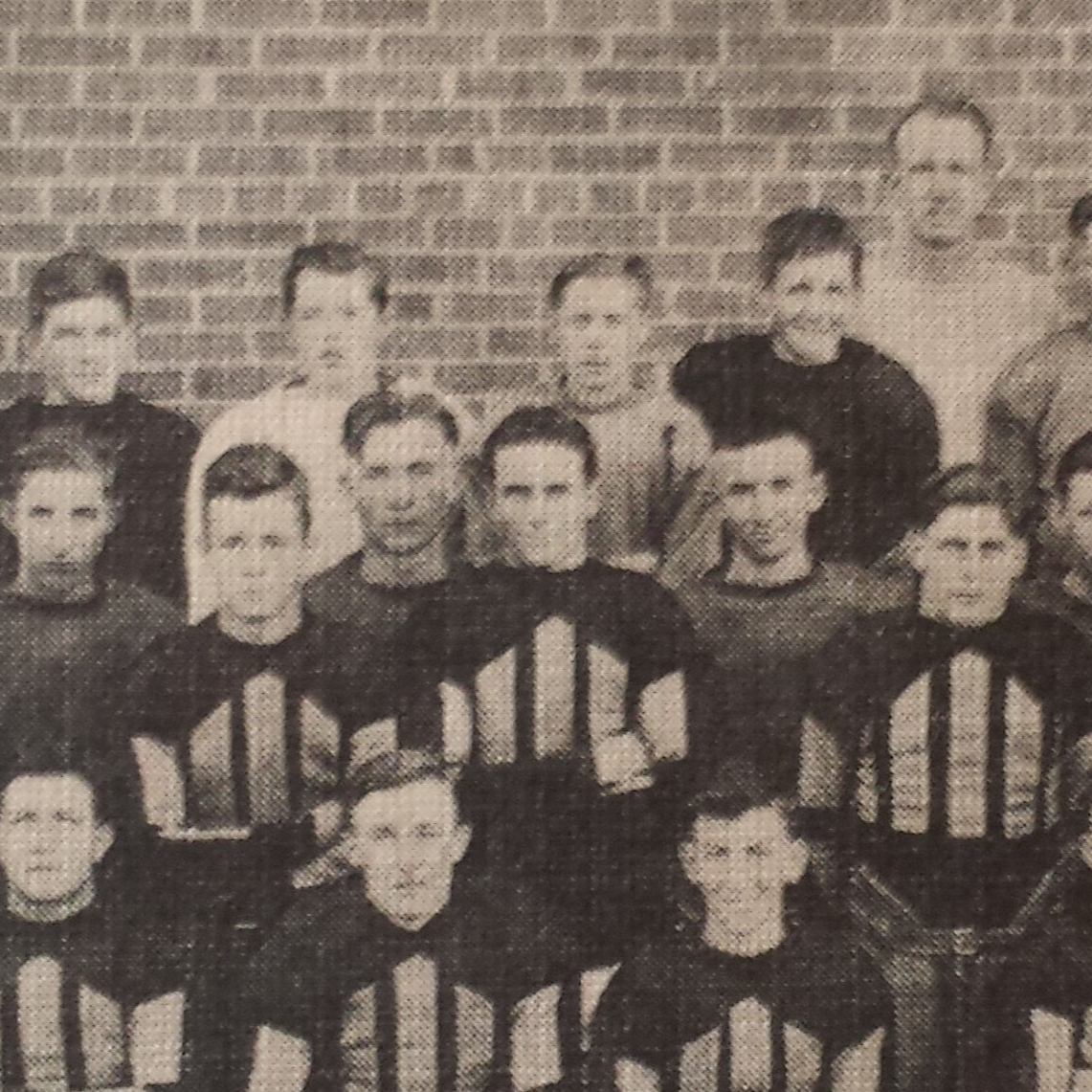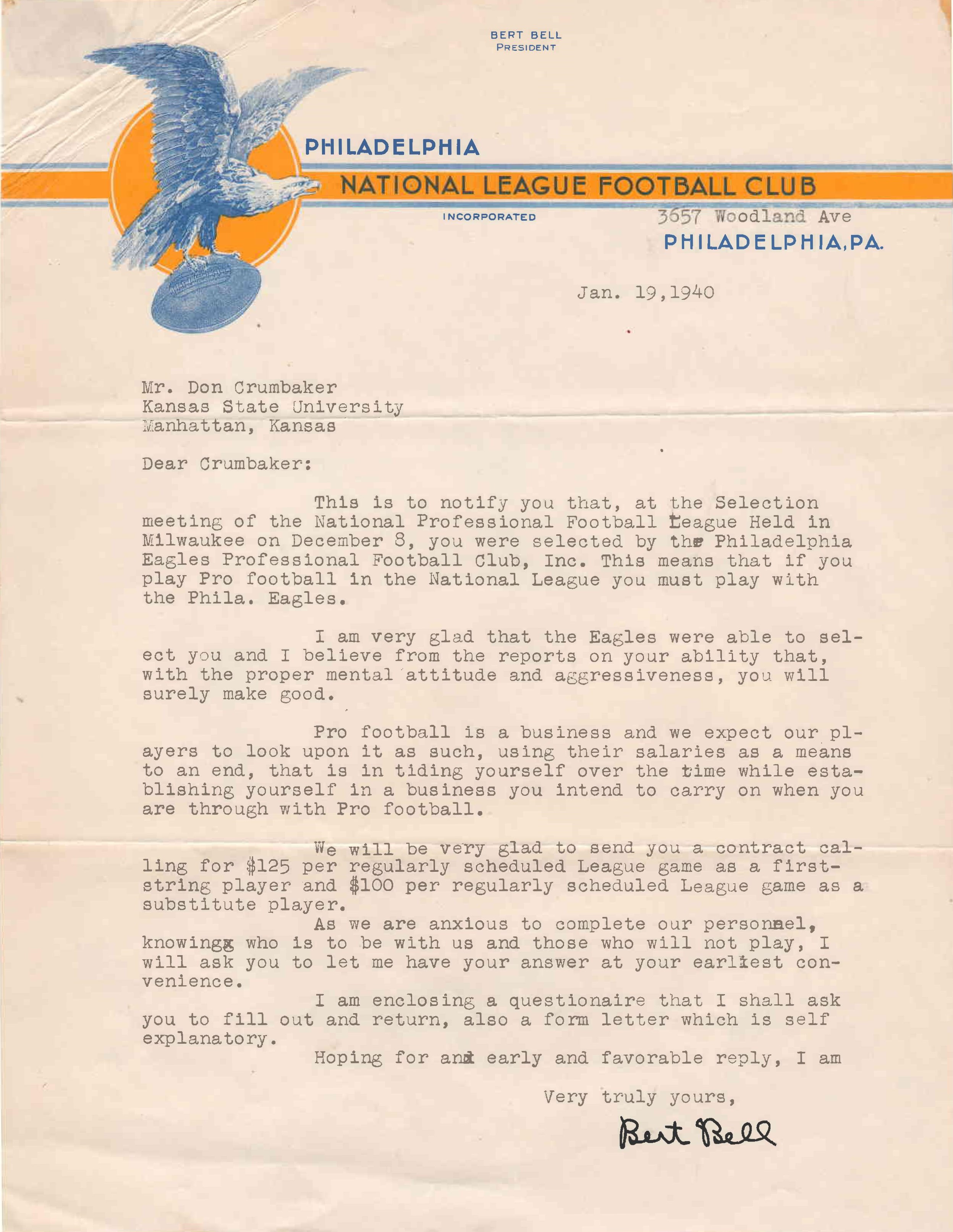 A three-year letterman in three different sports, Don Crumbaker was described in an article in The Onaga Herald as "a star on any man's team." He was a phenomenal basketball player and track star, but it was on the gridiron where Don became a Hall of Famer. Crumbaker was a three-year starter for the Onaga Bearcats from 1933-1935 for Head Coach Avery Eddy. He started as a sophomore guard on the 1933 squad, considered by most to be the best team in the first 40 years of Onaga football. They outscored opponents 225-27, went 8-1-1, shut out seven opponents, and won the league championship. Crumbaker starred as a junior running back on the 1934 team and became the leading rusher and passer for the 1935 squad as a senior. The 1935 team was 7-1-1, shutting out six opponents and beating a Rossville team which had not lost since 1932. Crumbaker was a part of 17 shutouts in three seasons at Onaga, by far the most in school history.
After high school Crumbaker played football at K-State where he made an immediate impact. By his senior season, he was dominating the Big Six Conference just as he had in Onaga. As a senior, Don was selected as a Wildcat team captain and was named a 1st Team All-Conference and Honorable Mention All-American tight end in 1939. His performance that season earned him a spot in the East/West College All-Star Game in 1940, a significant accomplishment for the time. After his K-State career, Don was selected 132nd overall by the Philadelphia Eagles in the 1940 NFL draft.
With goals outside of football in mind, Don completed his college degree and then enlisted in the Tunney Athletic Development program of the Navy in 1941. He served in the Navy during WWII on a cruiser as a liaison officer. In 1970 Crumbaker was elected to the Kansas House of Representatives and served as chairman and as vice chairman of the education committee for 15 years. He served in the legislature from 1970 until retirement in 1992. Don received many prestigious awards including the Governor's Award for the Kansas State High School Activities Association, Kansas Teachers' Hall of Fame, and the Friend of Education Award.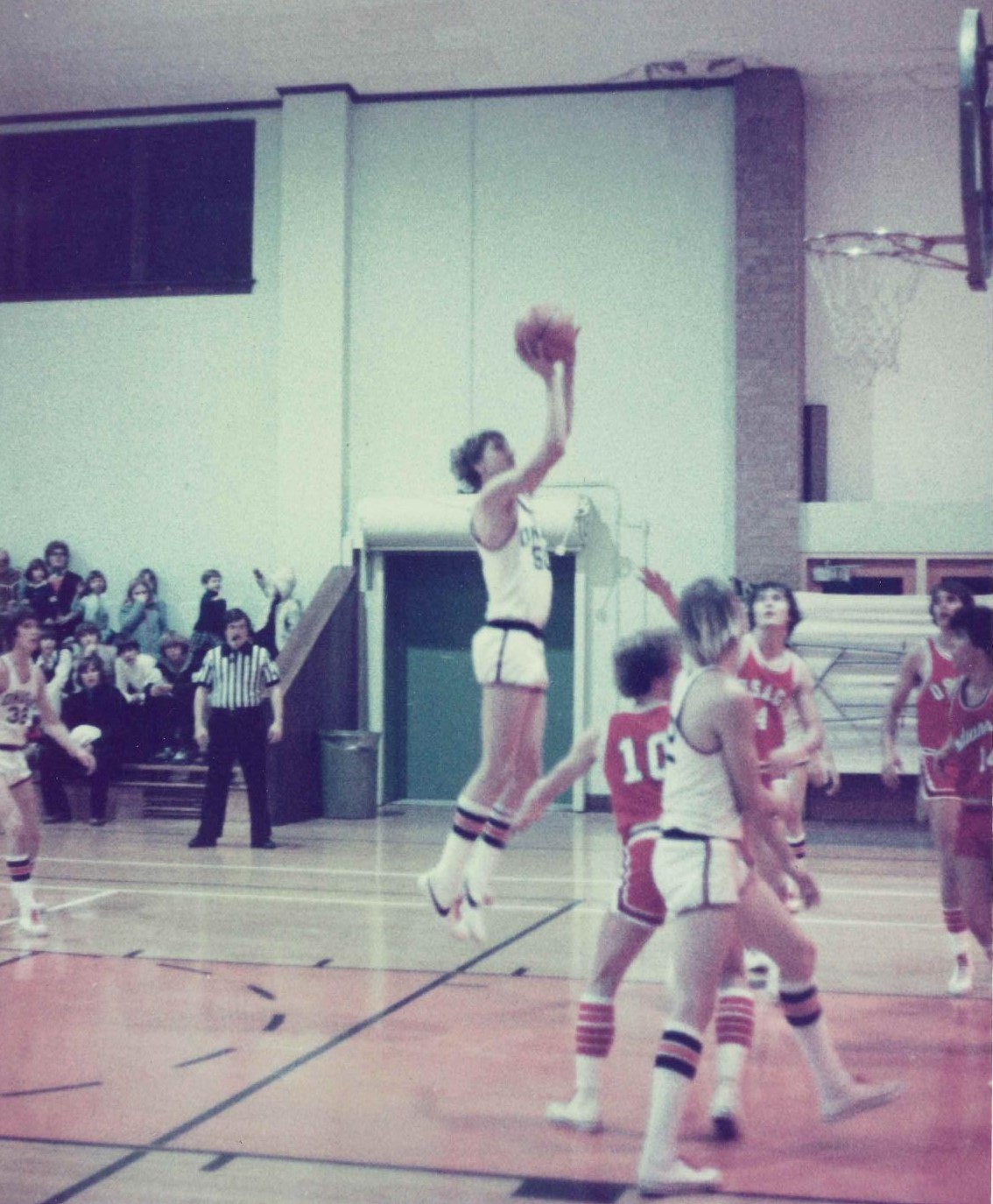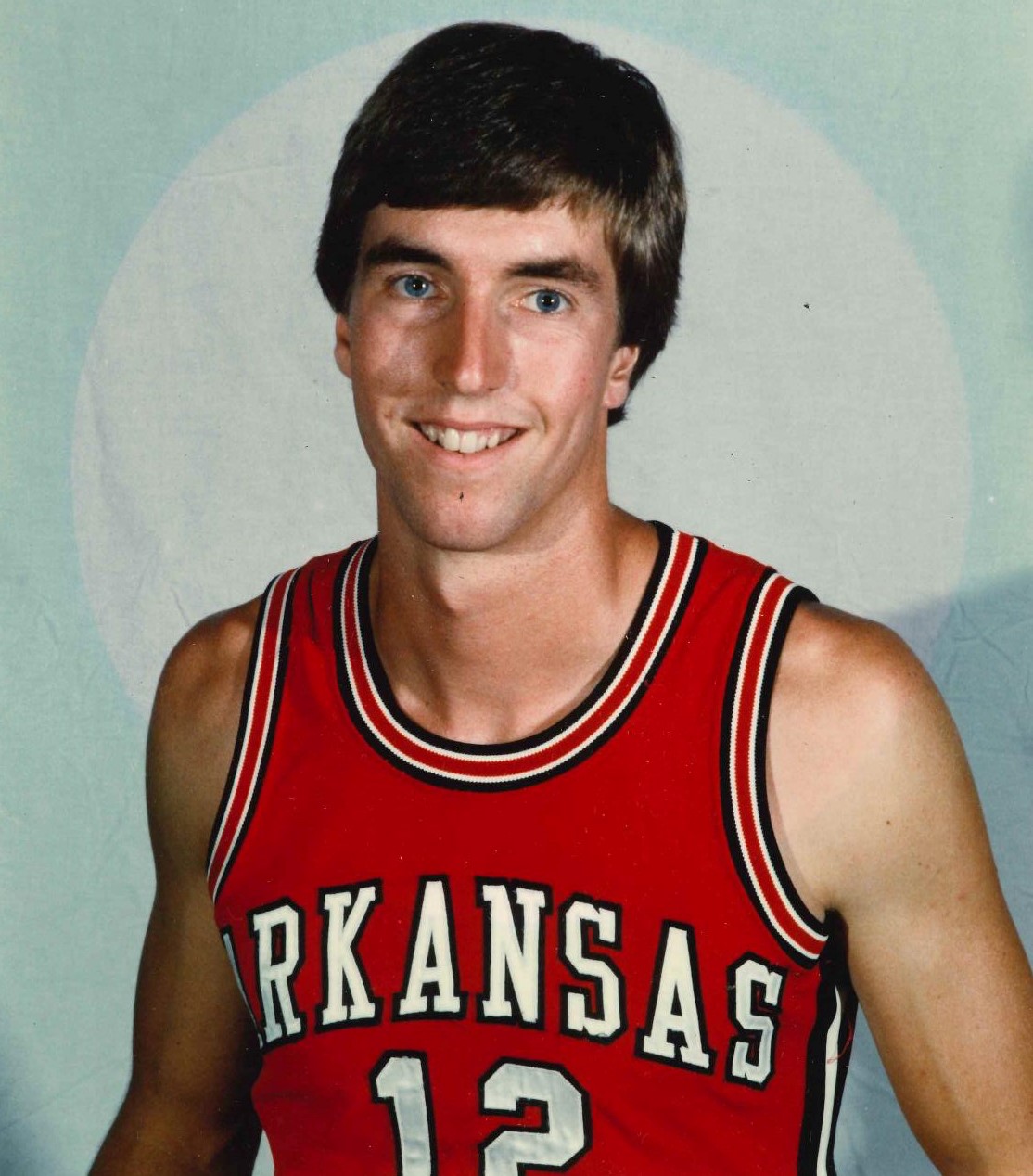 Daryl Dodson's years in Onaga athletics were filled with accomplishments from the moment he entered high school in 1975. Dodson began his falls running cross country for the Buffaloes, lettering all three years he ran for the team. He then would finish the year running on the track team. He lettered all four years of high school in track, earning over 100 medals over the course of that time. At the state track meet his senior season of 1979, Daryl took third in the 400-meter dash, he was on the 4x100 team that took second, and he won the state championship in the 4x800 along with Von Bernritter, Tim Boswell and Bob Annan. Daryl's 4x100 and 4x800 teams still hold the school records in those events today, over 40 years later. But it wasn't necessarily Daryl's running accomplishments, great as they are, that make him stand out in the athletics history of Onaga High School. The accomplishments that put him among the elite, took place on a basketball court.
Daryl was one of the best players on the team from the moment his basketball career began at Onaga. By his sophomore season he was a starter and averaged 15.5 points per game, earning 1st Team All-League and Honorable Mention All-State in Class 2A. Then in his junior season, Daryl added nearly ten points to his per game average when he put up 24 per contest. Those numbers earned him 1st Team All-League again and put him on the 1st Team All-State 2A team in 1978. Then in Daryl's senior season he duplicated his 24 points per game average and added 10 rebounds a game for good measure. Those numbers again earned him 1st Team All-League in the powerful Mid-East League and 1st Team All-State in 2A. He also was selected as one of five players on the First Team All-State in all classes team, 1A-5A, and would finish his career with 1,431 points, a school record that still stands to this day.
After high school, Daryl's talents led him to Neosho County Junior College where he again became a star, instantly. He was named All-Jayhawk Conference both seasons he played there, averaging 15.5 points and 7.5 rebounds a game as a freshman, then posted 17.5 points and 4.5 rebounds a game in his sophomore campaign. His 956 career points at Neosho were sixth in the school's history at the time, and the 522 he scored his sophomore season were the tenth most ever.
Daryl had several offers after his success at Neosho and, with a dream of playing Division I basketball, he ended up signing with Arkansas State. And again, Daryl was an immediate star. He began starting as a newcomer his junior season, and by his senior season, Dodson was second on the team and sixth in the conference in field goal percentage. That was a major accomplishment considering that team was the best shooting team in the Southland Conference, shooting over 53% from the field, a mark that still stands as the Arkansas State record to this day.
Daryl was also third on the team in scoring, averaging 10.7 points a game, and was second in both assists and steals. His team played the likes of NBA Hall of Famers Karl Malone and Joe Dumars. His senior season, Dodson helped hold Malone, now the NBA's second all-time leading scorer, to just six points, 15 below his season average. Twice that season, Daryl also went head-to-head with Dumars, the future Detroit Pistons guard who Michael Jordan once said was the best defender he ever faced. While guarding each other, Daryl's Indians beat the future Hall of Famer in their first meeting of his senior season and in the second matchup, Dodson held Dumars, the conference's leading scorer, to just 11 points. Dodson's sharp shooting and all-around talents earned him Honorable Mention All-Southland Conference after that 1983 season.
Daryl has spent his life after college passing his knowledge of the game on as a P.E. teacher and high school basketball coach. While he is retired from teaching, he is still coaching high school girls basketball today.

A 7-time track and field state champion at Onaga, Janet Haskin was one of the most dominant athletes the school and state has ever seen. She was an honorable mention all-league volleyball player, took 2nd place at the state cross country meet, and was a member of the 1987 girls' basketball state championship team. But when Janet was on a track, she was on a level most only dream of.
She won her first state title at Onaga as a sophomore in 1986 in the 3200m while also taking silver in the 1600m. Her junior year she took gold in three events, the 800m, 1600m, and 3200m, setting 2A state records in the latter two events. Haskin then repeated that performance in 1988 as a senior, winning three golds again and breaking her own state records in the 1600m and 3200m. Her times in those two events were the fastest in any classification at the state meet that year, and her 3200m time was 0.2 seconds from being the fastest time in the nation. Her performances that year in the 1600m and 3200m still stand as the Kansas 2A state records.
After high school Janet ran track and cross country at Kansas State University from 1988-1992. She was a 3-time All-American while there, 1989 in cross country, 1990 in indoor track for the 3000m, and 1990 in outdoor track for the 10,000m. She won a Big 8 Athlete of the Week award while there and was named to the Big 8 All-Academic 1st Team. She set the 5000m Indoor Track & Field school record and also won the 10,000m NCAA Division I National Championship in 1990. Haskin was later inducted into the Kansas State University Track & Field Hall of Honor and was also named in "Purple Pinnacle" as one of the top 40 athletes in the history of Kansas State University athletics.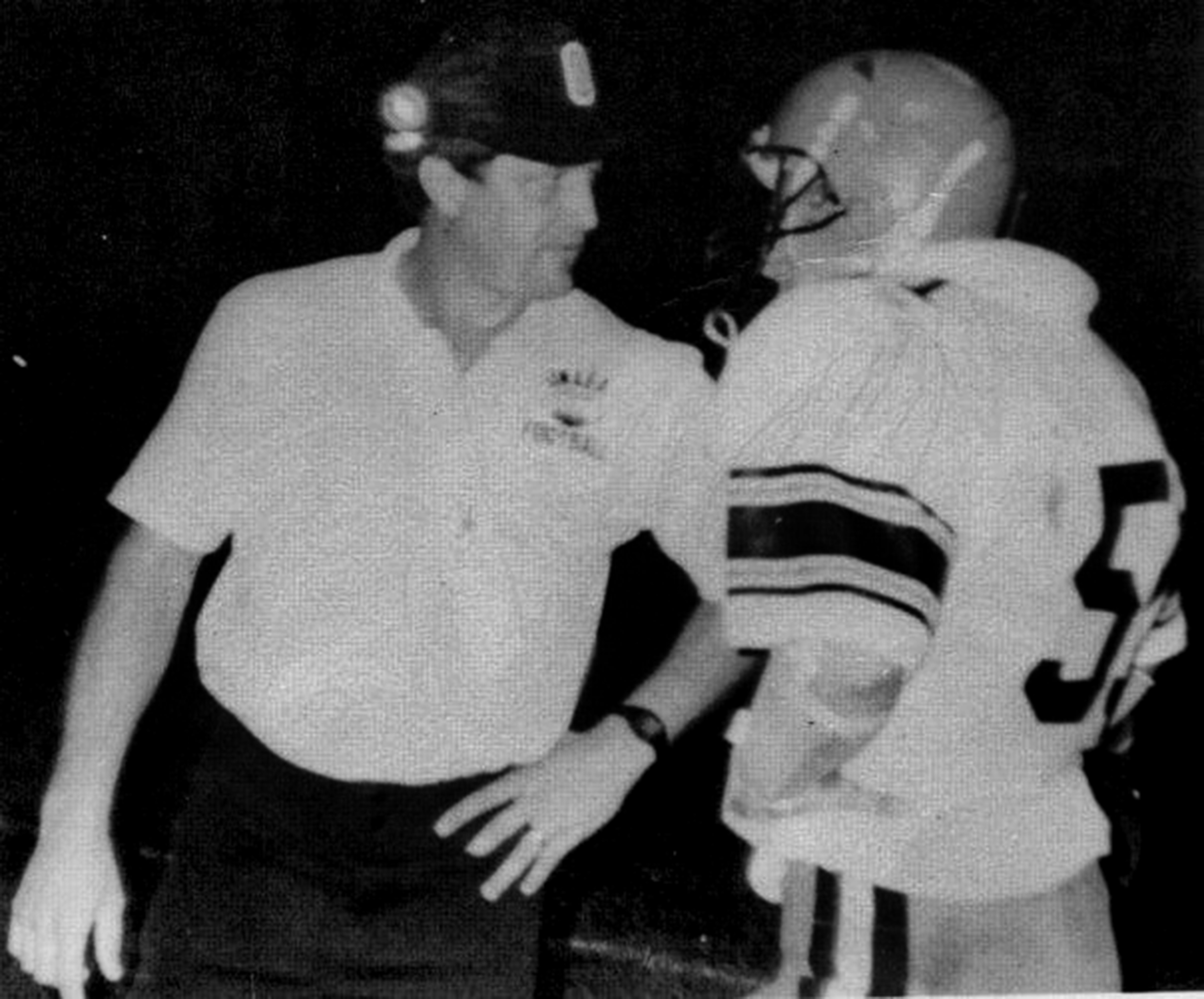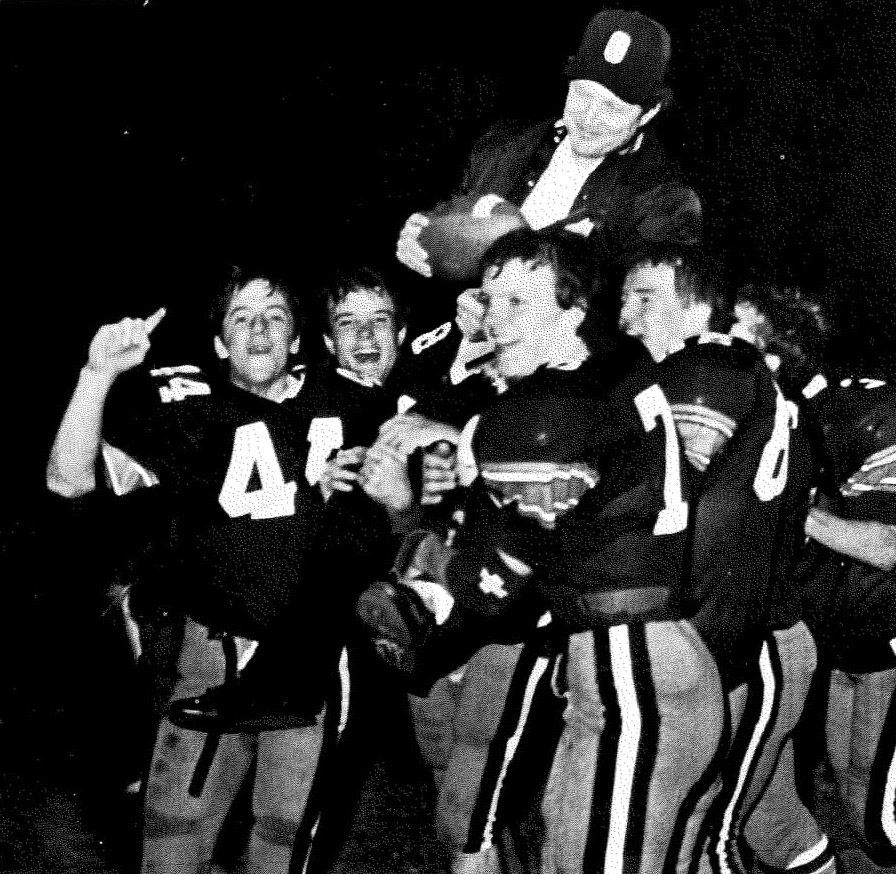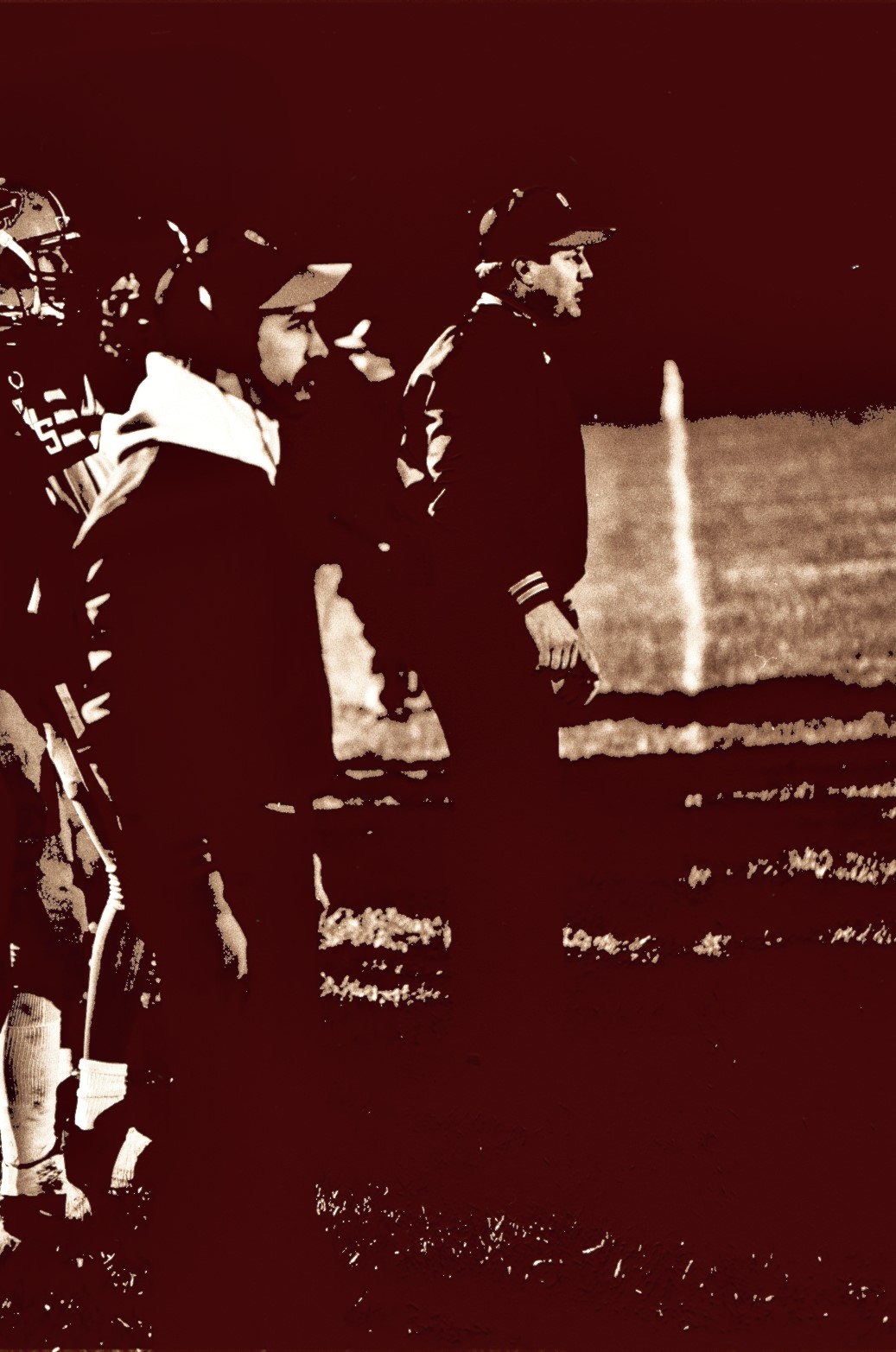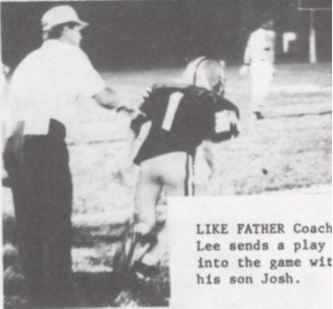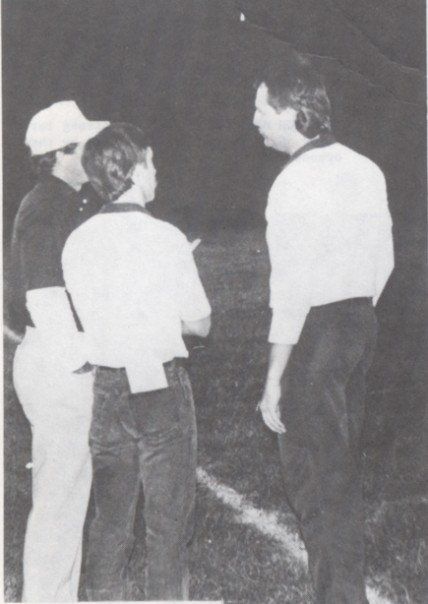 "Coach Lee," as most call him, made an impact on Onaga High School that few others have. He coached three different sports and also served as athletics director for many years during his time at Onaga. He also set a standard for excellence in his P.E. classes, specifically the weight room, which helped push all Onaga sports to amazing heights. His presence was felt throughout the school, but his success as head football coach is what made him a legend.
When Ron Lee came to Onaga in 1978, he became the football program's sixth head coach in the span of just eight years. Richard Rosenfield ended an also-legendary 24-year career with a winning season in 1971, but the Buffaloes didn't win more than two games in any season again until Lee's arrival. Lee's first team, in fact, broke a seventeen-game losing streak in the first game he ever coached at Onaga. And although that first season was a losing one, the 4-5 record that his 1978 squad compiled was more wins than the previous three seasons combined. It was immediately apparent that a drastic change in the program had begun.
In Lee's second year, Onaga recorded its best season in ten years when the Buffaloes went 6-3 in the powerful Mid East League, beating a Silver Lake squad that was ranked #3 in class 3A at the time. It wasn't long after that before Lee had Onaga in the playoffs for the first time in school history as the 1982 squad made the post-season and won its first-round game. Lee continued to improve the program and by 1987 had the Buffaloes in the sub-state championship game. Onaga fell short on a late touchdown in that contest, but in just ten seasons, Lee had taken the Buffaloes from being a perennially-losing program to one on the cusp of a state championship appearance.
Lee had also turned Onaga into an annual league contender and a regular in the state playoffs, reaching a level of consistency the 103-year old football program had never seen before and has never seen since. Under his guidance, Onaga won ten district championships, eight bi-district championships, two regional championships, and won the league title six different times. His 27 years as head coach and 158 wins during that time are both school records, and he finished his career with 16 consecutive winning seasons, shattering the previous school record of five.
It was never, however, only about wins and losses for Ron Lee. He was always, as scores of his former students and players would attest, just as concerned with seeing young people develop character and become strong, virtuous people. It was as satisfying to him to see a student go beyond high school athletics to become a positive member of society as it was to hear the cannon that marked another Onaga Football victory.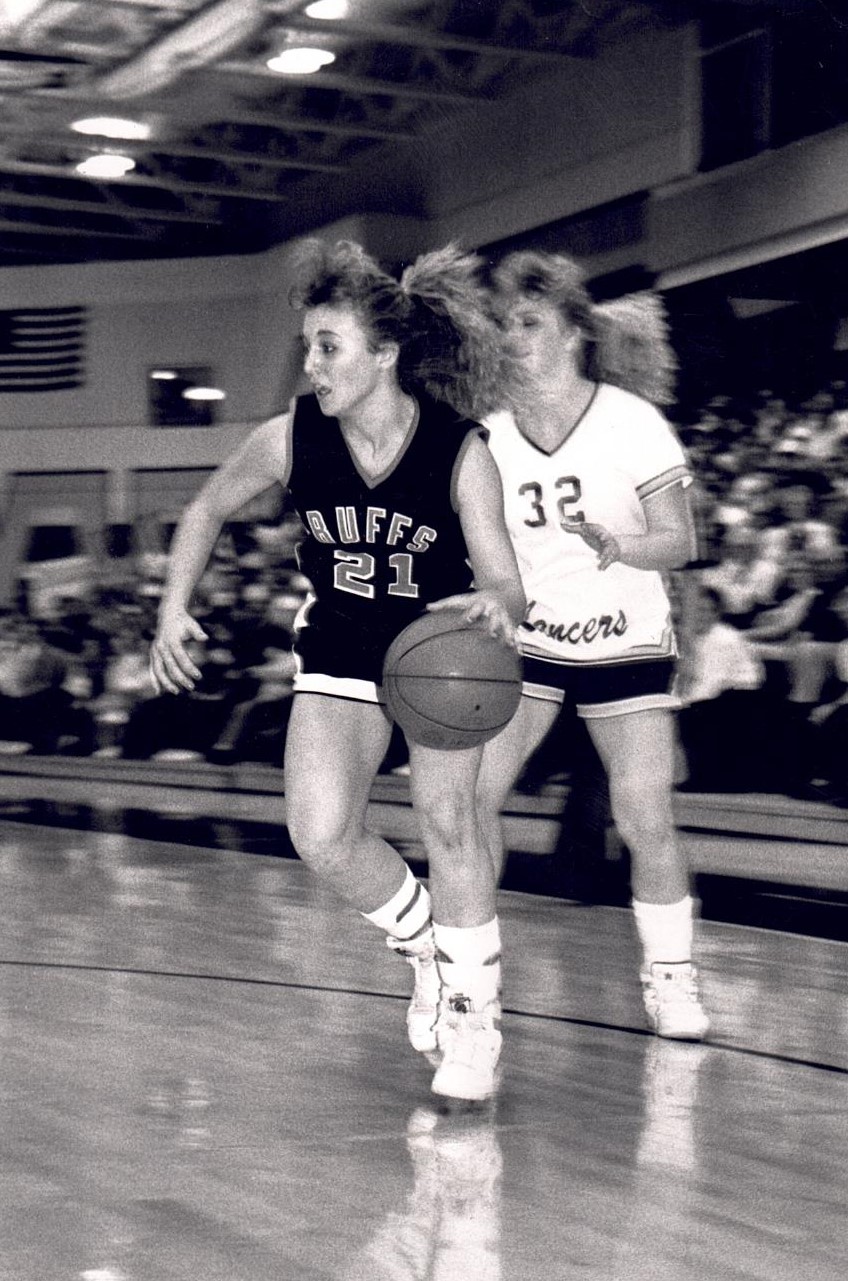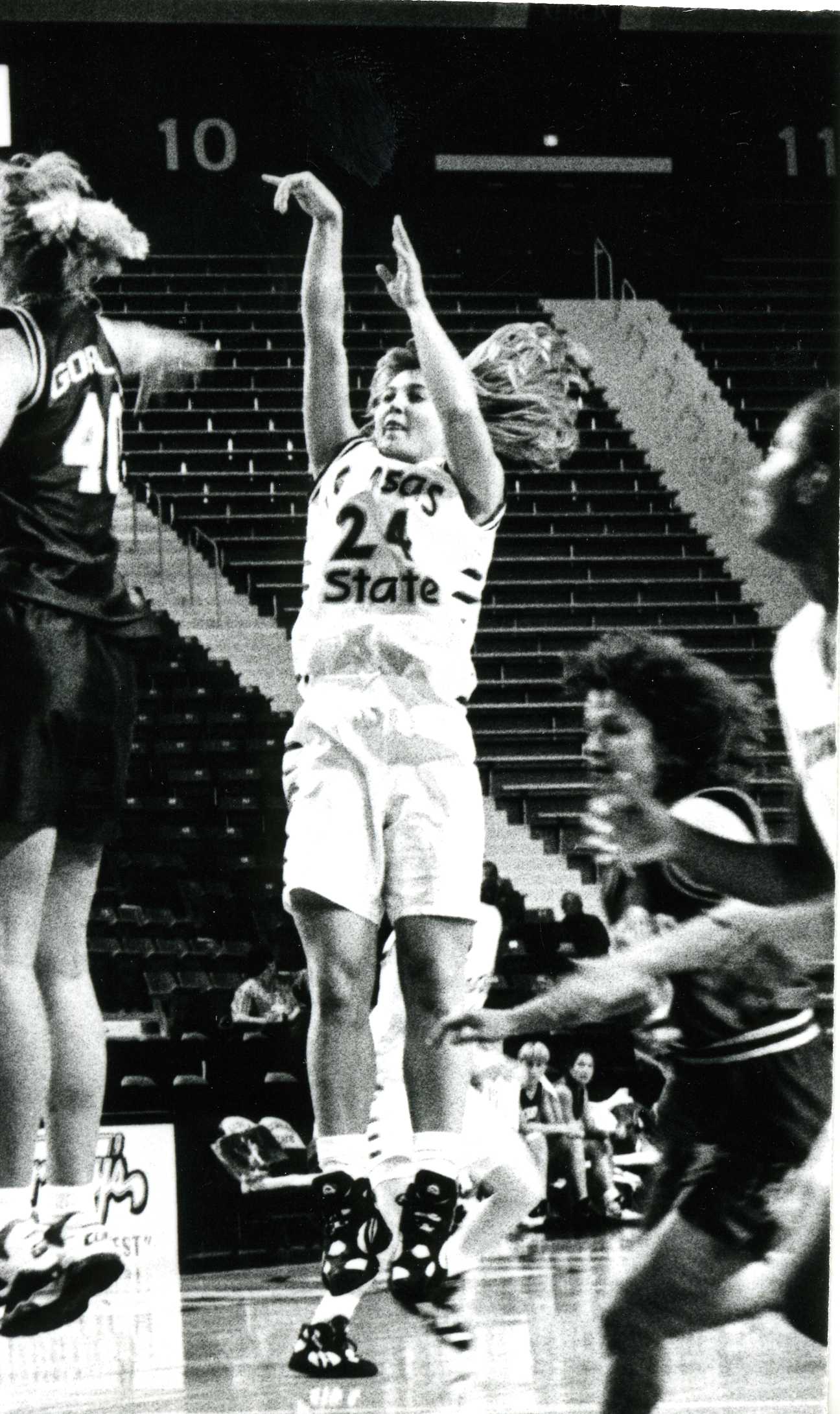 Dana Pollock's high school career was filled with success in three sports. She began each year playing volleyball and helped Onaga to sub-state championships in her sophomore and senior seasons, earning First Team All-League in her final campaign. Dana ended her years by running track, making her mark early by qualifying in four events as a freshman and helping Onaga's girls' team to league and regional championships. She qualified for state in 11 of the 12 events she participated in during her three-year track career and still holds the 400 meter school record. In between volleyball and track, however, was sandwiched the time when Dana became a Hall of Famer.
Dana contributed as a freshman by helping Onaga win the Nemaha Valley League basketball tournament and take home a third-place finish at the state tournament. She shot a staggering 60% from the field as a freshman, and a record-breaking career had begun. In her sophomore season, 1988-1989, Pollock helped lead the Buffaloes to another league title and an even higher state tournament finish of second place. Her junior season was highlighted by another league championship before falling in the sub-state championship game.
Then in her senior season, Dana put together the single best individual season in Onaga High School girls' basketball history. She led the Buffaloes to another league championship, to another sub-state championship, and back to the state tournament, which she led in scoring, for a 4th-place trophy. During that 1990-1991 season, Dana averaged 25.5 points and 9.2 rebounds per game. That points average led class 2A in Kansas and is still a school record. Dana shot 61% from the field her senior year, an unapproachable number for most players, but Dana made it a habit, shooting over 60% from the field each of her four seasons at OHS. That efficiency resulted in 1,587 career points, another mark that is still a school record.
Dana was one of the best players in Kansas her senior season as she received numerous honors. She was named 1st Team All-League for the second straight year in the NVL. The Manhattan Mercury named her to its All-Flint Hills Team for the second straight year and named her the Flint Hills Player of the Year following her senior season. At the state level, Dana was named First Team All-State for class 2A by every major publication, and the Topeka Capital-Journal named her to its First-Team All Classes squad, a list made up of the top five players in Kansas from 1A through 6A. She even garnered national attention by making the USA Today Honorable Mention All-American Team.
Following high school, Dana played for Kansas State University. Her hard work at Onaga carried over to the Wildcats as she contributed for K-State under two head coaches and set several weight lifting records for the women's basketball program, including a squat record that still stands today.
Richard Rosenfield
1948 - 1984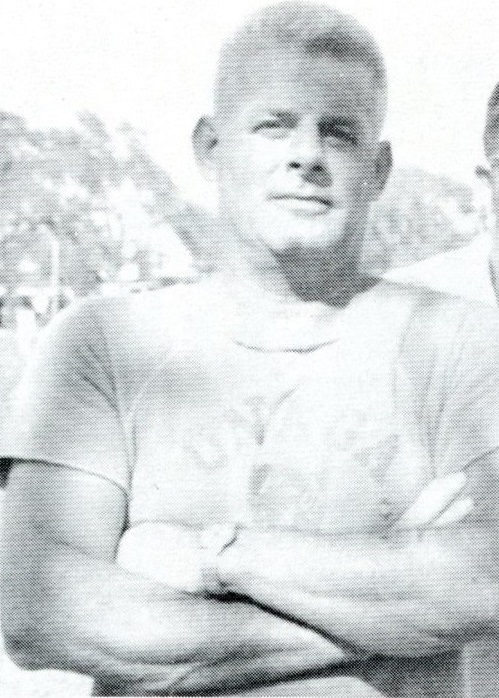 "Coach" Rosenfield, as most knew him, had an impact on many Onaga students and athletes during his time in Onaga. He fought in WWII, then received his teaching degree from the University of Kansas. While there he played football for the Jayhawks and competed in the Orange Bowl at the conclusion of the 1947 season. He then left Lawrence for Onaga where he was a long-time teacher, served as athletics director, and coached track. But when people think of his legacy at Onaga, their minds first go to football.
Only two men have held the head football coaching position at Onaga for a period of longer than five years, and Rosenfield was the first. His 24 seasons at the helm of the football program from 1948-1971 and the 126 wins he amassed during that time are both the second most of any head football coach in school history. He coached five teams to undefeated seasons during his time as head coach, won nine league championships, and his 0.624 winning percentage is still the highest of any head football coach who has held the position at Onaga for longer than three seasons.
Rosenfield is considered by some to be one of the best football coaches Northeast Kansas has ever seen. There was no team that ever got the better of him over a long period of time. In 24 seasons, there were seven teams that Onaga played ten or more times: Alma, Centralia, Frankfort, Rossville, Silver Lake, St. Marys, and Wetmore. Rosenfield finished his career with winning records against all of those opponents.
Outside of the 1940 team, Rosenfield's five undefeated seasons (1957, 1958, 1967, 1968, and 1969) are the only ones in Onaga history. His 1958 team averaged a blistering 44.3 points per game, still a school record. His 1969 team outscored their opponents 337-8, still the most dominant season of any team in school history. He was a winner from the moment he stepped foot in Onaga and made a lasting impression on the school and community.